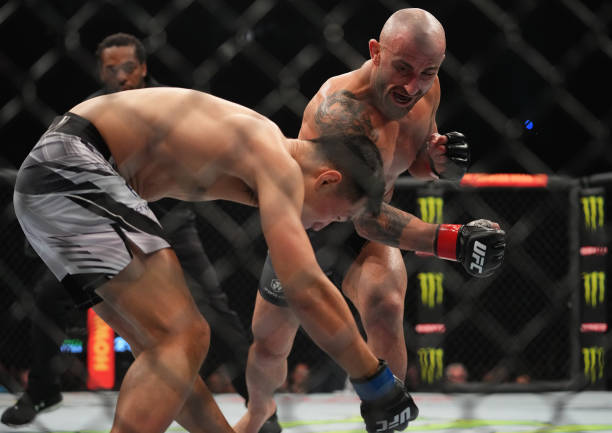 Alexander Volkanovski produced a striking clinic against the Korean Zombie to retain his featherweight strap with perhaps his best display yet. Prior, bantamweight champion Aljamain Sterling bested Petr Yan in their long-awaited rematch and the highly-anticipated Burns-Chimaev matchup exceeded expectations with what quickly turned into a pulsating classic.
Volkanovski's volume, deadly accuracy sinks Zombie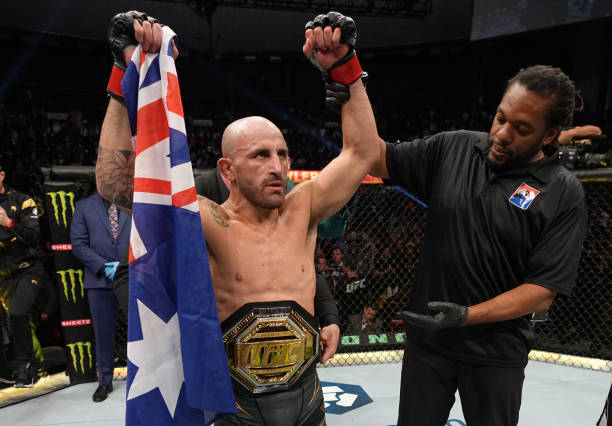 R4, 0:45 – Alexander Volkanovski (c) bt. Korean Zombie (#4) via TKO (punches)
"I'm on another level right now and just showed it, he took more [punishment] than I wanted him to, but that's the sport we're in. Look what I'm doing, ruby after ruby now," Volkanovski doubles down on his standing as featherweight champion in his prime
Hints at rescheduling Max Holloway trilogy before long after former champion initially withdrew from proposed Mar. 5 date with injury, also tells divisional contenders to "get your shit together, otherwise you're gonna miss out," as he wants to stay active
Relaxed and full of mutual respect, it'd be interesting to see how this one unfolded. Considering he was an overwhelming favourite, it's not surprising to know reigning champion Alexander Volkanovski set the tempo with a series of hard hooks repeatedly stumbling Chan Sung Jung.
During fight week, Volk said he expected to impose his will here and that Jung would need to land a lucky punch to win. So it proved, as the 33-year-old produced a startling striking clinic.
The Korean Zombie is blessed with an apt nickname, but as I've already outlined in the past, his style isn't conducive to winning championship fights. As if he wasn't ready for the Australian's pacing, he was getting caught far too easily by his aggressive boxing in a dominant first-round.
Volkanovski scored a knockdown and wobbled him with a perfectly-timed leg kick moments afterwards, adding an exclamation mark to the champion's authoritative start.
Deploying various leg kicks were the name of the game in the second stanza, at least for Zombie, though Volk's awareness and situational adaptability was on another level entirely.
He checked low kicks, continued to chip away at Jung's resolve with speedy punch combinations and refused to engage in a firefight when a finish looked increasingly likely.
Instead, he'd sweep through for a takedown up against the fence. As the crowd could sense a blowout in the offing, they tried raising their level to get behind Zombie and he duly obliged with a few forward forays to sting Volkanovski, an uppercut the pick of his more accurate punches.
However, the champion's output and persistent pinpoint punch accuracy proved enough to keep him honest: push forward too much towards the proverbial fire and absorb damage.
Was it worth it? No chance. More knockdowns followed, before referee Herb Dean mercifully stopped it early in the fourth after an uncomfortably brief doctor assessment between rounds.
Afterwards, Zombie hinted at potentially retiring through the help of a translator after suffering his seventh career defeat (17-7) and said he'll need time to think about what lies ahead.
https://twitter.com/jaycaspiankang/status/1513028968827346949
---
Sterling silences critics, is undisputed bantamweight champion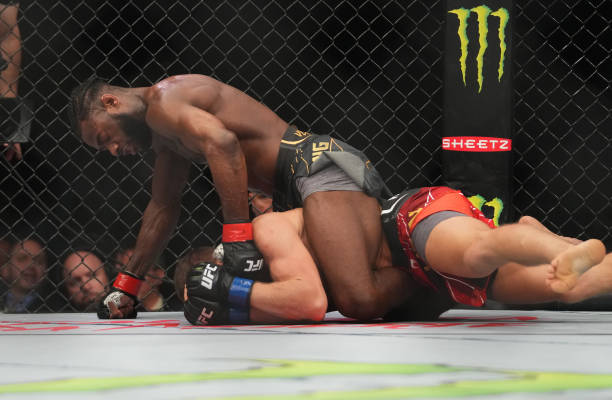 48-47, 47-48, 48-47: Aljamain Sterling (c) bt. Petr Yan (ic) via split decision
"Keep doubting me! TJ Dillashaw, where you at? You're next, bitch, you're gonna be one and done," Sterling calls out the two-time former champ, who watched Octagonside
Yan insistent on a rematch and trilogy tussle between the two bantamweights later down the line, says he believes he won three of the five rounds (R1, 4 and 5).
Unlike their first meeting, it felt like there was a concerted effort for Petr Yan to assert his dominance this time given the fallout from a very controversial finish 13 months ago.
Controlling the centre, he stuffed an early takedown with aplomb and answered Aljamain Sterling's kicks with relentless forward pressure.
Sterling had to be busier with his strike production, because the power coming back in his direction was considerably more forceful. As evidenced by the hooks that stung him seconds before R1 ended, he needed to mix up his attacks and stifle Yan.
Early in the second, he found an opening and secured a body lock up against the fence after scrambling for a takedown. Sterling threatened a choke initially, but Yan's defensive strikes only served as encouragement for the champion to eventually unload.
As the back control time wore on, Sterling briefly flattened him out with ground-and-pound strikes and threatened an arm-triangle choke too. Time eventually expired, but the damage was done – a dominant round logged and suddenly this fight's momentum had shifted.
Yan began the third with multiple punishing leg kicks, to the body and legs, while defending a single-leg takedown. Sterling's persistence paid off, as he again succeeded in taking the fight into his world on the ground.
With more than 3:30 to work from the canvas, Yan squirmed and tried handfighting to get into a more advantageous position as the champ couldn't contain a cheeky grin.
Yan's corner made no mistake of his need to adopt some urgency and win R4 comprehensively, which is what he quickly set about doing. He threatened some grappling, then hurt Sterling with more of the furious punch combos he threw early on as they exchanged strikes in the pocket.
That didn't last, as Sterling looked to jump on Yan's back and then saw his manoevure swiftly reversed – albeit into full guard, wrestling for position. From there it was the Russian who landed the more significant shots, banking a round he needed to, as it was probably 38-38 through four.
That is if you didn't score R2 a 10-8 round for Sterling – which was the case for all three judges, despite his sustained dominance on the ground where he threatened multiple submissions.
Yan started the fifth brighter, but found himself on the defensive pretty soon afterwards as Sterling's insistence to persist with takedowns continued (2-of-22 completed) down the stretch.
Seemingly out of the blue in the centre, Yan connected on a beautiful flying knee and left hand, before stuffing more attempts as they scrambled. The roles reversed in the final seconds, with Yan posting on the champion's back to finish a tactical tussle unlike their initial meeting.
Although the split decision result was met with a chorus of boos, as most agreed with Yan's notion he did enough to win, Sterling reflected after seizing a moment he'd long waited for:
"I had a tough ass opponent in Yan, he brings it every time and beat my ass but this is what the fight game is all about, keep doubting me.
---
Burns-Chimaev lives up to the billing in enthralling firefight
29-28, 29-28, 29-28: Khamzat Chimaev (#11) bt. Gilbert Burns (#2) via unanimous decision
Chimaev goes the distance for first time in his professional career, shortly after promoter Dana White reveals plan for Colby Covington (#1) main event matchup later this year
"My goal is to become champion, fight the toughest, the odds and everyone against you… thanks for the support," Burns appreciative after narrow loss in welterweight war
Ridiculous doesn't even begin to describe how this hotly-anticipated encounter quickly developed into all out chaos, as two welterweights at different ends of the UFC rankings went to battle in the most consequential non-title fight I can remember covering.
Buoyed by three consecutive first-round stoppage wins, most recently against Li Jingliang – who was Octagonside doing alternative commentary here – you'd assume #11 vs. #2 is throwing the former into the deep end. Khamzat Chimaev has proven he's an exception to the rule.
He began quickly as usual, trying to swarm Burns on the ground and keep the fight wherever he desired. That inability to pace himself properly, whether through excitement or an adrenaline dump, proved costly as some chinks in his seemingly invincible armour were exposed.
After a period of inactivity on the ground, referee Mike Beltran stood them up and Gilbert Burns showcased his striking – unafraid of the fire coming back in his direction.
Some nice hooks buzzed Chimaev clean on the chin, though Khamzat's power discrepancy was clear as he looked to overpower a Brazilian veteran who until late 2019 fought at lightweight.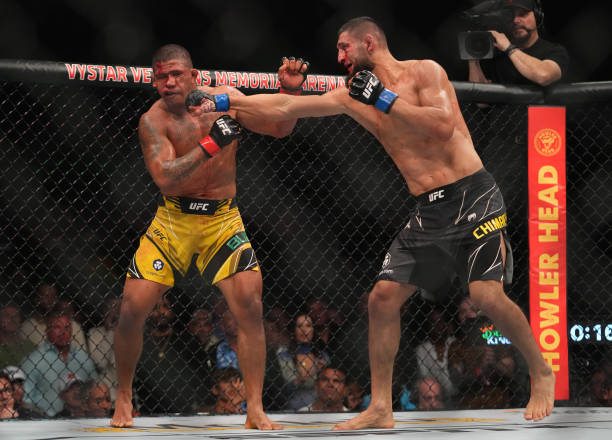 Chimaev scored a knockdown late in the round, dropping Burns with an inch-perfect right jab, but Durinho recovered well: frantically fighting off his back with hammer fists and kicks, returning to his feet and wobbling the boogeyman with a calf kick before the horn.
For all of Burns' historical grappling credentials, he was already at a physical disadvantage but Chimaev proved an almost immovable object whenever he shot for takedowns. Simply put: this fight was to stay standing, unless Khamzat decided otherwise. It arguably proved his detriment.
Switching stances seamlessly and often, Khamzat was uncomfortably content to fight fire with fire – much to his coaches' anger – which saw him wobbled by a right-hand counterpunch, clipped with a left and stung elsewhere in a stanza where the former title challenger excelled.
Chimaev, wearing a lot of damage and probably questioning how Burns was still standing, became more sloppy with his output. If he'd sting Burns to the mat, the Brazilian would be right on hand with a timely upkick to push him away.
They went tit-for-tat and as far as Gilbert was concerned, exchanging haymakers in the pocket would soon pay off. After briefly wobbling Chimaev with a left hook midway through the round, the horn came at precisely the wrong time as he almost finished things with a venomous right.
Although the official stats somehow didn't credit Durinho with any knockdowns throughout, you only have to watch for yourself to see how things quickly shifted away from Chimaev's comfort zone in the second and the bulk of round three too. He was getting hit clean and often.
After turtling up and appearing to run out of gas with his back against the fence, Burns soon found his second wind as Chimaev's adrenaline dump hit.
Connecting hard with three consecutive looping right-hand punches, the Brazilian was whizzing shots with bad intentions and having success. All things considered, Khamzat's acrobatic body kick to finish was a fitting way to end a frenzied encounter that no-one will forget anytime soon.
Chimaev's hype train was eventually going to be gutchecked when he faced a step-up in competition and he justified the clamour to see him in big future fights.
For what it's worth, I scored this 29-28 for Burns – who did the more impactful work late and landed more in the final round too. Chimaev is a burgeoning star but a title tilt feels premature.
---
Other main card results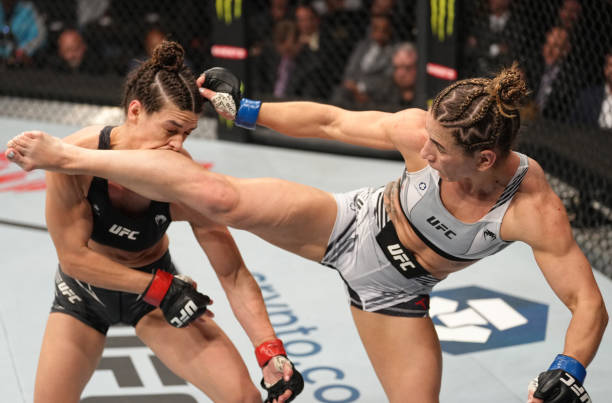 Speaking of debatable decisions, Mackenzie Dern (#5) was fortunate to emerge victorious via split decision against Tecia Torres (#7) in a competitive battle of two strawweight contenders.
After dropping the first round and visibly struggling to find her striking range, the Brazilian showed good improvisation to get Torres in an compromising position up against the fence.
That proved the base for the first of three submission attempts, though Torres fought through pain to see out R2. Tecia showed more sharp takedown defence (5/5 attempts stuffed) in R3, landed considerably more strikes and more accurately – yet two judges saw it in Dern's favour.
Afterwards, she said she wants either Yan Xiaonan, the loser of Namajunas-Esparza 2 or Weili-JJ 2 next. After viewing this performance, it's hard to imagine she'd beat any of those five with ease.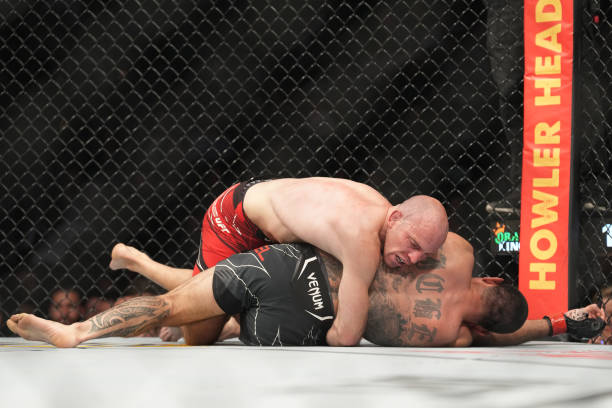 To kick off the main card, Danish lightweight Mark Madsen improved to 4-0 in the UFC and 12-0 as a pro after producing a tactical display which frustrated Vinc Pichel but saw him earn three takedowns as he effectively stifled the ten-year veteran en route to a UD win (30-27 x 2, 29-28).
---
Prelim results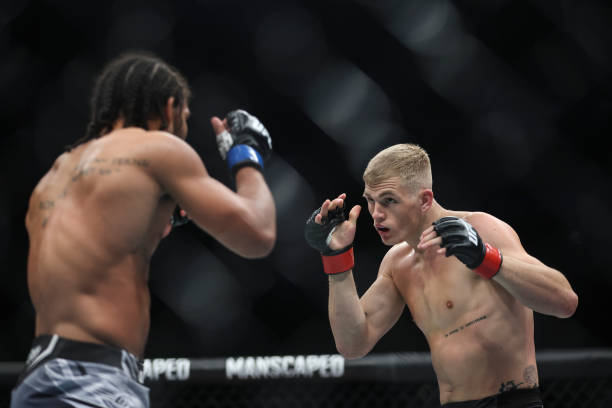 In the night's featured prelim at welterweight, Ian Garry logged an important 15 minutes against a durable Darian Weeks but emerged with a hard-fought decision win (29-28, 30-27 x 2) on what was the Irishman's highly-anticipated sophomore UFC appearance.
The 24-year-old dropped him with a low calf kick early, in what was a calculated start by both.
Handfighting aplenty and clinch work to boot, Weeks repeatedly landed some good punches up close with Garry often up against the fence – almost in a Wonderboy stance – which saw him flirt with danger too often for comfortable viewing.
Weeks' disciplined stand-up defence frustrated the talented prospect, who showed good takedown defence upon occasion but equally struggled to find his striking range with much consistency through 10 minutes.
After being fired up by his corner between rounds, Garry got into his groove early in the final round. A series of kicks to punctuate fast punch combos got the crowd hollering as they saw Weeks clearly feeling the effects.
Despite absorbing more damage, the xx-year-old continued marching forward. An inability to land significant strikes with much regularity, or counter Garry's combos, meant this was only going one way – especially after Ian dropped him briefly with a sharp right hand landing clean.
There's no substitute for Octagon time and while not an electrifying finish, Garry should be encouraged with a more methodical display here. To suggest he'll just blitz through the division at 170lbs though, feels more like youthful exuberance and invincibility than anything else.
In the middleweight division, Anthony Hernandez ended a 14-month layoff with a back-and-forth decision win over promotional newcomer Josh Fremd.
Even though she entered this encounter on less than two weeks' notice, Raquel Pennington (#7) said she suffered a suspected fractured hand mid-fight, but you wouldn't have known as she outworked Aspen Ladd (#4) in a women's bantamweight battle.
It takes her one step closer to a possible title shot at 135lbs, though interestingly she opted to call out a fellow veteran in the form of Sara McMann (#8) as a possible next opponent post-fight.
Eleven years after his professional debut, with some coaching stints in-between, Canadian welterweight Mike Malott had a debut to remember as the Contender Series signee landed a vicious left hook which flattened Mickey Gall rather emphatically en route to a first-round finish:
It wasn't a foregone conclusion, but Aleksei Oleynik recovered from an uncompromising position against short-notice opponent Jared Vanderaa as the 44-year-old veteran produced another submission finish in the night's only heavyweight clash via first-round scarf hold:
Piera Rodriguez had a debut to remember, rallying from an indifferent start to overwhelm Kay Hansen – who missed weight, so forfeited 20% of her purse to the Venezuelan strawweight too.
In the night's opener, Julio Arce got over the embarrassment of his own weight miss (136.5lbs) to outwork Daniel Santos and win via unanimous decision (30-27 x 2, 29-28).
Picture source: Getty Images