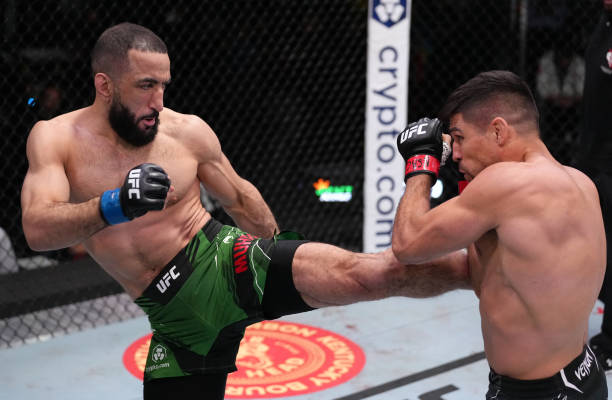 Things came full circle for welterweight contender Belal Muhammad (#6), as he extended his unbeaten streak to eight fights with a composed all-round showing, swarming Vicente Luque (#5) and executing his tactical plan brilliantly against the same man who knocked him out in 79 seconds six years ago. Afterwards, he called out two-time title challenger Colby Covington (#1).
"I showed I can do it all," Muhammad says after latest win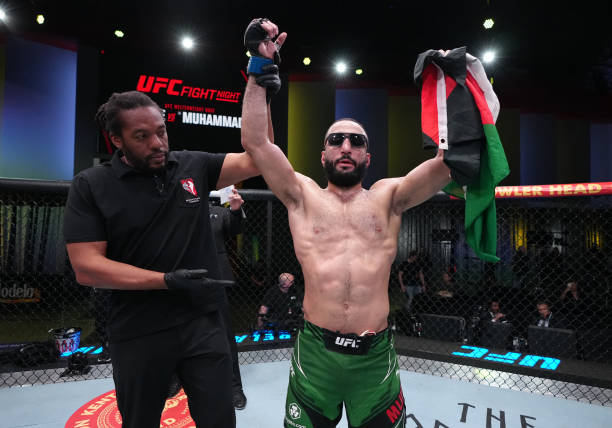 "I'm gonna stop calling for the champ [Kamaru Usman], let me get the big mouth Karen in Colby [Covington], who's out here calling out 55ers [lightweights], fight a real 70er you coward," – Muhammad says after avenging one of his three UFC defeats
Luque landed more significant strikes (84-60 at 45% accuracy), but crucially conceded five of ten takedown attempts while surrendering 7:29 of control time
49-46, 49-46, 48-47: Belal Muhammad (#6) bt. Vicente Luque (#5) via unanimous decision
This was a welterweight title eliminator of sorts, with must-win stakes for both given their title tilt. Finally, after much stagnation, the contenders at 170lbs have begun the process of fighting one another with more regularity, even if this was a rematch five-and-a-half years in the making.
On the UFC 205 prelims no less, not many would've expected the trajectory these two had experienced since. But here they were again and this just wasn't going to be the same matchup a second time round – especially with main event rules, a five-round setting, to consider.
Belal Muhammad, one of many practicising Muslim athletes fasting this Ramadan, would've been bombarded with memes and videos aplenty as fans were expecting another furious knockout for a highly-ranked pretender masking as a genuine threat for Kamaru Usman's crown.
Manoevuring well side-to-side, circling and landing impactful body kicks, he timed his entries well and secured takedowns across different rounds to repeatedly rattle Vicente Luque's rhythm.
Lulled into a false sense of security, assuming they'd engage in the stand-up battle longer than Belal wanted to, Luque and his frustrating lack of urgency were key as he paid the price while his takedown defence (5/10) wasn't strong enough to deter Belal from adopting that tactic either.
Staying calm under duress was the gameplan for Muhammad, as Luque continued trying to press the action with mixed success as time ticked by. Historically a slow-starter, he finally got going in R3 and connected on multiple left hooks as the tide seemed like it was turning.
Not for long though after some stern encouragement from Belal's corner. He wasn't feeling tired they stressed, there was still 10 minutes – championship rounds – still to go.
More takedowns and slick counterpunching paid dividends in the end, showing improved stand-up and an ability to weather a dangerous storm midway through when things seemed dicey.
He has recorded more decision victories (16) than four current ranked contenders have career wins, including Geoff Neal (14-4) – the last man to beat him in Jan. 2019 – while stifling two-time title challenger Stephen Thompson rather emphatically just before Christmas.
Muhammad's style isn't fan-friendly to most but it's working wonders and importantly here, he showed intricacies that will stand him in good stead once tougher opposition eventually sign on the dotted line. Soaking up Luque's forward pressure and punishing him as he did was stark.
---
Rest of six-fight main card, featuring decisions aplenty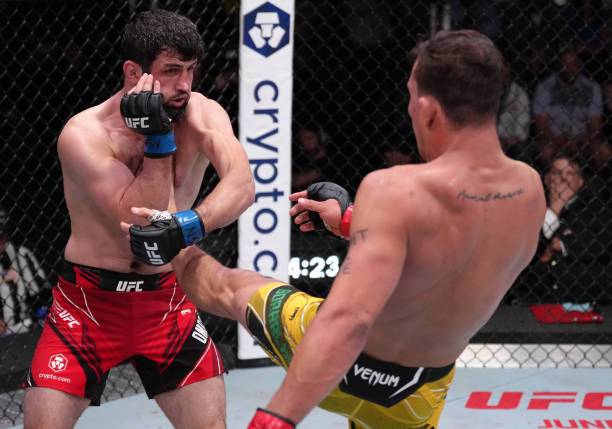 Caio Borralho's grappling, as well as striking and patience, were of increasing efficiency as he was easing to a lopsided decision win over Gadzhi Omargadzhiev in the middleweight division.
Key word being was, because between suffering an inadvertent groin strike and later in the same round landing an illegal knee with one of Omargadzhiev's hands down on the mat, this encounter was left with an anti-climactic ending… as 64 seconds remained on the fight clock.
After a doctor's assessment, translation from middleweight Roman Dolidze and more waiting time for them to come to an eventual decision, Gadzhi – sporting a nasty cut from said knee – couldn't continue, so it went to the scorecards after referee Dan Miragliotta docked a point.
29-27 from all three judges post-point deduction, it wasn't the finish either man wanted but after repeatedly apologising to the opposition corner, Borralho then celebrated a job well done:
"I didn't want to win like this, but I dominated from the start, I've been training with Maia for eight years … think I did a great job, didn't see his [hand on the mat], I'm sorry. It's just my beginning, co-main event on my debut…"
---
Fialho's fiery first-round finish, bueno silva's warning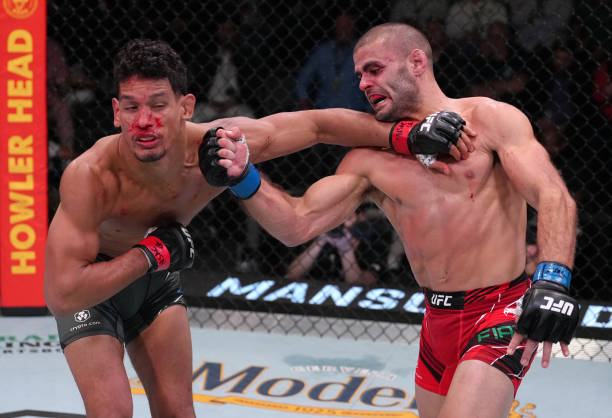 Portuguese welterweight Andre Fialho stressed a desire to make up for lost time post-fight and started with vigour after a stunning finish against Miguel Baeza, producing a flurry of uppercuts which rocked the 29-year-old en route to consecutive knockout defeats in five months.
Fialho, who lost in his UFC debut via unanimous decision to Michel Pereira on the UFC 270 card in January, stressed he's not injured and instead is raring for more activity like a busy 2021 – racking up four stoppage victories across two promotions before earning a UFC contract.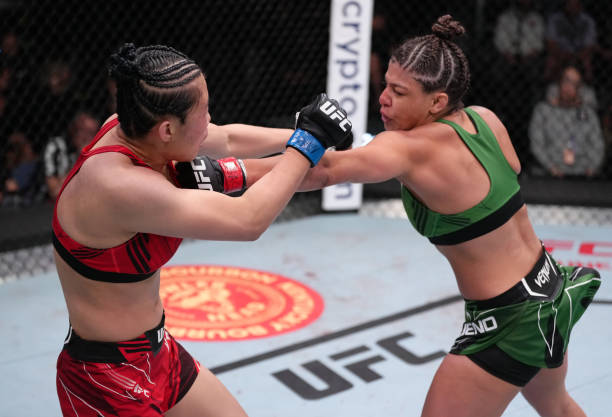 Entering this matchup as an overwhelming favourite, Brazil's Mayra Bueno Silva justified that distinction, enjoying a strike-heavy bantamweight debut against Wu Yanan (29-28 x 2, 30-27) before stressing a desire for contenders to watch out after making the move up from flyweight.
Armed with fearsome punching power and leg kicks chopping the Chinese down to size, the 30-year-old controlled the centre well and always had a response if Yanan beat her to the first strike.
Yanan absorbed her coaches' constructive criticism between rounds and bounced back with a better second-round showing. Ultimately though, the encouraging reaction wasn't enough.
Why? The 25-year-old still had to fight off a triangle choke and kimura on the ground after forcing the issue too hard without showing awareness in defensive responsibility. Ultimately, she was second best vs. a bullish opponent snapping a two-fight winless run dating back to Sept. 2020.
---
no stoppage, but sabatini's streaking while lazzez wins too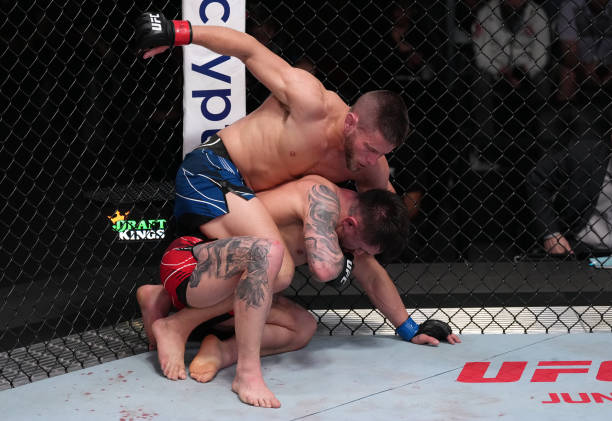 He couldn't mask his disappointment as he reflected upon the performance with Daniel Cormier immediately afterwards, but rising featherweight Pat Sabatini improved to 4-0 in the UFC and banked 15 valuable minutes too against a gamely T.J. Laramie effort that may prove invaluable.
The result means he's also now tied-fourth for the best active win streak at featherweight, with the night's commentators hinting at him being matched against a ranked opponent before long.
The powers of recovery were key for Laramie with just over a minute to go in R1, after absorbing a nasty body kick which temporarily paralysed him as Sabatini raced to sink in a guillotine choke.
Sabatini logged more than three minutes' control time in the second stanza, packed with submission attempts and vicious ground-and-pound to boot.
Keeping the fight standing was easier said than done for Laramie, who found himself swarmed onto the mat again in the final five minutes. His look at the sound of the horn said volumes.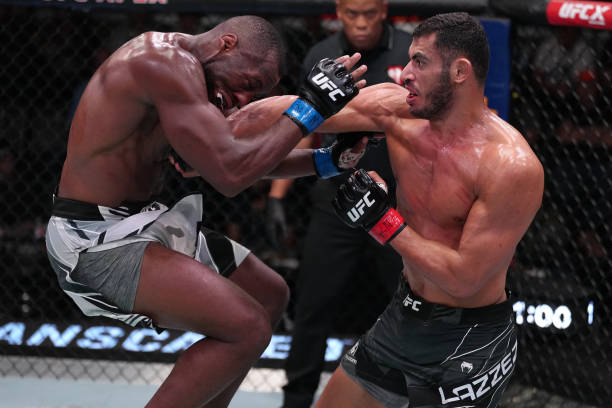 In the main card opener at welterweight, Mounir Lazzez shook off the rust from a 15-month layoff to outwork promotional debutant Ange Loosa during a competitive but relatively comfortable unanimous decision victory (30-27 x 3) contested completely on the feet.
Loosa, with one-time title challenger Gilbert Burns bellowing smart instructions in his corner, grew in the encounter as time wore on but was essentially fighting at a deficit throughout.
That was as a result of Lazzez's striking variance and ability to repeatedly land cleanly during their closely-contested boxing exchanges. Couple that with Loosa's inability to string together regular combos and well, he was outworked despite stinging the Tunisian with powerful shots.
"This [training camp] was hell, three opponent changes… Ange is the man, he just fought two weeks ago and I knew he'd come hungry, I stayed composed and hope the fans enjoyed that – I like to trade, we stood in the middle and bang. I don't want boring fights, either I KO you or get knocked out."
---
Prelim results
In the featured prelim at heavyweight, Devin Clark recovered from an iffy start to overwhelm a much bigger foe in William Clark with a thunderous third-round TKO finish up against the fence.
A pair of ranked Swedes went to war in a bloody women's bantamweight clash, with Pannie Kianzad (#12) earning a gritty decision win (29-28 x 3) over Lina Lansberg (#11).
25 months after his most recent performance, a R2 KO defeat by Beneil Dariush (#4), Drakkar Klose returned to winning ways with a second-round stoppage of his own against relative newcomer Brandon Jenkins and earned a POTN bonus ($50,000) for his troubles.
After successive UD defeats last year, Mexican lightweight Rafa Garcia has strung together consecutive victories following a late R2 submission win via rear-naked choke against Jesse Ronson – having been deducted a point for an illegal knee earlier in the same round.
There was another abrupt stoppage, resulting in a technical decision, as Martin Buday inadvertently elbowed Chris Barnett in the back of the head and rendered the heavyweight unable to continue. On the scorecards, Buday was cruising to victory (30-27 x 3) before the finish.
The crafty Dana White's Contender Series graduate Jordan Leavitt is now 3-1 with the promotion and has notched successive victories in five months after earning a split decision win over 32-year-old debutant Trey Ogden (28-29, 29-28 x 2).
Ogden was thrust into a short-notice slot for Victor Martinez, withdrawing for undisclosed reasons, and judging by his display may get a second crack at asserting his ability later this year.
After three straight defeats, women's strawweight Sam Hughes is finally in the win column with the promotion following a majority decision nod (29-27 x 2, 28-28) against Brazil's Istela Nunes, who was deducted a point in R3 for an eyepoke.
In the night's opener at bantamweight, Heili Alateng needed just 47 seconds to blast Kevin Croom into submission with a TKO finish.
Picture source: Getty Images