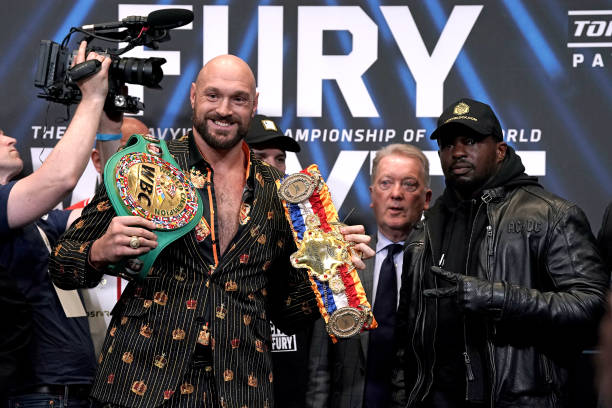 When you cut through all the noise, from underhand tactics and disingenuous politics to multiple legal issues and controversy besides, Dillian Whyte's excruciating wait for a WBC heavyweight title shot finally ends this Saturday on home soil at Wembley against compatriot and former sparring partner Tyson Fury. Will the wait be worth it? Not many believe so.
Fury vs. Whyte: Will the war they promise live up to the billing?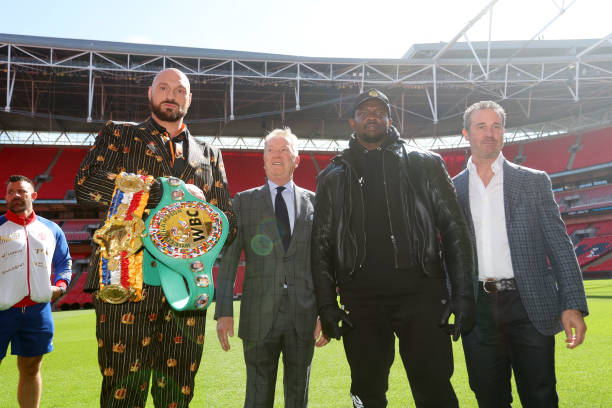 WBC world heavyweight title: Fury (c) vs. Whyte (#1), ringwalks slated for 10pm Saturday BST
Weigh-in results
Whyte comes in at 253.25lbs, 6lbs heavier than Povetkin rematch
Fury meanwhile is 12lbs lighter than third Wilder fight, at 264.8lbs
It's been a minimum of 1,600 days since Dillian Whyte was first installed as the WBC's number one challenger for an elusive world title shot: it's been dangled like carrot-and-stick, abruptly disappeared post-lockdown, then furiously won back in Gibraltar and more besides.
So if you're new or haven't heard the full story which includes how seven title fights came and went without him involved or receiving stepaside money, excuse the matter-of-factly tone with which he jabbed at questions shrouded in sycophancy during Wednesday's press conference.
---
ALSO READ: Fury's camp posturing over Whyte bout shows why the best often hibernate
---
As the challenger said himself this week, there's no point even daring to get into how they decided upon an egregious 80-20 purse split for this record-breaking $41m (£34.1m) bout.
What does it mean to fight for the world title? Why have you decided now to bless us with your presence, having previously made headlines after an apparent refusal to do media beforehand?
How do you win on Saturday? Do you have it in your legs to last twelve rounds matching Fury's frenetic movements? Are you enjoying all of this [attention, glitz/glamour, the spectacle]?
All while lauding Tyson Fury to his right, this made for a tough watch. Whyte did a decent job all things considered, but knows that's only a portion of the battle. Given some fans suggested he sounded punch drunk in last week's sighting, maybe his absence was a blessing in disguise.
Fury, who revealed he began training three months ago in preparation for his second WBC title defence, didn't hesitate with complimentary comments on a familiar foe who – just like himself – has endured hardships on an arduous journey to a legacy-defining night on Saturday.
"Never any complaints from me, I'm sure he's had a good training camp too, the fans are in for a real treat, 94,000 are gonna see a real tear-up.

We know each other personally and will treat you to a barnstormer, an amazing journey and back in England after all these years, fighting me old pal Dillian for all the glory, who'd have thought it?

We're here representing [the UK] and golden bollocks [Anthony Joshua] has been stopped by a middleweight [making light of Oleksandr Usyk], breaking all records at Wembley, highest in Europe.

He's tough, strong, a big puncher who needs a lot of respect. I've done everything possible, trained as hard for him as Deontay Wilder and Wladimir Klitchsko, had good sparring, food, injury-free so he's fighting the best Fury."
---
Trainers' comments, Whyte keeps cards close to his chest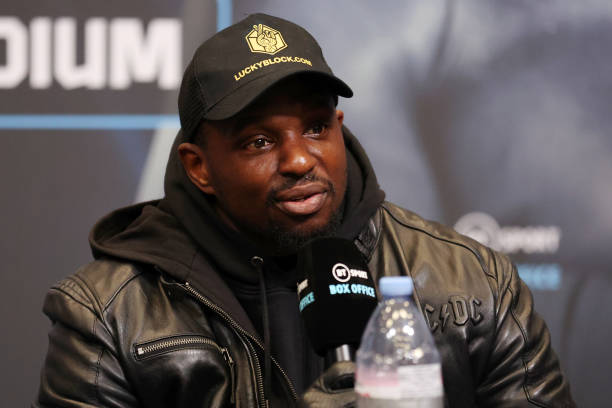 Fury's trainer, Sugar Hill Steward, said he's looking for Tyson to produce a more powerful display and be a much better thinker in regards to setting up his shots, executing with intent.
By contrast, Harold Knight – one of Whyte's head trainers – spoke about the importance of his fighter making adjustments and having a solid gameplan where he can land the better shots.
Steve Bunce's Independent piece earlier this week, detailing some of said hardships Whyte has endured, speaks to a 34-year-old who has nothing to lose and plenty to gain this weekend.
No-one expects he'll win given the physical disadvantages but there's no doubts he'll try his utmost and as Fury's Wilder trilogy can attest, you just never know with heavyweight boxing.
[You didn't do media for this fight, any reasons why…] "There's two sides of the story, one says a lot of things, I'm not scared or hiding from shit.

Stuff needed to get done, the fight needed to get signed, my team have tried to be on the phone, Gareth A Davies talking shit saying I need to be fined for not coming to a press conference? Everyone needs to come to an agreement, I'm not gonna fly from Portugal… what for?"

[What does this mean to you?] "It means everything to fight for the world title, in my home country and not too far from where I'm from, it's massive. Big fight, didn't expect to be here, taken risks time and again, couple slip-ups but I'm here and ready to rock and roll."

[How do you win? What's the strategy going to be?] "You'll see Saturday night. Need to adapt, make smart decisions, that's it. No strategy, just go and do my thing. Win, lose or draw I come to fight and that's what I'm here to do.

I take everyday as it comes, my life has been tough – a little easier now but still tough – we'll see, try my best. I'm not scared to take risks, it's nothing new."
Whyte was brought into Fury's camp as a sparring partner while the Mancunian prepared for prospective bouts against David Haye (2013-14) and the aforementioned Klitschko (2015).
Both dismissed those sessions when asked whether they were potentially a barometer of future success here, given both have developed considerably since then. Fury summed it up well:
"You can't go based on that, we're different men now, this is heavyweight boxing – one punch can decide it and then it's goodnight vienna."
Picture source: Getty Images — all quotes via live presser unless stated otherwise