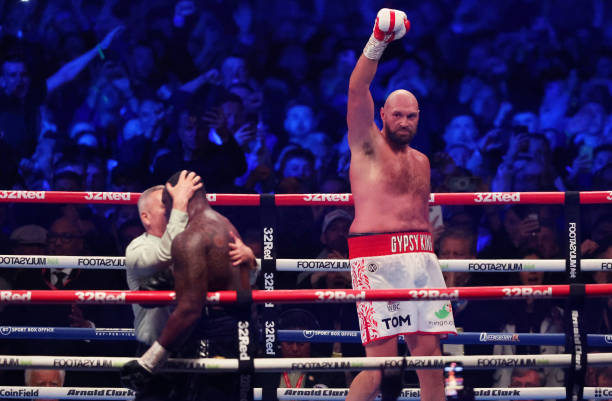 Messy and slow rather than the barnstormer both promised, Tyson Fury asserted full control early and retained his WBC heavyweight strap with a sixth-round TKO win over British rival Dillian Whyte as a record 94,000 crowd watched at Wembley. Afterwards, he insisted it's now time to retire before leaving the door open for exhibition fights, like a hybrid matchup vs. UFC heavyweight champion Francis Ngannou: who was among the interested audience ringside.
Fury fires uppercut, exposes sluggish Whyte's biggest weakness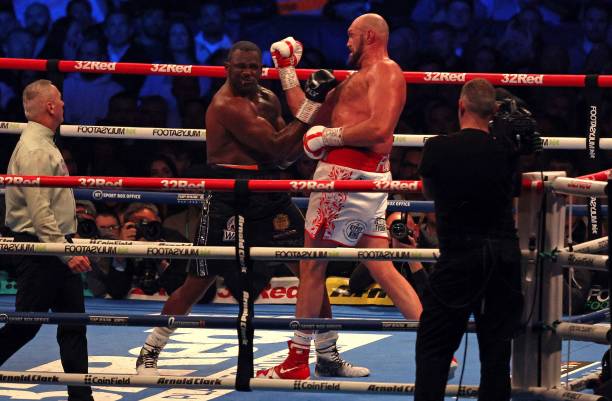 R6, 2:59 – Fury defeats Whyte via TKO, makes second defence of WBC heavyweight title
Anthony Joshua, Alexander Povetkin and now Tyson Fury. Dillian Whyte, for all his strengths, has one fatal flaw three heavyweights spanning seven years have now capitalised on – susceptibility to the uppercut. Povetkin was the most devastating, but Fury fired it to cap a composed display.
The champion, overwhelmed by the vociferous support he received at Wembley tonight, reaffirmed a desire to now retire from professional boxing – something he promised wife Paris he'd do after the Wilder trilogy. This homecoming opportunity, was one he couldn't resist.
If it wasn't clear from the build-up, promo and the contentious 80-20 purse split, Fury was the clear a side here. Whyte and his team had to patiently wait eight minutes for Fury's featured video, entrance and ringwalk, then another seven had elapsed before the first bell was rung.
He would've known this was coming, but if anything the delay should've shook him into action. Instead, more was said about his conscious decision to come out in a southpaw stance as the 34-year-old's initial tactic took most – Fury included – by surprise during the early exchanges.
Controlling the centre well and targeting the body with a series of good jabs, Whyte's encouraging start proved a false dawn as many assumed this would be a more technical shootout than Fury's previous three fights with a dangerous knockout artist across the pond.
Slow movement, reach disparity prove challenger's demise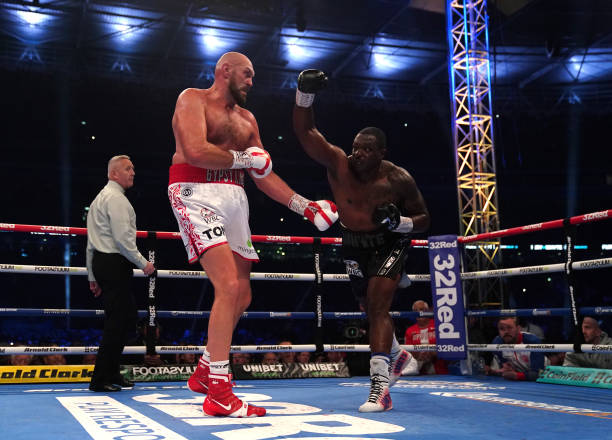 His flat-footed movement was obvious to see quite early on and that proved key for Fury, who landed a clean counter right-hand – the first of many over the course of what was to come.
The pair alternated stances to begin R2, with Fury's seven-inch reach advantage increasingly pronounced whenever Whyte ventured forward hoping to land something clean.
Unless it was a rangefinding jab to the body, he didn't have much sustained success. Instead, he was whizzing shots and missing wildly with right-hand punches, aware of a need to close the distance intently but also unable to apply much pressure when the pair were in the pocket.
This made for a frustrating watch because Fury was content boxing on the back foot, pawing at Whyte upon occasion and luring the challenger into a false sense of security by allowing him a chance to assert himself.
You could see his confidence growing though, even when Dillian's rough-housing attempts were briefly successful. Why? He often began his attacks too far away to be effective and with the aforementioned slow movement, was getting caught coming forward as a consequence.
You could hear his corner stressing urgency because they knew, as well as everyone else, he'd have no chance of beating Fury on points. But how are you supposed to land the knockout blow if you're not setting up the patented left hook?
Fury threw some slick punch combinations in R3 and R4, the latter being temporarily delayed by referee Mark Lyson as he sternly warned both after they clashed heads in the clinch and threw punches after he told them to stop boxing up against the ropes.
That admonishment fell on deaf ears just like last weekend's welterweight title fight in Dallas but this domestic duel was getting dirty rather quickly. Whyte landed a good one-two combo, though Fury was outworking him in terms of punch output before they clinched once more.
The referee issued another warning, after something was thrown towards Whyte in the corner from the crowd – many onlookers suggested it was Tyson's younger brother Shane.
A messy, tough-to-score round four was eventually over. There was more in the way of missed opportunities for Whyte during R5 as he had Fury backed up against the ropes in the corner but crucially didn't capitalise, perhaps second-guessing himself or wary of being open defensively.
Loading up and regularly missing power shots, stumbling over his slow feet, Fury's confidence was soon sky-high as he buzzed the interim champion with a one-two, continuing a smart approach to keep sapping his energy.
On BT Sport, former world champion Lennox Lewis said as much, while Steve Bunce stressed it was time for urgency in the Whyte corner after 15 minutes. Their man was down 4-1, at best.
It would get worse in the sixth. Landing but not connecting on enough to win the rounds outright, he swung and missed by a mile with a haymaker as he clumsily crashed into the ropes. You could almost hear the naysayers savouring this display, over 1,000 days' of waiting for this?
Too hesitant to throw when Fury was close enough to be hit, Whyte absorbed a sneaky short left uppercut before the final nail in the coffin. Caught clean by a right uppercut he didn't see coming, then pushed for good measure, he tried valiantly to beat the referee's ten count.
Stumbling uncontrollably to the ropes, Lyson rightly waved it off and put an end to what was an underwhelming showing on a memorable evening, although now many questions about the heavyweight division remain unanswered. What happens next, after Fury's post-fight admission?
---
Post-fight comments, what's next as fury insists he's retiring…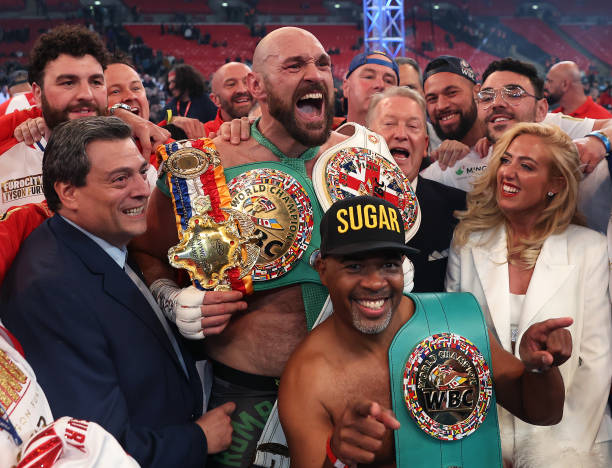 "I cannot believe 94,000 countrymen and women saw me perform tonight, thanks so much. Dillian is a warrior, I believe he'll be a world champion, he met an all-time great in the sport, unfortunately had to face me tonight.

Lennox Lewis could be proud of that uppercut tonight. I promised my wife of 14 years, Wilder 3 would be the last one, but owed it to the UK to come here and fight. Now it's all done, I have to be a man of my word."
Fury was effusive in his praise for head trainer SugarHill Steward, calling him the world's best and revealing he'd purposely been stripped back to boxing basics and criticised heavily by the Kronk gym alum so the American to mould his magic when they teamed up three years ago.
During the post-fight press conference, Fury insisted he won't be fighting professionally anymore but is certainly interested in having some fun sporting activities, naming WWE appearances, a Francis Ngannou crossover fight and exhibitions to make "Floyd Mayweather money" in future.
READ: Ngannou's desire for boxing clause in future UFC deal an unwelcome distraction
"I'm an entertainer, want to have some fun. Ngannou in a cage, everyone wants to see it, he's a monster so it'd be a clash of the titans for sure.

Every dog has his day, I don't care what I've got, I know a lot of people with big money and they're not happy, it's not been about legacy or belts, it's great to be paid for what you do – I enjoy it [boxing] but it's not the be all and end all.

I go above and beyond [promoting fights], deserve to make a choice that benefits me the most, given 20 years to boxing, had my brains knocked out, cuts, boxed all over the world, how much blood can you get out of a stone?"
Afterwards, he finished the presser with a Bob Arum anecdote as the Top Rank boss was forced to watch from his US home after suffering from mild COVID-19 related symptoms this week:
"I had a meeting with Bob [Arum] in 2019, asked what's the motivation, you're nearly 90-years-old? He said well, I came into this game promoting the best heavyweight [Muhammad Ali] and I'm gonna go out doing the same."
---
Analysis, as a big few months await heavyweight division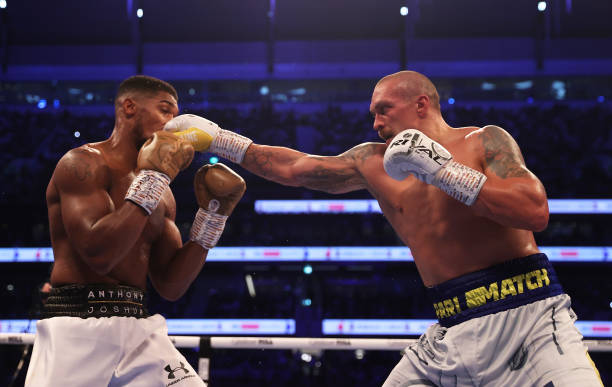 As far as the heavyweight division is concerned, a Ukranian journalist asked Fury for his thoughts on Anthony Joshua vs. Oleksandr Usyk, with the rematch slated for a late summer date.
He answered it diplomatically, a marked change from his usual braggadocious approach in recent times, saying he hopes the pair give fight fans the best possible while stressing a desire not to "get involved in anyone else's business," something which doesn't really apply here.
The winner of that rematch has long been lined up to face Fury in a unification bout for the division's four belts. It's hard to imagine him ignoring that if Joshua wins said rematch later this year considering that – not Whyte – was the domestic dust-up fans have long clamoured to see.
As night descended in north-west London, reports confirmed Fury's close friend and former WBO heavyweight champion Joseph Parker (#2 WBO) has agreed a deal in principle to face Joe Joyce (#1 WBO) on an unnamed date in July – a significant matchup with plenty at stake for both.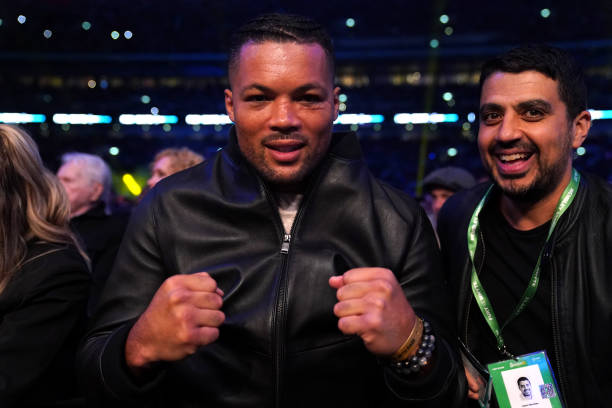 It's a fight I've long called for, to see where the latter is, as time waits for no man. At 36, the Juggernaut is older than both main event boxers here. Frustratingly, it will have been another year between fights, once the 2016 Olympic silver medallist returns to in-ring competition.
Also read: Parker's improved display vs. Derek Chisora sets up encouraging 2022
Whyte, who celebrated his 34th birthday on Apr. 11, will have some soul-searching to do in the coming months as far as team and tactics are concerned. Does he reflect, retool and come back stronger or is this it now? On my unofficial scorecard, I gave him the first round but nothing else.
You'd be hard pushed to find more than two rounds in his favour during a night that amplified his deficiencies, rather than highlighting the strengths which made him feared by many.
Joshua, his former foe, is in must-win territory too this year. Whether that be in Saudi Arabia, back on home soil again or elsewhere. Ridicule his weight all you like, Usyk has displayed the tools to reign over this division as long as he wants, with or without Fury as a future foil.
Andy Ruiz's comeback trail continues on July 16 against two-time title challenger Luis Ortiz, another year-long stint after he overcame a worrying start to outwork Chris Arreola last May.
There's plenty of work for all to do and Fury, for all the charisma and boxing ability which has made him a world star in recent years, doesn't seem keen on keeping contenders waiting.
Picture source: Getty Images