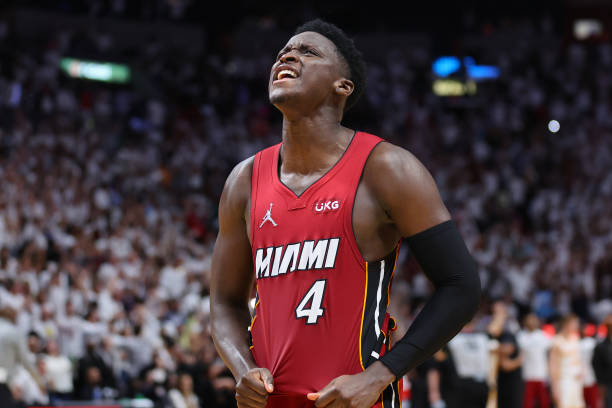 After posting his second-highest scoring total since eventually joining Miami in a trade from Houston 13 months ago, is two-time All-Star shooting guard Victor Oladipo now ready to be their x-factor as the postseason deepens, with questions over Kyle Lowry and Jimmy Butler?
Oladipo ascends as short-handed Heat eliminate Hawks in five
Atlanta's franchise star guard Trae Young was hassled into another inefficient night: just 11 points on 2-of-12 shooting as Miami's masterful defence continued, even without two All-Star calibre players who have contributed significantly off-the-ball watching gleely on the sidelines.
Bam Adebayo had a double-double (20 points, 11 rebounds), while Tyler Herro and Max Strus scored 31 between them – clinching a 97-94 victory in the early hours on Wednesday.
Considering his continued injury struggles, Victor Oladipo's role in their playoff rotation was fairly questioned coming into April. He duly provided an emphatic answer on the same night Hawks' third-year small forward De'Andre Hunter produced a new career-high 35-point showing in vain.
Having missed their first eight three-point attempts as a team, it was their 29-year-old shooting guard who broke the long-distance duck midway through the second quarter.
Miami, heavily favoured pre-series, have prevailed against Atlanta in this format for the first time in three tries (1994, 2009). They'll play a Joel Embiid-less Philadelphia 76ers in the Eastern Conference semi-finals, with Game 1 slated for Monday.
They have such depth, that even with three starters listed as day-to-day, Oladipo's presence should prove key against a 76ers team without their franchise cornerstone and MVP candidate.
Heat head coach Erik Spoelstra said:
"He has great fortitude, that's the toughest thing for a professional athlete is to get injured and most of your time is away from the team. Probably, when you talk about mental health, that is the most challenging thing for an athlete.

You don't necessarily always feel like you're a part of it, have doubts, don't know what it's going to look like on the other side when you do get healthy, not sure if all the work really matters. That's a tough place for an athlete.

Through this entire process I've really respected and admired how Vic is able to keep his positive spirit, it really is a unique quality, I love that about him."
Last month, Jimmy Butler and Cody Martin spoke about being excited for his return and how he'll be a boost for them as they gradually returned to full strength in an ESPN piece.
Picture source: Getty Images