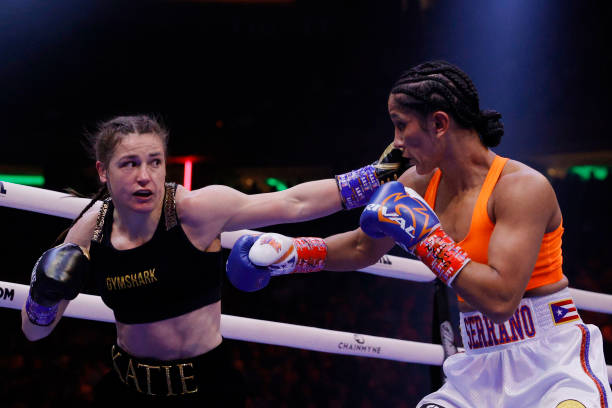 Billed as the most heavily-anticipated women's boxing bout of all-time, this thrilling encounter didn't disappoint but questions will linger and a rematch is poised after undisputed lightweight titlist Katie Taylor retained her belts with a split decision victory over unified featherweight champion Amanda Serrano in-front of a sold out 19,187 crowd at Madison Square Garden.

Taylor stays undefeated at 21-0, amid divided judges scorecards
94-96, 97-93, 96-93: Taylor bt. Serrano via SD, still remains undisputed lightweight queen
After engaging in a close and cagey first round, you could be excused for thinking this would be a tactical battle between two pound-for-pound stars on the biggest stage yet. Unchartered territory as far as women's boxing is concerned, they quickly justified MSG's electric atmosphere.
ESPN paused their Top Rank broadcast as promised, with Shakur Stevenson vs. Oscar Valdez purposely delayed so a historic matchup would get the rightful shine beforehand. It exceeded expectations, though the final outcome will have fans worldwide debating who truly prevailed.
Isn't that a good thing? For what it's worth, my scorecard was the same as Benoit Roussel – 96-94 for Serrano. The other two judges ringside, Guido Cavalleri and Glenn Feldman, disagreed – one by three rounds, the latter somehow gave Taylor a 7-3 advantage over ten two-minute rounds.
Women have long campaigned for parity as far as round length (12 x 3) and this matchup, while fascinating, only amplified the need for it. Truthfully, you could describe a lot of these rounds as competitive enough to award in either direction such was the nip-and-tuck action on display.
Some critics had Taylor up 3-0 through six minutes despite Serrano's solid work, but even if that was true, the 35-year-old needed to win each of the final three rounds and certainly did: closing the show well, having been baited into engaging in a firefight suited to Amanda's strengths.
She looked noticeably tired towards the end of round four and was badly buzzed by a relentless Serrano in the fifth, so much so that you couldn't argue against a 10-8 round as the Irishwoman did well to survive an onslaught packed with punch combos and absorbing damage aplenty.
On unsteady legs in the sixth, she gradually got her bearings back and responded accordingly as time wore on with Serrano – two years her junior – starting to ease up on output, having expended such energy seeing a stoppage win in the bright lights as the crowd roared them on.
That, as well as a conscious decision reverting back to her box-and-move tactic, was key in helping Taylor control distance better while repeatedly stinging the Puerto Rican with clever check left hooks, counterpunches and furious flurries whenever the opportunity presented itself.
More detailed analysis to follow soon…
Picture source: Getty Images