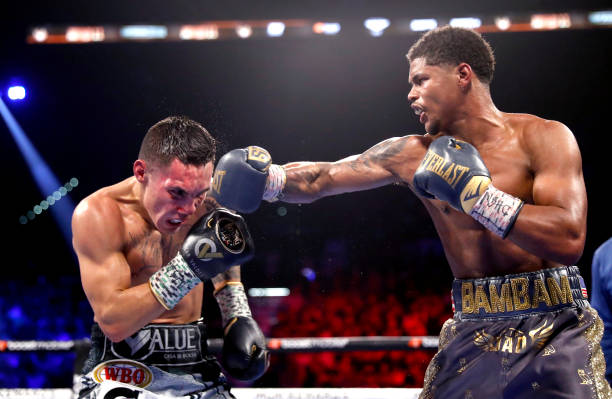 On an evening overshadowed by history being made at Madison Square Garden, WBO super-featherweight champion Shakur Stevenson scored a sixth-round knockdown and thoroughly outboxed Oscar Valdez on his way to an impressive decision victory – comfortably seizing the Mexican's WBC strap and inflicting the 31-year-old's first professional defeat in 31 fights too.

Stevenson: Line them up, I'm ready for whoever
117-110, 118-109, 118-109: Shakur Stevenson defeats Oscar Valdez via unanimous decision
"I'm a superstar in this sport, line them up, I'm ready for whoever. Anybody, any champion, gonna go collect all the belts at 130, that's what I'm gonna do.

Devin [Haney] is a huge fighter, I've got nothing but respect for him, we could line it [that potential bout] up in the future too."
He shushed the crowd as the scorecards were being read out, but everyone had long already known the outcome. Unlike Taylor-Serrano, which was a pulsating back-and-forth duel, Stevenson quickly appeared to have stifled any notion this would be anything but one-sided.
The only blemish on this display, was that he didn't get a late stoppage ala against Jemel Herring last October. He did go twelve full rounds with a world champion boxer possessing devastating punch power and the tools to make this evening a very uncomfortable one for him.
Instead, it took the 24-year-old no time at all to suss out the Mexican's tactics and quickly grew in confidence with each wild swing thrown in his direction, or firmly high guard inviting him closer.
He would just unload combinations, uppercuts, pick him off at distance, bob and weave his way out of danger whenever Valdez tried swarming him towards the ropes, and this pattern largely continued for sustained periods in a fight that never really threatened to erupt into a 130lb war.
Although enjoying some success with his body attacks and work in close quarters, Valdez stood too long in the pocket. His head movement and erratic body positioning encouraged Stevenson to continue connecting on short sharp shots whenever he would load up or charge forward.
After eating a big stepback left hand in the fifth round, Valdez didn't learn his lesson and was soon on the canvas in the sixth after doing similar with Shakur seemingly up against the ropes.
A short right-hand to the side of his head, then a sharp uppercut to follow, was what officially put Valdez down and out for referee Kenny Bayless' count. He tried to feign being okay afterwards but his legs told a different story, punished for being needlessly reckless in the wrong moments.
Stevenson landed a big left uppercut in the seventh, though momentum was tempered after being repeatedly warned by Bayless for pawing and keeping his lead hand on Valdez's head.
Still landing the cleaner punches, all while Valdez kept more of the latter rounds competitive, there wasn't a need for Shakur to push the pace and go searching for a knockout as time passed by: more jabs, slick counterpunching, subtle but key ringcraft and movement did the trick.
"Told y'all what I was gonna do, that was my gameplan, I did that. Oscar a tough champion with power, rough and rugged, he'll be a champion after this.

Anybody, any champion, gonna go collect all the belts at 130[lbs], so that's what I'm gonna do. Devin [Haney] is a huge fighter, nothing but respect for him, we could line it [a future fight] up in the future too."

Stevenson on Valdez and a possible future fight with Haney
---
Analysis, what's next and a word of warning
This wasn't flawless but still an apt showcase for Stevenson and hopefully he'll stay around at super-featherweight in an attempt to unify the four world titles before moving up prematurely.
Three-division champion Vasiliy Lomachenko remains a dream future matchup while Loma remains in his native Ukraine as they're still at war with Russia, though it shouldn't be too difficult to make that bout in 2023 – he needs to take care of mandatory challengers before then.
Although self-belief is of paramount importance, I've never been a fan of fighters proclaiming themselves as superstars though Shakur can get there with time (and worthy adversaries).
The only two you could argue are stars at the lower weight classes are three-belt bantamweight champion Naoya Inoue and three-weight titlist Gervonta Davis. Between the undefeated pair, they have 45 KOs in 50 fights (29 title fights combined!) and are electrifying to watch.
Stevenson is tactically and technically a brilliant boxer who proves elusive while importantly improving all the time, but needs to do more before he can justify sharing such rarefied air.
You don't have to look too far to see others are taking risks to do the same: Shakur's long-time friend and potential future foe Devin Haney, looking to make history in Melbourne next month.
Picture source: Getty Images