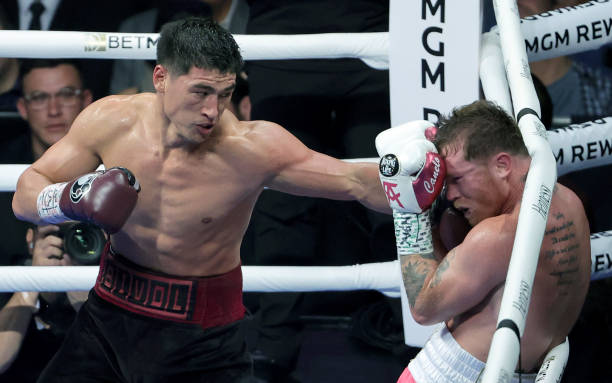 The tagline for this event – legacy is earned – couldn't be more apt. WBA light-heavyweight champion Dmitry Bivol produced a career-best showing and justified the pre-fight caution with a UD win over undisputed super-middleweight champion Canelo Álvarez, throwing a spanner in the Mexican's future plans by boxing with deadly discipline to inflict his second pro defeat.

Bivol's brute force too much for Canelo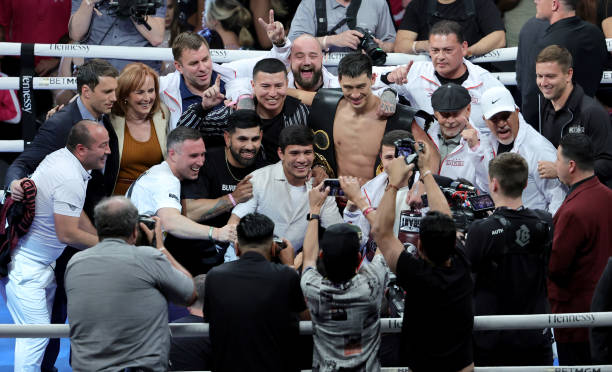 115-113, 115-113, 115-113: Dmitry Bivol bt. Canelo Álvarez via unanimous decision
Bivol becomes second boxer, after Floyd Mayweather Jr in Sept. 2013, to beat Canelo
Close decision win scuppers plans for Canelo-Golovkin 3, targeted for Sept. 17
Rematch – like Taylor-Serrano – is already being floated as a high possibility, though the Russian wants it at super-middleweight with Álvarez's undisputed status at stake
Some critics will say Canelo simply bit off more than he could chew, others claim fatigue was a factor and those downplaying this shock must rewatch this again – without commentary – in a few days' time. Bivol bullied his way to a comfortable win, even if the scorecards claim different.
This result wasn't just a weight-class thing, or based on physical build, as Canelo has beaten taller fighters before – especially in recent years.
Caleb Plant had the most success of most last autumn before eventually succumbing to a 11th-round TKO, but if anyone was going down here, it would've been the 168lb king.
His chin and durability were under constant duress after a competitive start, as Bivol calmly imposed his will.
On the DAZN PPV broadcast, two-time welterweight champion Shawn Porter said Canelo is conquering the sport with how he's floating through weight divisions and beating all before him.
Kate Abdo said you have to risk failure to succeed and while it was entirely plausible he would fall short in this contest, the manner of this defeat took many by surprise.
Pre-fight, Chris Mannix said the Bivol camp used Canelo's Nov. 2019 fight with Sergey Kovalev as their blueprint for success, highlighting his compatriot's off-balance nature when throwing jabs as an area of weakness he needed to avoid in order to achieve sustained success here.
How would he react to the bright lights, the spectacle, Canelo's fearsome power and if something big would land? Like a duck to water. Bivol's sharp punch combos were on display for all to see immediately, splitting Canelo's high guard in the early offing and asserted himself well.
Canelo didn't attempt to mask the fact he was loading up on his power punches, whizzing uppercuts and hooks with bad intentions but the Russian remained firm: displaying solid defence and not wavering, even after a good sequence saw him backed up against the ropes.
Instead, he adapted and ensured Canelo kept moving if he wanted to trade punches in close. Subtle moments like these just reinforced his ring generalship, Bivol gladly showing his skill:
I felt it was 3-1 in the Russian's favour through the first four rounds, such was his purposeful start.
Bivol refuses to get drawn into Canelo's tactics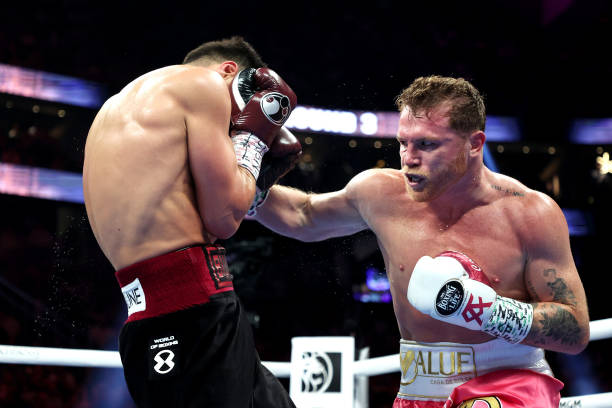 Pressing forward and winning most of their exchanges in the pocket, constant lateral movement made it difficult for Canelo to plant his feet and land those patented right-hand power punches.
Although he finished the fourth with a good uppercut, Canelo was clearly second best to all but the three judges scoring ringside. Perhaps it was the partisan atmosphere, or sense of inevitability that he'd eventually get Bivol where he wanted, but that soon changed for them too.
Just as the DAZN commentators said Bivol wasn't landing much of note, he unloaded a fiery flurry of punches with a few brilliant combos.
From centre ring, backing the Mexican up against the ropes, I counted 13 unanswered punches before again staying disciplined when beckoned forward in a baiting tactic here:
Bivol's defence and footwork were key in the middle rounds, as you could see his confidence increasing and he began scanning for ways to land big shots of his own, almost as though he knew he needed more to beat a fellow champion on the scorecards.
You could hear the consternation growing from the crowd as Bivol landed more combos against an increasingly frustrated Canelo – how could you blame him – being hit clean often and not landing enough of his own attacks in response to deter the Russian from unleashing more:
Absorbing scoring counterpunches and failing in attempts to repeatedly bait Bivol into his traps against the ropes, Canelo's offensive game had been stifled by a bigger, calculated man.
R8 saw a big three-punch combo land flush for the 175lb champion and having rewatched this multiple times, I'm still not exactly sure what roughousing the referee warned him about here, but it said all you needed to know – Bivol again flexing his physical attributes without problems:
There was finally a sense of concern and real urgency from Eddie Reynoso and co in Canelo's corner by this stage, so R9 saw him charge out firing early on.
The crowd roared their warrior forward as he unleashed more uppercuts, trying to split the high guard but with limited success. Even still, it was enough for him to potentially swing that round in his favour.
As far as most were concerned, he was still down 6-3 or 7-2 heading into deep water. Taking the time to shake himself out between rounds, his body language wasn't exactly encouraging either as he looked resigned to defeat – exhausted by failing to breach Bivol properly.
By contrast, Bivol still looked fresh and responded well in R10-11 with more composed activity.
Canelo's body attacks were shunned in the 12th, Bivol still landing big combos and being smart enough to exchange precisely the way he wanted as evidenced by this sequence here:
For all those who disrespect Bivol's punch power, you couldn't help but feel a durable chin kept Canelo from being severely buzzed, knocked down or worse, though his resolve had been progressively chipped away at and it was clear he needed a late KO to drastically swing things.
By the final bell, I had it 10-2 or 9-3 in favour of a champion who silenced critics excellently and now has far more options than expected after producing the best night of his career to date.
---
So, what's next for both? analysis, post-fight comments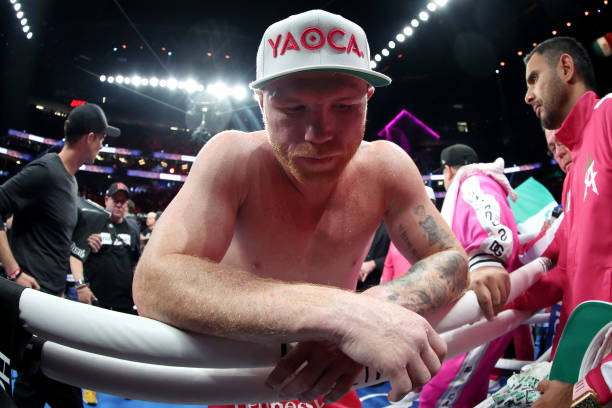 Most will say Canelo's second career defeat was long overdue after two closely-contested battles with Gennadiy Golovkin, but armed with quiet confidence throughout, Bivol did exactly what critics expected would be done to him — and made sure to thank those who believed in him.
He would've known he was capable of this performance, but it's another thing to produce this showing over twelve rounds and not waver once against the sport's pound-for-pound king.
"I felt his power, you can see my arms — but not my head, it's better [laughs].

He has good speed and power, maybe his mistake was throwing only hard punches, he relaxed and tired after that. I expected that [targeting his arms], I watched his fight with Callum Smith.

Rematch? I took this because I wanted the opportunity, next time I want to be treated like the champion. Thanks to everyone who believed in me, believe in yourself and you can achieve what you want."
Canelo, through a ringside translator, praised Bivol's performance and refused to make excuses but said "it doesn't end like this," eliciting a great roar from those within the crowd who were still in the T-Mobile Arena, as they verbally agreed to duel again in a rematch later this year.
Eddie Hearn, who promoted both for this fight, essentially admitted Bivol was a stepping stone to Golovkin as far as the 168lb champion was concerned. That plan is on the backburner now.
"Unbelievable, we talked about how good Bivol was, had to box exactly how he did, did Canelo look a bit flat? It was just his brilliance, feet, great defence, aggressive enough to win the rounds."

Did you think he had this in him? "Honestly, probably not. You looked at him before and mid-pandemic against Craig Richards, Lenin Castillo, those performances didn't tell you that form would beat Canelo but he's a special fighter. When you produce like he did, unbelievable, did just that tonight."

Rematch for September? "You have to ask Saul, can't advise him any different because he wants those challenges – Dmitry's confidence will be through the roof, Golovkin is on the shelf."
Two-time middleweight world champion Daniel Jacobs, who pushed Canelo in a memorable clash but ultimately suffered a UD defeat three years ago this month, said the Mexican superstar was punished for biting off more than he could chew by returning to light-heavyweight here.
Porter said witnessing someone counterpunch and land clean combos against Canelo was essentially unheard of, as the Russian refused to let him find a rhythm throughout.
Undisputed women's welterweight champion Jessica McCaskill said Bivol was the first she has seen to capitalise on Canelo's poor defence, wasn't afraid of the punch power and hinted a rematch could look similar as the LHW will also make adjustments of his own next time around.
Picture source: Getty Images, GIFs and quotes via DAZN's live PPV broadcast