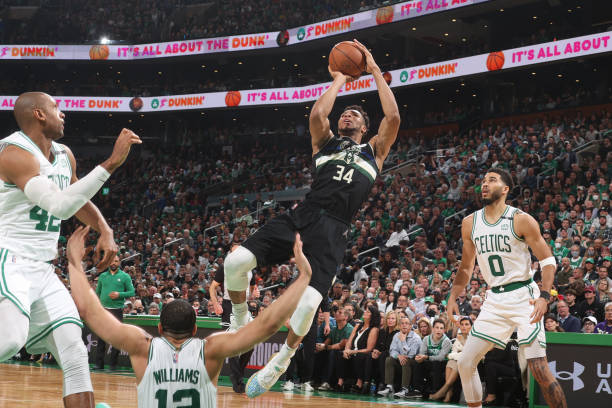 It was a forgettable fourth quarter for Mike Budenholzer's men in the early hours on Tuesday, as they – like the Ja Morant-less Memphis Grizzlies vs. Golden State – relinquished a promising advantage late, giving Boston new life in a series that could've easily had different stakes tonight.
Here's the starting line-ups for both:
Boston: Marcus Smart; Jaylen Brown, Jayson Tatum, Grant Williams, Al Horford. 
Milwaukee: Jrue Holiday, Wes Matthews, Grayson Allen, Giannis Antetokounmpo, Brook Lopez.
00:05BST: We're underway! 
6:57, first quarter: 11-10 Bucks – it's been a fast-paced, electric start by both as expected… Milwaukee hitting three straight three-pointers to begin the game in much better form from distance than they've managed so far this series, though Horford's active hands and an emphatic Brown dunk just now have enthused the Boston faithful. Compelling start thus far. 
4:49, Q1: 15-14 Bucks – Giannis makes both free-throws as the home crowd, as most opposition teams did last year, start a ten count as soon as he receives possession from the official under the basket. The reigning Finals MVP later misses an audacious three before the latest timeout, leading to some audible bafflement by commentator and coach Jeff van Gundy.
Holiday, who had just 16 points on 22 shot attempts in Game 4, already has five – a reassuring sign if he can continue this streak as the game intensifies.
4:07, Q1: Make that seven, as he leaves Derrick White in his dust and sinks a neat floater in the paint. He leads all scorers, Milwaukee are now 19-14 ahead through eight minutes or so. 
1:40, Q1: 26-22 Bucks – Nothing like a corner three to silence the brewing Celtics crowd, hey? Pat Connaughton drilled one, Holiday has just made some free-throws and their slender lead is restored for now. 
End of 1st, 28-26 Bucks – Giannis holds possession, drives into the paint and eventually feeds an open Connaughton, whose last-second effort is too forceful and bounces back off the backboard. The visitors are deservedly ahead, but not by much at all.
Reserve C Daniel Theis (6 pts, 3-of-3 shooting in 5 mins) has given Udoka some valuable minutes off the bench, while Tatum almost made an excellent jumper before the quarter's final play. 
10:39, Q2: 30-30 Bucks – Giannis charges to the basket, bullies an overmatched White and gets to his spot. Tatum makes both free-throws on the next possession, then sprints ahead in transition after an Allen turnover – Milwaukee's fifth already in this game. 
8:25, Q2: 37-32 Celtics – Just like that, the lead switches hands once more. Tatum sinks a three, Theis produces good defence on Allen before White sinks two shots in quick succession.
Giannis, Connaughton, Matthews all missed good looks before that latest timeout was called by coach Bud. 
6:38, Q2: 40-38 Celtics – White makes a three, Bucks bounce straight back up the floor with Allen assisting Portis for a dunk. Giannis gets an and-one after Horford denies Matthews at the rim, though he misses the subsequent free-throw.
Then he's called for a travel, and that'll be his last action for now. A breather for him and Horford.
5:02, Q2: 45-38 Celtics – A whopping seven turnovers for Milwaukee now, just before Holiday gets his difficult shot swatted by White at the rim. Matthews misses another good look from three, before Theis extends Boston's lead with an uncontested triple. Giannis returns…
3:46, Q2: 51-38 Celtics – Brown makes a beautiful reverse layup in traffic, with Giannis on him, before the Bucks relinquish possession again. Jaylen almost yams it on Lopez in transition, he makes both free-throws. Holiday with another turnover, Brown-Tatum combine for an easy dunk!
It's a game of runs but Milwaukee cannot afford to keep wasting away possessions like this, quite literally handing the initiative to their hosts – who don't need a second invitation to strike.
---
Half-time, Celtics deservedly ahead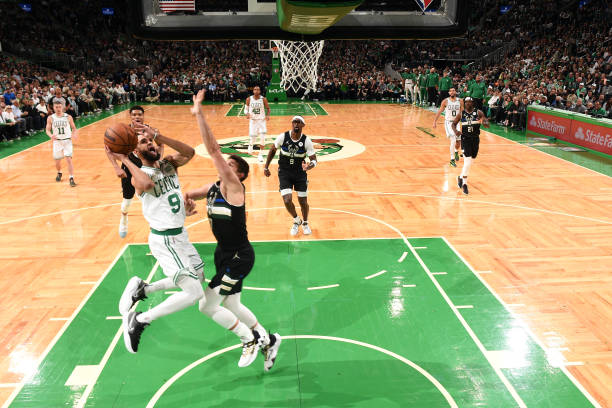 HT: Celtics 54-47 Bucks – The defending champion Bucks have paid for their nine turnovers in an eventful first-half that lived up to the billing. Giannis, who had four of them, made up for some skewed decision-making with a powerful barrage and now leads all scorers with 19.
He's virtually unstoppable at full speed, something Horford has again experienced on multiple plays tonight already. The two-time MVP scored or assisted on 16 of their 19 second-quarter points, though they're down more than half a dozen at the 15-minute interval.
Tatum blocked Bobby Portis at the rim but the 24-year-old, who finished fifth in MVP voting this season, has struggled with his long-distance shooting (2-of-10) so far tonight.
That he has 16 points, and Udoka's bench unit are outscoring their visitors 18-11, will be encouraging as they look to close out this matchup.
White has been excellent off the bench, though his buzzer-beating layup to give Boston a nine-point margin was correctly waved off after brief video review by the officials. Stay tuned for play-by-play commentary from the second-half to come. 
Also later on tonight, it's win-or-go-home for Memphis without Ja Morant when they entertain Stephen Curry and the Golden State Warriors. Tip-off time there is shortly after 2.30am BST. 
01:23BST – Second-half is underway! Will the Bucks recover, or can Boston take a series lead for the first time?  
9:16, Q3: 59-56 Celtics – Matthews ices a triple to nullify Tatum's lovely layup, before Giannis goes coast-to-coast… foul called on Brown – his third – and the TD Garden crowd voice their disbelief. He misses both, but Lopez snatches the rebound and Holiday knocks down a three!
6:30, Q3: 62-59 Celtics – Offensive rebounds (10-3 for Milwaukee) are proving decisive for the Bucks now, as Tatum loses his footing on one possession then misses another three-pointer during another. Brown with a nice putback over Lopez, after solid initial defence by Allen.
4:56, Q3: 69-63 Celtics – Holiday breaches Tatum at one end, then gets it straight back down the other… Giannis makes a neat finger roll layup through traffic but has a foul call ignored, before some slick Celtics ball movement sees an extra pass to Smart, making his second three.
3:48, Q3: 71-68 Celtics – Allen shows great athleticism to hang in the air, driving past Theis and finishing through his challenge at the rim. Makes a subsequent free-throw, briefly closing the Celtics' lead to five… before Portis is fouled by Smart and makes both FTs.
2:52, Q3: 75-70 Celtics – Lovely mid-range jumper by Brown with Allen and Portis both challenging him, before Holiday misses a shot and has the ball stolen shortly afterwards.
Jaylen jinks his way to the cup, is stopped by Allen, and Boston's lead back up to seven after he  makes both shots at the foul line. Holiday eats up the shot clock and tries to make a play, he eventually sinks a neat two-pointer, before missing successive tough shots in transition.
Smart with a superb spin move to stay unmarked, he drills a three and their advantage is again eight – then into double figures as Brown gets by Allen.
1:05, Q3: 83-74 Celtics – Giannis blitzes his way past Horford, Brown is again targeting Allen and Williams is again admonished for being too forceful on Antetokounmpo… it's all happening now! Giannis thankfully makes both free-throws this time, which could prove costly down the stretch.
End of 3rd, 86-77 Celtics – Brown is certainly on fire now, sinking another three… before Giannis – on the fourth time of asking – finally makes one in return, early in the shot clock.
Brown scored or assisted on 25 of Boston's 32 third-quarter points, how will his teammates fare down the stretch in crunch time now?
10:08, Q4: 93-79 Celtics – Not the best start, Portis draws Tatum's third foul in transition as he shapes for a dunk — the big man makes both free-throws, and cuts their lead down to seven.
White with an excellent bounce pass to an unmarked Horford, then Williams' defence helps Boston charge on the counter-attack themselves, Tatum sealing the and-one finish with a layup. 
Giannis gets two quick fouls, first an offensive foul on Williams and then somewhat cheaply as he slaps Tatum while trying to go for a steal. 
Payton Pritchard, scoreless up to this point, shows great control and awareness to make a turnaround jumper as the shot clock expires. Celtics now have their biggest lead of the game.
7:34, Q4: 98-90 Celtics – Good ball movement sees Connaughton open for three, temporarily settling the TD Garden crowd down… but they rise up once more as Tatum leaves him for dead with a marauding drive and yams an emphatic dunk on the very next play.
Holiday makes his third triple of the game, taking advantage of Williams giving him too much space down the next possession, before inadvertently fouling Tatum. Giannis now has 34 points after a slick pick-and-roll play, before Pritchard seals a tough finish through Allen in the paint.
Horford again shows good hands to strip Giannis, who commits a take foul immediately afterwards, but speaking of threes… the Greek Freak soon has his third assist of the evening for another Connaughton triple. Ime Udoka is unhappy at what he's just seen and calls a timeout.
4:52, Q4: 101-95 Celtics – Brown with a turnover that leaves Udoka fuming on the sidelines, Giannis and then Portis lurking dangerously in the paint… the latter is fouled, subsequently makes both shots at the foul line to make it a six-point game.
Portis is baited into a foul at the other end immediately afterwards, colliding with Brown mid-shot, though Jaylen can only convert one of those two shots at the stripe.
Giannis is blocked by the combo of Horford-White, the latter relinquishes possession and Matthews knocks down a corner triple! Holiday is fouled in transition to stop an easy two-pointer, then misses another tough shot as Tatum drills a tough jumper in Portis' face.
3:31, Q4: 103-99 Celtics – Holiday puts it up but misses, Giannis grabs the offensive rebound and seals a putback. 36 pts for him. Holiday takes Smart one-on-one, makes a tough jumper with the Defensive Player of the Year on him… then Giannis with a big block on Horford at the other end!
Tatum makes a tough jumper as the shot clock expires, Giannis gets his fourth foul after Smart theatrically sells the contact on a screen – which leaves Budenholzer livid, and he lets the officials hear it as a timeout is called. Connaughton smartly steps in between them, avoiding a technical.
1:55, Q4: 105-99 Celtics – Holiday misses two shots in quick succession again, leaving Portis' gritty rebounding effort in vain… before Horford shows great anticipation to react quickest and yams a dunk on Brown's miss!
0:37, Q4: 105-105, tie game! – After missing wildly on his first three attempts, Giannis drills another three! He now has 39 points, after Portis misses an initial deep effort and the ball finds its way back to last year's Finals MVP.
Tatum misses, Portis is fed through but somehow can't finish at the rim, Giannis is bleeding above his right eye… makes the smart play, feeds Portis, who circles out to Holiday, just like that we're level again!! For how long though?
11.1, Q4: 108-107 Bucks – Tatum is fouled by Portis, who makes both free-throw shots.
Giannis is fouled by Williams, side out … then Williams does the same again in the paint, two free-throws and they're seismic for Antetokounmpo here, once the medical staff try to patch up the cut from his eye — from an accidental collision with Connaughton after Horford's dunk.
He makes one, misses the second but Portis with a massive rebound and tip-in!
6.6, Q4: 108-107 Bucks – Smart collects the ball from side-out, goes at Connaughton and hangs in the air with the basket in sight, but Holiday with a potentially decisive block from behind!
Giannis shows great poise to wait for a teammate in space from the inbounds pass… White fouls Connaughton, who makes two clutch free-throws.
---
Bucks battle back as Giannis has 40, Holiday big defensive plays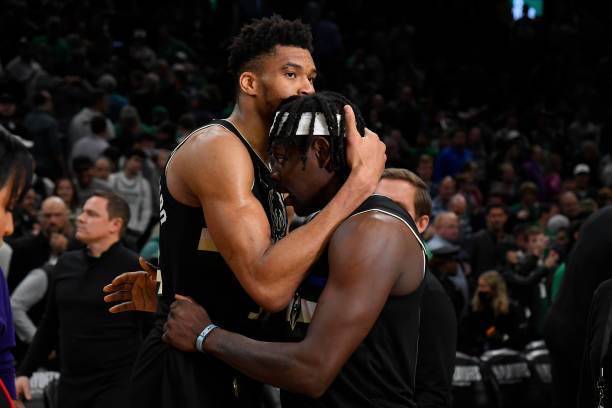 FT: Bucks 110-107 Celtics – Celtics, all out of timeouts, advance the ball forward with Smart… but Holiday strips him and just like that, it's all over! He didn't shoot well (again) but Jrue Holiday's clutch defensive plays help Milwaukee snatch Game 5 from under Boston's noses.
Teams that win Game 5 of a 2-2 best-of-7 playoff series go on to win the series 82.2% of the time (180-39) and even with All-Star SF Khris Middleton watching injured from the bench, the Bucks go home knowing one more win will see them into the Eastern Conference Finals once more.
Giannis, who had his sixth career playoff game with 40 points and 10 rebounds, spoke to ESPN:
On how they were able to grit their way back:
"It was about getting open shots, being able to execute. Trust one another, we weren't in a rush, lot of open guys and we made some shots."
Bobby Portis' influential display:
"It's big for Bobby, we have another one in two days, he's ready, I love playing with him – he's always there to compete."
On the cut to his eye and being bruised:
"It's been a rough couple days, but I'm good [smiles].
Thanks for joining me tonight, I rarely do live commentaries any more but this was an enthralling affair, thankfully living up to the billing as far as exciting NBA playoff basketball is concerned.
I've been busy with other sports and work but as we get into the business end, will have more coverage as the postseason continues – more game reports and analysis in the weeks to come. 
More to follow shortly…
Picture source: Getty Images