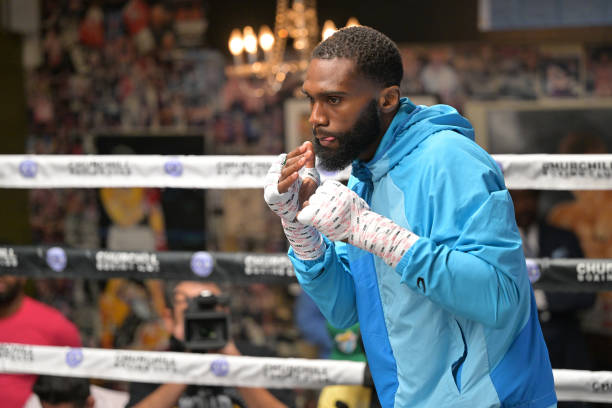 Ahead of his heavily-anticipated return to the ring against Custio Clayton tonight, 24-year-old welterweight rising star Jaron Ennis has doubled down on his desire to make 2022 the best year yet: believing he will dominate and eventually stop an unbeaten Canadian (19-0-1, 12 KOs) who at 34, has a golden opportunity to skip the line, proving himself against the best at 147lbs.
Ennis back, eyeing an emphatic finish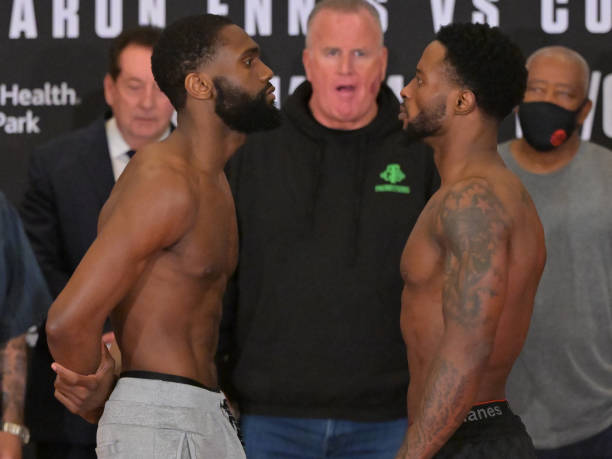 Jaron Ennis (#2 WBA, WBO, #3 IBF, #4 WBC) vs. Custio Clayton — on Charlo-Castano 2 card
Ringwalks expected: Sunday, 2am BST
Six-and-a-half months – just shy of 200 days – after he blitzed past Thomas Dulorme in less than a full round, Jaron Ennis makes his in-ring return. Boots, who turns 25 next month, is understandably eager to stay active but finding quality step-up opposition has proven difficult.
READ: Rising welterweight star Ennis expects busy 2022, targeting world title push
Current three-belt titlist Spence won his first strap, the IBF welterweight title, on away soil in Sheffield against Kell Brook at 27. WBO titleholder Terence Crawford, a three-weight world champion, was a year younger when he dethroned Scotland's Ricky Burns in Glasgow.
It's not impossible to envisage Ennis emulating that feat, considering a Crawford-Spence clash appears more likely than ever before, as well as both looking at tonight's main event – Jermell Charlo vs. Brian Castano 2 – as another motivator later down the line, at light-middleweight.
Ennis, linked with former champs Danny Garcia and now-retired Shawn Porter, told media midweek he doesn't begrudge those making business decisions to further their careers:
"I feel like ain't no fighter scared of nobody, they just make the smart business decisions and what's best for they career. I mean, eventually I'll see these guys, whether it's at '47 or '54.

As long as I'm doing my thing, winning and putting myself in position to, win the title, that's all that matters. I don't care who it is, they can line 'em up and we'll knock 'em down – no matter who it is."
Also read: 2021's Sleeper Fight of the Year: Charlo vs Castano – an action-packed duel
---
Charlo right to hone in on Castano, after their first duel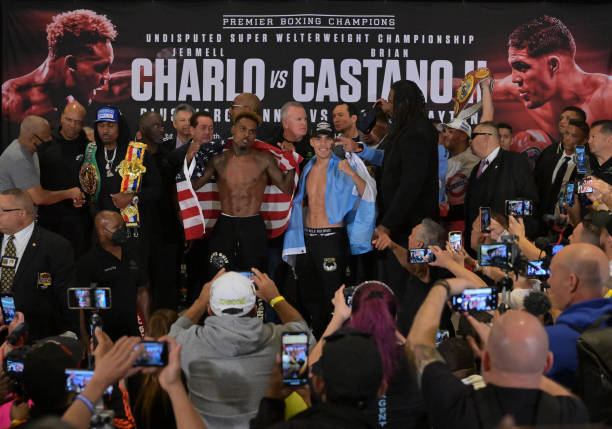 It may sound like a cliche, but it's important to focus on what's immediately ahead of you, rather than what may or may not happen later down the line.
As such, Charlo dismissed a prospective Crawford bout and is friends with Spence, so would probably have to move up in weight then vacate the titles – if victorious – for Errol to follow suit.
"I mean, he gotta first get past Spence and that might not happen.

Crawford don't mean shit in boxing to me right now, ain't in my weight division, he's making 147, so let him – he can't even beat nobody over there, so someone get Jaron Ennis [on him].

He can't even fuck wit' him, how he gonna come in here talkin' about knocking somebody like me out? It's whatever."
These are all permutations that disappear rather quickly, should Castano rip up the script like he did in their initial bout last year. Many critics, me included, felt the Argentine was a deserving winner that night, though Charlo has stressed this rematch will be a completely different story.
Castano, aware that he'll be at a disadvantage again as the visitng fighter once more, believes he'll produce an even better display the second time around:
"I do believe I won the first fight, maybe by a small margin, but I won. This time, we're going to try everything to make sure we don't leave the fight in the hands of the judges.

Elite opponents are what motivate me, he [Charlo] saw a different fight than I did, if he saw himself winning eight rounds.

We had a lot to learn from the first fight, to be more cautious at times while I'm in the ring. He's powerful, but I'm going to bring my power too – we learned and going to correct any errors we made."
I'll have coverage of that, and the UFC card headlined by former champion Jan Blachowicz vs. Aleksandar Rakic overnight, in what promises to be another busy evening packed with fights.
Picture source: Getty Images — quotes via BoxingScene