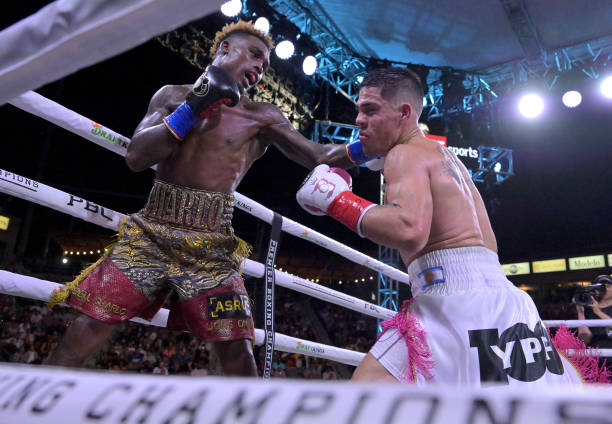 After their first firefight last summer ended in a split draw, it's no wonder this was nerve-racking for Jermell Charlo a second time. However, he was more intense and picked his moments better en route to a tenth-round stoppage vs. Brian Castano in their rematch. Beforehand, there was another early evening's work for rising welterweight star Jaron Ennis in the co-main event.
Charlo completes undisputed status after R10 KO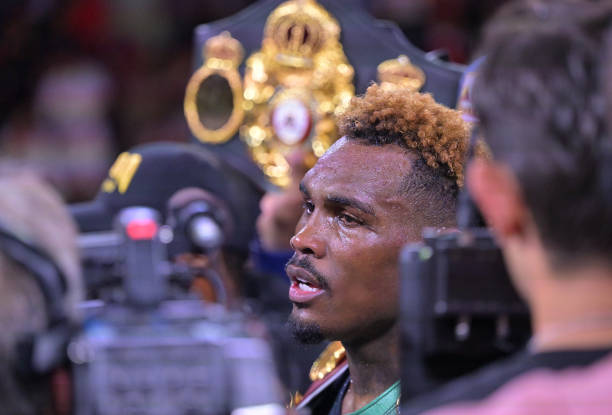 R10, 2:33 — Jermell Charlo bt. Brian Castano via KO, retains WBA, WBC, IBF light-middleweight titles and wins WBO strap to become undisputed at 154lbs
This end result is what most critics expected would prove Jermell's crowning moment at light-middleweight last summer, but once again in another rematch, the now undisputed champion produced necessary adjustments to put a definitive stamp on a well-executed strategy here.
Just like he did against Tony Harrison a second time, avenging his UD defeat a year later to regain his WBC title in Dec. 2019 with a R11 TKO, this showing had more of the same feel to it: righting a wrong he needed to settle, even if Castano 1 won't show up as a defeat on his record.
You could argue Castano overachieved 10 months ago, or Charlo underwhelmed. Both showed their first meeting was no fluke, two champions bringing the best out of one another and frequently going tit-for-tat in their exchanges in what was another Fight of the Year contender.
Only this time, the damage accumulation caught up to an admirable Argentine who, for all his forward pressure, was losing his grip on the WBO strap he came to defend.
It was a short left hook which dropped him midway through R10 after an uppercut and body shot in close, though you could clearly see the end was imminent by his subsequent reaction.
On wobbly legs and unable to recover quickly enough this time, Charlo – who let him off the hook in the same round last year – wouldn't make that same mistake again.
A four-punch flurry up against the ropes followed shortly after the referee's observation and mercifully, this was over as Castano found himself floored a second time in quick succession.
"This is unbelievable: I gave it my all, that was the end result. This was nerve-racking, felt like my first fight, having ants in my pants, I knew he [Castano] was going to give his all, super excited for me and my brother [Jermall Charlo].

I listened to my corner this time, was sitting down more [on his punches], could see him wearing down a little bit so I stepped up.

This is legacy, legendary, I'm a legend… when you're at the top you get mandatories, top guys, have to get ready for it. I work really hard, might move up to 160 and see if I can do it again…"
---
the right adjustments: so, How did Charlo do it?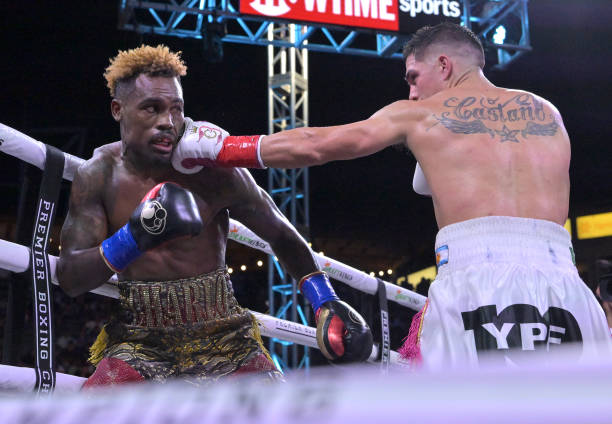 Just as soon as the commentators on PBC's broadcast highlighted Castano's cautious start, the pair exchanged fireworks in the pocket – like their initial meeting – quickly getting reacquainted.
Charlo landed a sequence of hard right-hands to start the second, though absorbed some sneaky left-hand punches for good measure as Castano finished R2 the stronger.
Charlo began slipping back into his previous weaknesses in the third, winging power shots and missing, as Castano repeatedly backed him up against the ropes.
Showing necessary composure and sticking to his jab on the back foot, Jermell was having joy but it didn't deter Castano from unleashing sustained attacks.
Nice right hooks, more big punches landing in the pocket and cutting off the ring with success certainly made the case that this was 2-2 through twelve minutes.
R5 was another relentless round, Charlo the aggressor but Castano connecting on the cleaner shots – uppercuts and a flurry to finish, as both were hurt but rallied to reel off scoring shots.
Castano found himself constantly building momentum in the latter stages of rounds, while Charlo landed more than enough as far as resistance in response.
You couldn't help but wonder how the three judges ringside were scoring this encounter. It seemed like whenever Charlo had some good moments, he fell back into the same pattern and allowed the Argentine to recuperate, returning fire with power-punching combos of his own.
You could say the same in R7: hurting him with a big left hook Castano didn't see coming, but again retreating into a more measured stance, rather than putting his foot on the pedal.
Rounds eight and nine were messier, but it was clear to the naked eye Charlo had found his groove by this point. It felt fitting then, that R10 was the finale. Again they exchanged in the pocket, Castano initially leading the dance but Charlo quickly firing back and with regularity.
All those power punches — 142 per CompuBox — gradually chipped away at Castano's resolve, so much so that Jermell's sneaky left hook up close dropped the Argentine without warning.
Referee Jerry Cantu could, and probably should have stopped it there. But in a championship fight with such high stakes, you can empathise the official's position as he tried giving a champion the chance to recover like many often do, as futile as it ultimately proved here.
---
making noise: Ennis eases past Clayton with R2 KO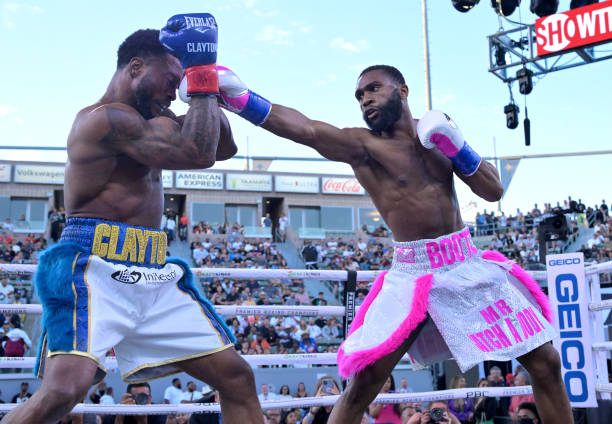 "I'm just trying to perfect my craft, get better each and every time, work on things, do what I need to, get that knockout. We don't get paid for overtime," he said smiling. Why wouldn't he be?
After all, rising welterweight star Jaron Ennis produced another fast-and-furious stoppage win – this time against previously unbeaten Custio Clayton – just like he promised seven-year-old fan Jackson Ramirez and the assembled media earlier this week.
It felt fitting three-belt titlist Errol Spence Jr was watching ringside, given his ties to friend Jermell Charlo in the evening's main event. The 32-year-old is likely to move up to 154lbs soon, something he hopes will happen after a unification bout with Terence Crawford.
"Anybody can get it right now, I'm the IBF #1 contender, I think Mr Big Fish [Spence] said himself, it's time to go fishing. He leaned down, I threw an overhand there. He's durable, tough guy, nobody [had] stopped him." 
Although it's easy to pick holes at what was an ineffective tactic, he took advantage of the Canadian's understandable caution, controlling centre ring early and whizzing power shots — uppercuts, strong right-hands — watching as a left hand stumbled the 34-year-old backwards.
It proved the beginning of the end, something Boots sensed as he smirked knowingly, listening to father Bozy in the corner after R1 finished. You could see Clayton didn't like the body shots he was absorbing to start R2, as Ennis continued jabbing him with confidence and assurance.
An overhand right to the side of Clayton's head crumbled him to the canvas. Despite beating referee Ray Corona's ten count, his equilibrium was still rattled judging by his delayed reaction and the matchup was rightly ended before it got ugly as he stumbled towards the ropes.
Picture source: Getty Images — quotes via PBC's broadcast