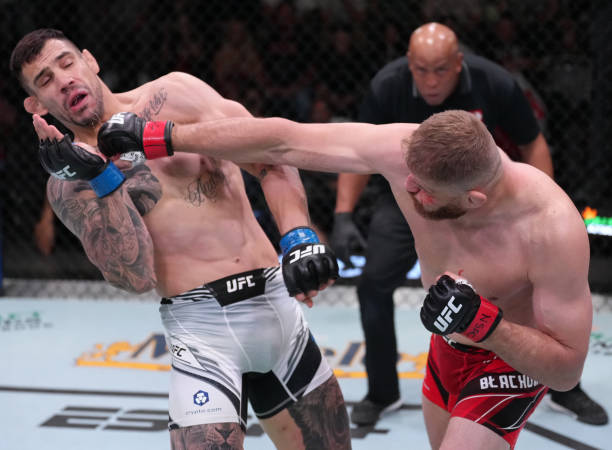 Former light-heavyweight champion Jan Blachowicz ultimately prevailed against Aleksandar Rakic (#3), though the #1 contender would've much preferred a blistering KO than to witness the gruesome injury his Austrian adversary sustained. Elsewhere, there were big wins for fellow 205er Ryan Spann (#13) and women's flyweight Katlyn Chookagian (#1), among others.
redemption incoming? Blachowicz back where he wants to be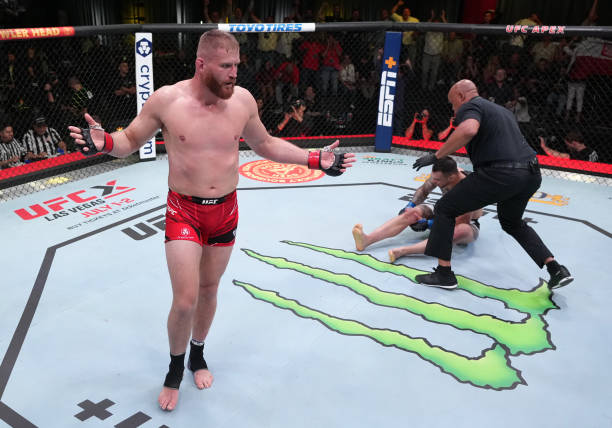 Without warning early in R1, Blachowicz had to deal with a bothersome cut under his left eye from a left-hand jab. It was another moment of adversity to overcome, having endured plenty just to get here, but he stood firm and won on his return, albeit unceremoniously vs. Rakic.
Blachowicz led the dance, landing more powerful shots and frequent forward flurries. Add to that an increasingly swollen lower leg for Rakic and the danger intensified through five minutes.
Switching stances to try and combat the problem, rather than timing his leg kick checks, he was getting tagged in the pocket and smartly decided to mix some wrestling into proceedings in R2.
There, he stifled the former champion in top position and had a triangle choke submission well defended, though it was 1-1 through ten minutes.
After absorbing another punch combo to start the third, Rakic blew his right knee out – a suspected MCL or LCL injury – ending the evening prematurely, writhing on the canvas in agony.
Later he revealed via social media this was a pre-existing injury he tried to grit through in training, rather than withdraw and rectify it.
That decision would've probably been magnified by this original matchup, slated for March 26, being delayed by Blachowicz undergoing an undisclosed procedure on his neck.
"It was a tough fight, what I expected. Something happened to my eye and I couldn't really see, he had an injury, shit happens sometimes.

I cannot wait to step inside the Octagon with this kind of feeling, hopefully UFC give me the next title shot.

I was focused on my fight, Glover, I'll keep fingers crossed for you, thanks [for the message]. This [leg kicks] is our secret weapon, Rakic has long legs and it's hard for him to block so slows him down.

This was a very hard camp, one week they stole my car, after that I have diarrhea and couldn't train for two days, then a sparring partner cut my eye… had to work with Daria to get here. If they invite me [to Singapore for UFC 275 on June 11], I'll go, but need to fix the eye first."

Blachowicz on his leg kick tactics, a tough training camp and revealing he'll need to undergo a "small surgery" to repair his eye on Monday
During a pre-fight video feature, Jan stressed an eagerness to prove that night against Glover last year was merely a bad night, and he's prepared to learn from mistakes made to get there.
Speaking about the new tools he's added to the team, he praised mental coach Daria for helping him a lot. Although she was in his corner here and obviously couldn't have been in two countries at the same time, it reminded me of tennis world no. 1 Iga Swiatek – Blachowicz's compatriot – and the work she's currently doing with Daria Abramowicz, her own sports psychologist.
It didn't feel like a coincidence that, in the same week ESPN ran a feature on the rise of psychologists across competitive sports, another former world champion didn't hesitate in praising the work he's done with one. At 39, Blachowicz isn't too old to venture on another run.
Whether he'll get his wish, facing Teixeira in a rematch with the title up for grabs, remains to be seen. Jiri Prochazka is favoured next month for a reason. Provided he does all he can on his end, there's no reason why he can't have gold wrapped around his waist again in future though.
---
Rest of main card, featuring Spann and Grant finishes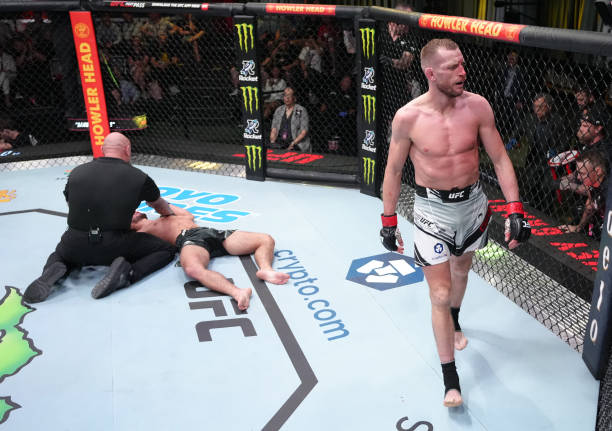 After succumbing to a first-round submission against Anthony Smith last September, the roles were reversed rather dramatically this time as Ryan Spann (#13) responded with a R1 sub win of his own against Ion Cutelaba, earning a $50,000 performance bonus for good measure too.
You could tell rather quickly, this matchup wasn't going the distance given the ominous power both possess in their hands. Just as soon as it seemed like the Moldovan was wobbled up against the fence, he responded with a timely takedown and got into mount position.
This sequence was essentially repeated twice more in quick succession, though Spann's explosiveness helped him reverse the position as he wasted no time threatening a guillotine choke. From there, he held a tight squeeze and within seconds, it was all over:
Decision defeats against Marlon Vera in their rematch, then rising prospect Adrian Yanez six months later meant English bantamweight Davey Grant entered 2022 with a losing skid to stop.
He did precisely that, centred around a purposeful first stanza which saw him overwhelm the 30-year-old with strikes (45 significant, 46 total) and score a knockdown too. Targeting Smolka's legs paid dividends too (10 of 12 strikes in R1), as those persistent kicks weakened him significantly.
To start the final round, you could see he was severely impacted by those accumulative leg strikes and his failure to check them ultimately proved the beginning of the end as Grant could smell blood and pounced, unleashing strikes from a dominant top position on the canvas:
---
Chookagian chews up another contender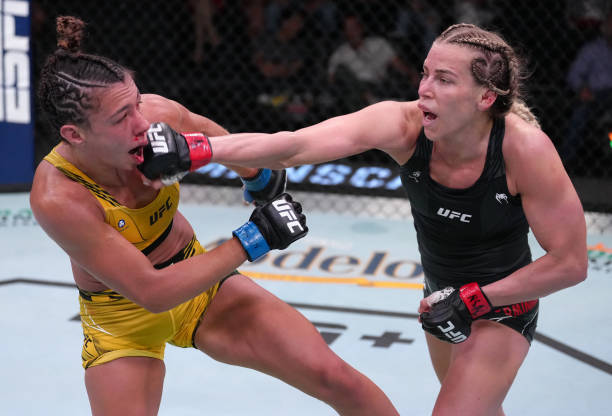 When announced, this felt like curious matchmaking but as usual, it was former women's flyweight title challenger Katlyn Chookagian who again sent another budding contender home empty-handed in Brazilian talented Amanda Ribas — moving up from strawweight for this.
If you cast your mind back two summers, Ribas produced an impressive first-round submission win over Paige VanZant in the latter's final Octagon appearance on Fight Island. Dana White and the brass were expecting big things for the 28-year-old, but she's now 1-2 since then.
This could've gone either way and ultimately that belief was echoed by the judges' scorecards: a split decision win for Chookagian (28-29, 29-28 x 2).
It was another debate for the damage vs. volume crew, though Katlyn – who landed less strikes (84-71) and almost relinquished five minutes' control time with three takedowns too, connected on cleaner shots. Ribas, for all of her relentlessness, fought recklessly and paid the price.
Aware the champion has an assignment against Ribas' compatriot Taila Santos next month, the 32-year-old called out prospective matchups with Alexa Grasso, Manon Fiorot and former bantamweight titlist Miesha Tate – assuming she gets past Lauren Murphy on July 2.
Other main card tidbits
Speaking of impressive performances, Mexican lightweight Manuel Torres scored his fourth consecutive first-round finish – this time after showing evasive defensive action, then countering Frank Camacho brilliantly, as the Contender Series signee produced a highlight reel moment:
Allan Nascimento, who lost on his UFC debut to Tagir Ulanbekov last October, thoroughly outworked English flyweight Jake Hadley on the ground (9:27 control time, two takedowns) en route to a comfortable UD win (30-27 x 3) – inflicting the 25-year-old's first professional defeat.
---
prelim results as petroski, johnson earn stoppage victories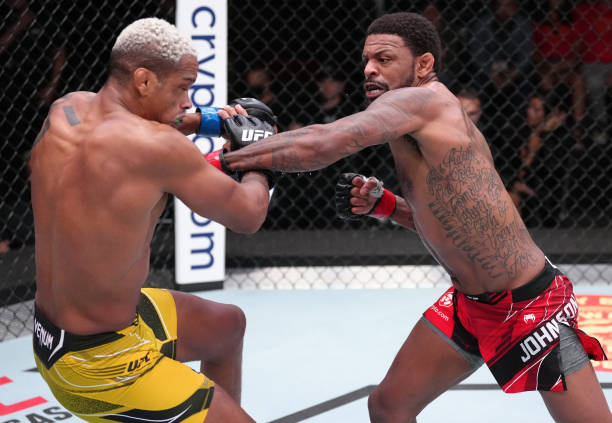 In a battle between top-10 ranked women's flyweights, Viviane Araujo (#8) showed toughness and snapped Andrea Lee's winning run (#9), though you could be forgiven for thinking this wouldn't last a full round after the opening sequence that saw the Brazilian knocked down early.
She was dropped with a straight left, then absorbed a heavy leg kick as she returned to her feet – stumbling once more before somehow regaining composure while still being buzzed. That rally was key, going on to log two takedowns and almost three minutes' control time in that round.
This corner work didn't lend itself to anything in the way of sympathy for Lee's eventual loss, even though she would've gone out there thinking she was ahead – such was the self-assured nature behind cornerman Tony Kelley's passionate, derogatory observations between rounds:
After enduring a rough few years, veteran lightweight Michael Johnson returned to the win column and rolled back the years with a thunderous second-round KO against Alan Patrick.
After a back-and-forth R1 where The Menace displayed slick boxing but also got tagged a fair few times, you couldn't help wondering whether he'd make a mistake and fall back into the frustrating pattern plaguing his record (20-17) for large periods of his 16-year professional career.
Then he did this, landing a fast four-punch combo to ice the Brazilian without warning:
Strawweight contender Angela Hill (#12) showed improvements in her ground game but was unable to thwart Virna Jandiroba (#12) from repeatedly stifling a desire for stand-up exchanges: relinquishing seven minutes' control time and three takedowns, as she lost a clear UD (30-27 x 3).
Japanese flyweight Tatsuro Taira, the third-youngest fighter on the roster, justified hype surrounding his potential with a UD win (30-26, 30-27 x 2) vs. fellow debutant Carlos Candelario.
He landed 57 of his 87 significant strike attempts (89 of 132 total strikes), scored a second-round knockdown and pushed three submission attempts across the last ten minutes too.
The 22-year-old would've been disappointed he couldn't get a finish, but showed more than enough to suggest he'll be a mainstay at 125lbs – saying as much through a translator post-fight.
Andre Petroski was the card's biggest underdog, but backed up his bullish beliefs by racing to an emphatic first-round submission win (via anaconda choke) against highly-rated middleweight Nick Maximov in an encounter between two prospects to kick off the night's 11-fight card.
During his post-fight interview, he called out Gerald Meerschaert, who had his three-fight win streak snapped by Krzysztof Jotko last month and got an honest response later on Twitter:
Up next: UFC Vegas 55 next week, headlined by former bantamweight champion Holly Holm (#2) vs. Ketlen Vieira (#5)
Picture source: Getty Images