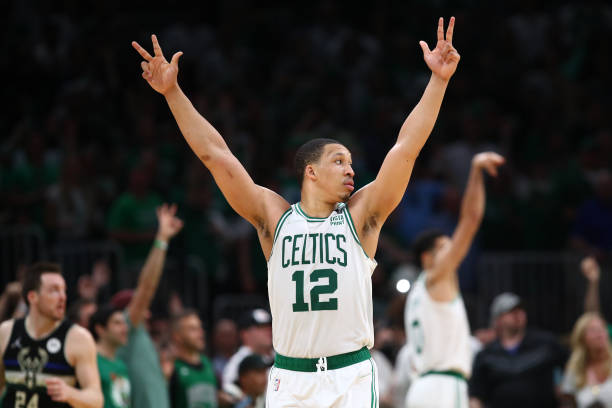 With their Game 1 clash vs. the Miami Heat set for tip-off in a few hours' time, here's a quick refresh: Boston Celtics, armed by a new career-high display from Grant Williams, overcame a 3-2 series deficit to knock out the defending champion Milwaukee Bucks on Sunday. Hours later, Dallas did similar but in enemy territory, stunning the Phoenix Suns in a historic blowout win.
Celtics down Bucks, before Suns' all-time collapse
Luka Doncic and the Dallas Mavericks stunned everyone, including those disbelieving home supporters witnessing history flash before their eyes inside the Footprint Center, as they led from start-to-finish against Phoenix – this season's best team on paper and last year's beaten finalists.
2021-22 Coach of the Year Monty Williams saw his starting five, including two All-Stars in Chris Paul and Devin Booker, score just 18 points between them by half-time in a game they trailed 57-27 at the break. Dallas, empowered by their ability to silence the home crowd, wouldn't relent.
To put that scoreline into context, Doncic had the same amount of points (9-of-12 FG) as the entire Suns team (10-of-41 FG) over a 24-minute period where you could be forgiven for assuming they'd eventually go on a run. For all the talent on show though, it never came.
Instead what did arrive was a three-point barrage from a particularly motivated Spencer Dinwiddie, eclipsing his previous playoff career-high 22 points with 30 on just 15 shots.
Jalen Brunson, Doncic's backcourt running mate, posted 24 points – his ninth game with 20 or more so far this postseason – while reserve PF Maxi Kleber gave them valuable minutes off the bench (4 rebs, 3 pts and blocks) in a matchup that quickly stopped being competitive.
For all the talk about how this Dallas team doesn't have the offensive firepower, nor is deep enough to go on a true championship charge, the Mavericks have continued to step up under Jason Kidd this term and it's no wonder Doncic couldn't stop smiling all night long.
Earlier in the evening…
Two-time MVP and last year's Finals MVP Giannis Antetokounmpo scored or assisted on 24 of Milwaukee's 26 Q1 points, though their Khris Middleton-shaped absence reared its head again.
Mike Budenholzer's men were comfortably blitzed by a suffocating Celtics defence who hoisted and made three-pointers galore to ice a series they did well to keep alive on the road last week.
Their collective long-distance shooting struggles continued, making just four of their 33 3PT attempts. Grant Williams alone sunk seven on 18 tries as the 23-year-old power forward surged to record a new career-high points tally, in the biggest game of his young NBA career no less.
As has often been the case since late March, veteran big Serge Ibaka – acquired in a four-team trade on Feb. 10 – didn't feature. Considering they relinquished their only true tradable asset in Donte DiVincenzo to Sacramento as part of the package, was it worth the sacrifice?
Grayson Allen, acquired from Memphis last August, impressed in spurts over the regular season but was exposed defensively and also didn't shoot the ball well this postseason besides a two-game stint against the injury-plagued Chicago Bulls in their first-round series last month.
All-Star SF Jayson Tatum added 23 with eight assists and six rebounds on efficient shooting splits, while his All-Star teammate Jaylen Brown wasn't far behind (19 pts, 8 rebs, two steals).
Eastern Conference Finals
Miami Heat vs. Boston Celtics, Game 1 at 1.30am BST on Wednesday
Western Conference Finals
Golden State vs. Dallas Mavericks, Game 1 at 2am BST on Thursday
Picture source: Getty Images