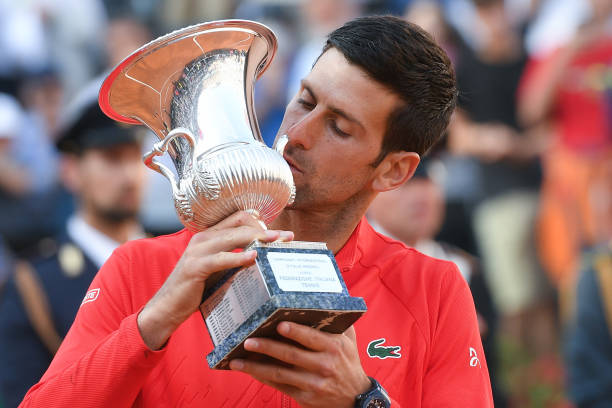 It had been 190 days – six months and nine days – since Novak Djokovic last won an ATP singles title before lifting the Rome Masters trophy for a record-extending sixth time by overwhelming Stefanos Tsitsipas on Sunday. Given the whirlwind half-year the Serbian has experienced, does the past week prove he's peaking at the right time to defend his Roland Garros crown next?

Buoyed by blistering start, Djokovic adds 87th ATP title
Djokovic [1] bt. Tsitsipas [3] 6-0, 7-6 (7-5)
All things considered, Novak Djokovic got precisely what he would've wanted heading into Rome last week. It's been a frustrating, at times forgettable start to the new year for the Serbian.
For the sport's top-ranked player to have only logged 11 full matches in 2022 – without sustaining any injury during this period – was certainly a concern that needed to be eased as he prepares to defend both his Major titles in the coming months. Before SW19, first comes Paris next week.
That's why his team would be happy to see the consistent flow of matchplay in his legs after earning difficult straight-set wins over Felix Auger-Aliassime, Casper Ruud and now Tsitsipas.
Auger-Aliassime, agonisingly close to his first Australian Open semi-final in January, broke his ATP final hoodoo the following month against Tsitsipas in Rotterdam. It felt fitting it'd be the Canadian, still only 21, who pushed Djokovic closest — losing 7-5, 7-6 in little over two hours.
Miami runner-up Casper Ruud, who held his nerve to outlast Wimbledon semi-finalist Denis Shapovalov 7-6, 7-5 hours beforehand, felt a sense of foreshadowing when asked about Djokovic-FAA and said he looked forward to exacting some revenge on the 20-time Major winner.
The Norwegian talent too acquitted himself well against the Serb, who celebrates his 35th birthday on Sunday. But ultimately, just like their semi-final twelve months prior, it was the veteran's nous that proved decisive in the match's biggest points en route to a 6-4, 6-3 victory.
Djokovic, not always a fast starter, blew Tsitsipas away in set one with excellent shot-making and near-flawless serving. The opposite could be said for a 23-year-old who was easily frustrated at the small margins not going his way, from his inconsistent ball toss to a real struggle on serve.
Despite going 5-2 ahead in set two, the Greek was always trailing. The scoreboard pressure proved too much, ultimately, as Novak improved his level again after a brief wobble to force a tiebreak. Despite both losing their serve at tight moments during that, Djokovic snatched it 7-5.
Even though this was their ninth H2H meeting, almost twelve months on from their five-set French Open Final, Tsitsipas was typically effusive in his praise for the world no. 1:
"Just want to thank my family, friends for coming: a lot of them from Greece.

Novak, great discipline and effort over the last few years for what you have been doing. I try my best every single day, hopefully one day I can get to your level, it's very inspiring.

We practiced for the first time a few years ago in France, I could've pictured it but not in such a short span — to be playing you on a centre court — happy that I was able to enjoy this afternoon in-front of such an amazing crowd. 
Djokovic, who keeps thwarting the younger generation for now, returned the favour:
"Stefanos… tough luck today. Congratulations to you and your team, that's why you're one of the best in the world… you don't need to be that humble, have a lot to be very proud of, you'll get many trophies in Rome and around the world in the years to come, one of the best leaders this sport can have."
No matter who you are, it's important to establish match sharpness. After missing Indian Wells and Miami for a second consecutive year, as well as surprise defeats by Jiri Vesely in Dubai and Alejandro Davidovich Fokina in Monte Carlo, he's built a more encouraging base to work from.
The timing of this feels ominous again and given Rafael Nadal's injury issues, as well as the intrigue surrounding Carlos Alcaraz in a best-of-five setting, he seems the man to beat in Paris.
Picture source: Getty Images