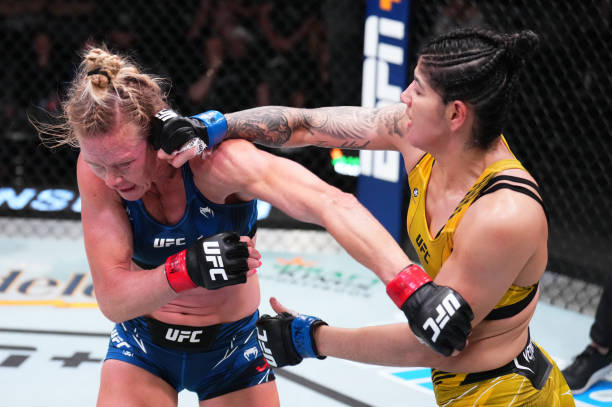 Seven days on from a split decision result that sparked social media debate at the UFC Vegas 55 main event, I take a deeper look at a women's bantamweight matchup between two top-ranked contenders which may have significant implications in the division's title picture.
Judging again up for debate as Vieira squeezes past Holm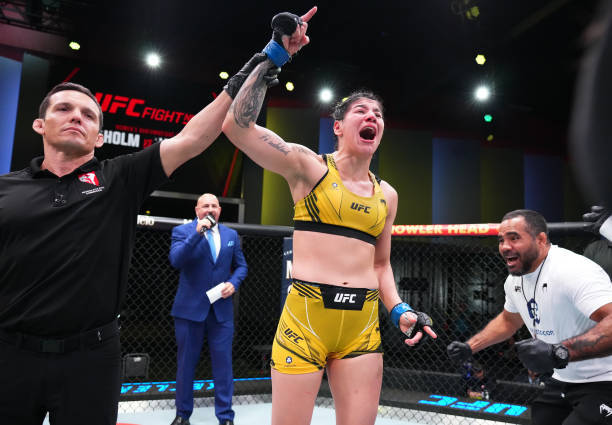 The familiar phrase – a broken clock is right twice a day – was firmly in play for all to utilise after it emerged much-maligned judge Sal D'Amato was the only man of three Octagonside who appeared to get the Holm-Vieira result correct – as well as the individual round breakdown too.
Naturally, the volume vs. damage retort will be thrown up but you could sense, both from fighter and her corner, they were labouring their way to a frustrating decision defeat with five minutes left. Given the heavy-handed Brazilian lost R5 on all three scorecards, how did she win then?
Vieira's cornerman Andre Pederneiras was fair but stern with his assessment, as the promotion's translator did his best to match the bemused expression. R1 and R5 were Holm rounds, such was her ability to continuously land scoring strikes without taking as much damage in return.
On paper, it's unwise to stand and strike with Holm. However, Din Thomas was right: Holly was noticeably a step slow when entering and exiting striking exchanges, unlike her impressive UD win over Irene Aldana in Oct. 2020. As time wore on, Vieira gradually took advantage.
But that's to be expected, for a decorated 40-year-old former champion across two disciplines who hadn't fought for 19 months. She's also battled hydronephrosis and a knee injury too. You saw it just last month with Gennadiy Golovkin in Japan, father time remains undefeated.
R2 required an admirable escape effort as Holm fought off a deep rear-naked choke locked in without warning up against the fence. So that was, undoubtedly, a 10-9 in Ketlen's favour.
The ambiguity surrounds R3 and R4, largely based on how your judging style.
Holm, as evidenced by the stats, was far busier overall with output (188-122 over 25 mins) but Vieira sneakily landed some head strikes which hurt the former champ, though they were either met with subsequent resistance or late enough in rounds not to swing the score her way.
"I thought I won the fight, I gave her round two, and felt I won all the rest of the rounds. I didn't feel it was a question, wanted obviously to be more active from the clinch. I was still able to control her in those areas. I feel like I won the fight, so I kind of have to figure out what's going to happen now."

Holm couldn't believe it when she heard the scorecards
For what it's worth, I had Holm winning R1, R3 and R5. Vieira had R2 and edged R4, though given the former's reputation and fighting style, it was surprising to hear the Brazilian get an eventual nod. She couldn't mask her shock either. So, what does that mean for the landscape at 135lbs?
The eagerly-anticipated title rematch between Amanda Nunes and Julianna Pena is slated for UFC 277 on July 30, with flyweight queen Valentina Shevchenko interested in fighting the winner this winter, assuming she's successful with her latest title defence vs. Taila Santos next month.
"Who knows what will happen?

I don't know what the end of the year will bring, maybe to fight in different weight classes, to go for double champ status, that's what me and my team are speaking about… just waiting for the right moment to happen."

An ambitious Shevchenko has been surveying the lay of the land at 135lbs
Vieira sat at #5 in the rankings, but now leapfrogs Raquel Pennington, Aldana and Holm into #2 after this win. Is she good enough to challenge for a title though? I'm unconvinced: 3-2 in her last five, with contrasting defeats by Irene Aldana at UFC 245 and Yana Kunitskaya last February.
There's a desire for new blood at women's bantamweight, as it's never been a sexy division to watch in terms of genuine rivalries nor many memorable matchups over the years. Ronda Rousey long reigned supreme at 135lbs before Holm's stunning second-round KO win in 2015.
Holm, like fellow former titlist Miesha Tate, are among a crop of age-35+ contenders who want one final title charge before retirement. As such it's difficult to see where she goes from here, but if Pena's stunning UFC 269 win taught us anything, things can change in the blink of an eye.
Picture source: Getty Images