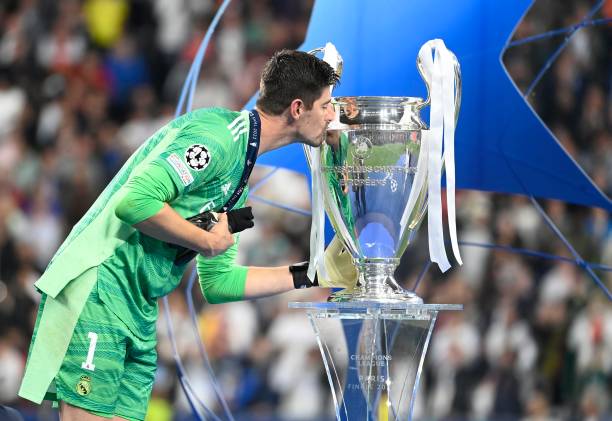 It felt fitting that, eight years after suffering stoppage-time heartbreak against Real with Atletico Madrid in Lisbon, Thibaut Courtois was Los Blancos' impenetrable wall here, defiantly stifling Liverpool throughout – breaking the record for most saves in a Champions League Final with nine, producing greatness with the lights shining brightest on a career-defining night.
Courtois comes up clutch as Real best Reds
As I highlighted in my match reports at the time, Courtois produced some big saves over two legs against Paris Saint-Germain. He did the same vs. former club Chelsea in the quarters and was key during their miraculous recovery against Premier League champions Manchester City.
On an evening overshadowed by poor event planning and a delayed kick-off with many Liverpool fans unable to get inside the Stade de France, Courtois often looked the calmest man on the pitch as he expertly swatted away the Reds' ruthless, repeated waves of attack.
His teammates were further enthused, safe in the knowledge their goalkeeper wasn't just in-form, but they could rely on him to bail them out of dangerous moments. Jurgen Klopp's men weren't at their best, but between the woodwork and Courtois, could've had at least three goals.
It feels typical that, once again, the English-laced gloss on another memorable season across Europe has petered out rather unceremoniously. Liverpool were largely favoured to prevail here, a week ago had their quadruple hopes extinguished by external factors and seemed dangerous.
Just like City themselves found out at the Bernabeu earlier this month, none of that – formidable form, squad quality, world-class depth – mattered. Real, who recovered from the brink of elimination multiple times in recent months, were not to be beaten. They had Courtois to thank.
---
Courtois now has long-awaited respect, if maybe not in England
Given his history in England and how he'll be remembered by many, the 30-year-old certainly ruffled a few feathers with his post-match BT Sport interview calling for more respect:
"I said at the press conference yesterday that when Madrid play in finals, they win. I saw a lot of tweets saying I would get humbled, it was the other way round. Today I needed to win a final – for my career, all the hard work, to put respect on my name because I don't think I have enough respect, especially in England. I saw a lot of criticism that I was not good enough or whatever.

I'm just really happy and proud of the performance of the team, and when I needed to be there I was there for the team. We have beaten the best clubs in the world, together with us. Liverpool were very strong today, I think I played a great game and that was the difference."
Unsurprisingly, some felt it odd he'd immediately think about being disrespected after producing an unforgettable goalkeeping display. Some of the top comments on the Athletic's news piece, detailing these post-match comments for subscribers to digest, read as follows:
"Fabulous goalkeeper, but once again demonstrates he's not quite as good a human being. Graceless as ever."

"Hazard went to Real and is still pretty loved, Rudiger likewise respected in the honest circumstances of his departure. Courtois downed tools at the end of the transfer window forcing Chelsea to panic buy Kepa."
In the midst of a World Cup summer where Belgium finished third and he won the Golden Glove as tournament's best goalkeeper, speculation rose about his long-term future in west London.
He and the club halted talks over a contract extension the previous November, with a return to Spain being mooted as interest from abroad intensified. That was supported by Thibaut's admission of a desire to be closer to his two children, staying with his former girlfriend in Spain.
ALSO READ: My 2017 piece – Chelsea 'tempt' Courtois with new contract offer, rightly so
Those quotes resurfaced afterwards, all while Chelsea searched for prospective replacements, stating they wouldn't let him leave unless a timely alternative could be found. Their interest in then-Roma first-choice 'keeper Alisson was genuine, before the Brazilian opted for Liverpool.
Courtois meanwhile knew he had to take matters into his own hands: not showing for training after his summer break wasn't ideal but essentially got his wish, albeit one which has – and always will – leave a sour taste in fans' mouths who are now very quick to bemoan his character.
It's easy to blame players for being greedy and naturally take the club's side on intricate matters like acrimonious transfers, but as previously outlined, it's important to acknowledge things often unfold behind-the-scenes (revealed later or not at all) which cause drastic action being taken.
Nonetheless, how the Belgium no. 1 has transformed perceptions since then is testament to why he was so highly-rated as a teenager. Having just turned 30 this month and already established himself as a core cog in this transitioning Real side, he's still got multiple peak years left to boot.
---
familiar faces, rising youngsters: A bright future in Madrid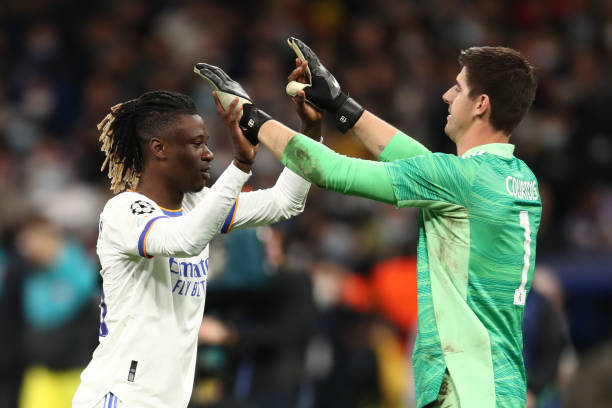 For all the noise surrounding Kylian Mbappe's decision to remain in Paris, agreeing a three-year extension last week, this latest triumph reinforces the belief Los Blancos will be fine without him.
French teenage international midfielder Eduardo Camavinga (19) has enjoyed a predictably impressive first campaign in Spain after his £30m move from Rennes, while Brazilian attacking duo Rodrygo and CL final matchwinner Vinicius Junior are a mere six months apart in age.
Federico Valverde, who turns 24 next month, has progressively built up experience and pedigree while in a previously unfamiliar wide midfield role.
The impending departures of Luka Jovic and Dani Ceballos this summer will free up more transfer funds, while their wage bill will be cut by expiring contracts Marcelo, Gareth Bale and Isco, who have been nonentities in recent seasons and are now all leaving for pastures new too.
Antonio Rudiger's arrival on a free from Chelsea will see him reunited with a former teammate, while the understanding between himself and David Alaba didn't take long to bed in either.
As for Liverpool, this defeat will undoubtedly hurt but they can be proud of what they've achieved in a season where an unprecedented quadruple haul was still possible before last Sunday's final day late drama in Manchester to cap another Premier League campaign.
They were undone by a hungry Courtois and savvy Real, who beat England's top three and the French champions en route to a seemingly improbable Champions League title. That will not make the pain sting less, but if any team could pull this feat off in this competition, it's Madrid.
Picture source: Getty Images — quotes via The Athletic unless stated