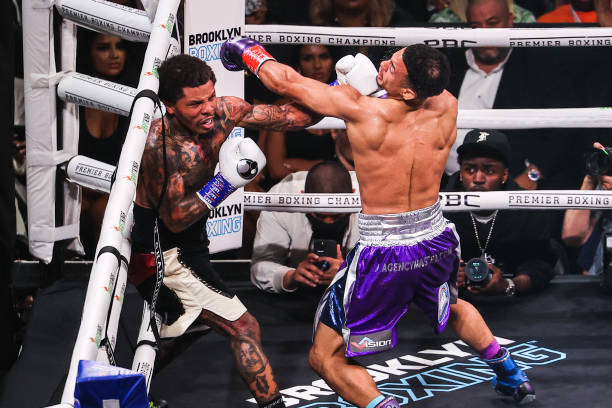 He was distracted at times, animated in other moments and began this bout slowly but was importantly methodical with punch selection as Gervonta Davis abruptly ended an encouraging Rolando Romero display deep into round six, making the third defence of his WBA (Regular) lightweight title in-front of an arena-record 18,970 spectators at Barclays Center.
After another slow start, Tank turns Romero's lights out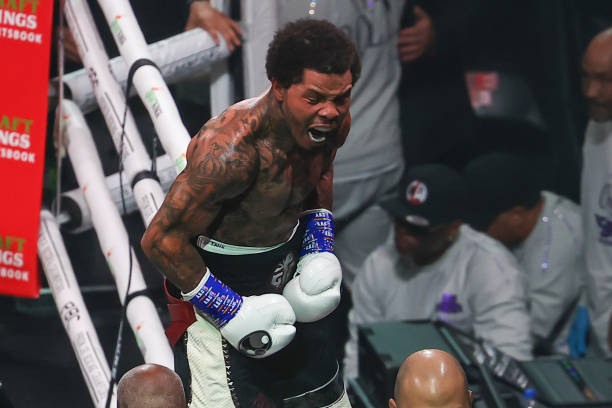 R6, 2:39 – Gervonta Davis bt. Rolando Romero via TKO, retains WBA lightweight title
After outsmarting short-notice replacement Isaac Cruz in competitive clash that went the distance on Dec. 5, another Davis' KO streak begins against bullish Romero
"I'm here baby, whatever they wanna do," he replies to question about what's next, ahead of Haney vs. Kambosos Jr on June 5 in Australia for undisputed status at 135lbs
Ryan Garcia (22-0, 18 KOs) among interested boxers who respond to Davis' win, again calls him out — unified super-featherweight titlist Shakur Stevenson also intrigued
In terms of trash-talk, Rolly Romero was essentially singing from the same hymn sheet as many others before him. The gusto and self-assurance with which he spoke though, stressing he'd expose Davis, meant this matchup would always pique fan interest a little differently.
Davis (27-0, 25 KOs) was thoroughly tested and went the distance for only the second time in his career against Isaac Cruz last time out. Romero, originally slated to challenge Tank in that primetime slot, was pulled after it emerged he was subject to a sexual assault investigation.
No charges were filed against the 26-year-old, with Davis calling for a chance to rebook that meeting once his left hand injury sustained against the Mexican contender was fully healed.
Any vulnerabilities Romero saw in Davis were short-lived and the champion oozed confidence, to the point he was being tagged during what quickly became a tactical battle between the pair.
Romero, the bigger of the two, led proceedings with his jab and kept Davis constantly on the move. Buzzed a few times up against the ropes and pressured, he addressed the slow start during the presser, saying in hindsight there's a need for more rigorous future warm-up sessions.
"I knew I could easily outhink him, outbox him, thought I was gonna stop him late but he ran into the shot.

I need to start warming up more before the fight, was a little cold, maybe to do some jump rope or something cos I had to warm up to get in the groove.

I knew he was strong from the first punch he threw, I do start slow, he caught me with a shot and thought I need to stay off the [centre] line."
After all the good work Romero had produced over nearly 18 full minutes, suddenly he was scrambling to recover and thankfully referee David Fields made the right decision stopping this:
As much as he wanted to deny it, Romero wasn't just simply caught with a good shot: Davis took his time setting it up. For all the acclaim about his punch power, again it's his ability to lay traps and lure opponents into a false sense of security, much like Leo Santa Cruz, that did the trick.
He subtly and repeatedly targeted the body, while Romero was busy trying too hard to impose himself. The fight-ending counter left hand could've been much worse, had that shot been thrown with more venom. Instead, he threw and slipped out of the way, the perfect punch.
We're now at the halfway point of the subsequent year and as skilful as Davis has shown himself to be with his boxing IQ, the 27-year-old now finds himself at a career crossroads.
In a sport where the best rarely fight one another, Gervonta's reputation as a protected champion has intensified of late. For all the highlight reel knockouts and PPV buys, it's high time he finds himself a worthy dance partner in a settled weight class. It's not like there aren't options.
His close relationship and promotional contract with Floyd Mayweather, the latter expiring after this fight, seem to be petering out. He's called for a title fight against Devin Haney, assuming he prevails down under with Teofimo Lopez's conqueror George Kambosos Jr next weekend.
Even if successful on Saturday, Haney contractually owes Kambosos an immediate rematch. So that would have to be explored later down the line, rather than for his next assignment.
Three-weight former world champion Vasiliy Lomachenko, who seemed likely to face Kambosos before Russia's invasion of Ukraine, would represent Davis' toughest career test to date.
---
READ: Dec 21 – Lomachenko's Commey clinic elevates him in Kambosos Jr sweepstakes
---
For the umpteenth time it seems, former WBC interim lightweight titlist Ryan Garcia has again called for them to fight before the year is out:
Garcia must first bypass Javier Fortuna on July 16 before talks over a possible superfight between the two unbeaten boxers can truly begin.
Originally scheduled to fight last July, Garcia withdrew a few months prior to focus on his mental health struggles.
The 23-year-old was set to return to the ring in November against Joseph Diaz Jr, but Garcia sustained a wrist injury during training that required surgery, forcing that bout cancellation too.
Davis isn't getting any younger and needs to now take control of his career, both in-and-outside the ring. With a September trial date set for hit-and-run charges backdated almost two years, it goes without saying he has multiple big decisions to make that will impact his life going forward.
Picture source: Getty Images — quotes via Showtime, PBC