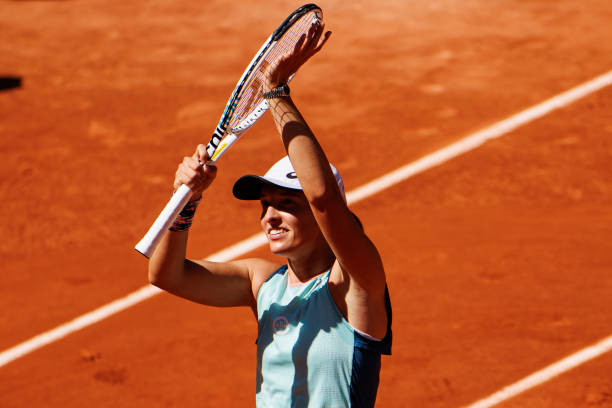 Despite being 2-2 at one stage in the first season, world no. 1 Iga Swiatek wasted no time extending her remarkable winning streak to 34 with a 6-2, 6-1 win over first-time semi-finalist Daria Kasatkina. She faces Coco Gauff in Saturday's final, whose mental toughness and composure was key as the teenager eventually overwhelmed an error-prone Martina Trevisan.
Swiatek sweeps past Kasatkina
Swiatek [1] bt. Kasatkina [20] 6-2, 6-1
Two years after blasting past Sofia Kenin to win in Paris, Swiatek is back and seeking her second Grand Slam title — against another American, albeit one with nothing to lose
Kasatkina returns to world's top 20, will be ranked #12 after logging her best fortnight's work at a Major since consecutive QF finishes at Roland Garros, Wimbledon in 2018
She hasn't been faultless over this fortnight, but that doesn't matter. Iga Swiatek is into her second Major final and did it with the same metronomic form she has enjoyed in recent months.
Qinwen Zheng did well to recover from a 5-2 opening set deficit, taking her to three sets in R4. However, the Chinese was so worn out after winning the tiebreak that a bagel set followed.
A medical timeout, treatment and performance drop-off was next, as the 19-year-old couldn't hang with an in-form Pole who played her way into form that day.
Jessica Pegula had her chances to keep their quarter-final matchup fairly competitive, but you can't afford to commit as many unforced errors (27) as the American did 24 hours prior.
After holding firm against Veronika Kudermetova, Daria Kasatkina awaited her next and found herself in unchartered territory here. Despite a promising start, the Russian was seemingly helpless to arrest a Swiatek streak that saw this contest disappear from her grasp rather quickly.
In the same week tournament director Amelie Mauresmo said women's matches lacked primetime appeal before walking back her comments earlier today, Swiatek needed just 66 minutes to storm past Kasatkina after snatching a break, going 4-2 up in set one.
As the dust begins to settle after Ashleigh Barty's surprise retirement in March, you couldn't help but feel Swiatek – for all of her impressive winning – could do with a formidable rival.
18-time Major winner Chris Evert said on the day's Eurosport broadcast that could well prove to be Gauff, as the only players capable of beating the Pole must match or better her for power.
---
Gauff avenges trevisan loss in error-strewn semi-final
Gauff [18] bt. Trevisan 6-3, 6-1
Gauff, at 18 years and 85 days old, becomes youngest Roland Garros finalist since Kim Clijsters in 2001 and youngest since Maria Sharapova at Wimbledon 2004 with this win
"Yeah, it's a Slam final but there are so many things going on in the world right now, especially in the US, not important to stress over a tennis match," she says afterwards
Despite this defeat, 28-year-old Italian Trevisan will rise to a new career-high world no. 26 with latest rankings update on Monday. Previous best Slam finish was QF in 2020
By contrast, it was a slow-burning, often tetchy affair between Coco Gauff and Martina Trevisan in the day's other semi-final. There were five straight breaks of serve in a first set that could've gone either way, impacted by surprising errors as well as ever-growing tension between the pair.
There were sustained disputes over line calls, with Trevisan being warned fairly early on about her hindrance with shrieking grunting noises during rallies disturbing Gauff.
The crowd repeatedly booed when there was a stoppage, with Coco again in conversation with umpire Marijana Veljovic like during her topsy-turvy first-round match vs. Rebecca Marino.
The first set featured 37 unforced errors between them, Gauff eventually holding firm to close it out before Trevisan received a medical timeout for an upper right thigh injury.
Gauff doesn't need a second invitation to get a full head of steam, so Trevisan's window for a route back into proceedings was rapidly closing with each error flying off her racquet.
The unseeded Italian would flicker between morale-boosting winners and frustrating forehands long, double-faults (4) and the crowd could sense this wasn't going to last much longer.
Gauff kept composed through this period, knowing something had to give. Defensive movement helped her clinch a 14-minute game to break again at 3-1, and she was in full flow from there.
"I'm a bit in shock right now, have no words to describe how I feel, thanks for cheering me on. I know how difficult she is to play, especially on clay – I lost to her two years ago."
Picture source: Getty Images