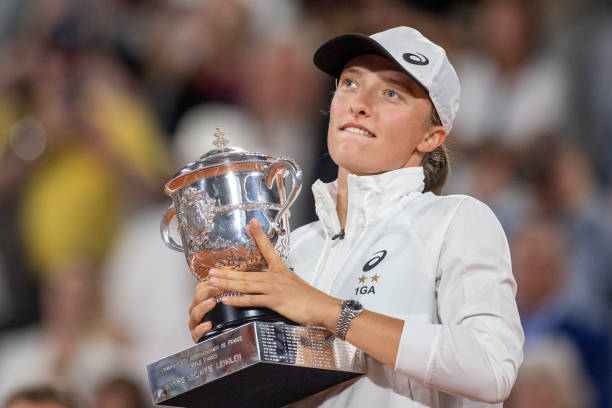 Two years after blasting beyond Sofia Kenin in the 2020 final as a teenager, world no. 1 Iga Swiatek wasted no time in doubling her Grand Slam tally while extending her remarkable winning streak to 35 matches with a 68-minute 6-1, 6-3 win over American teen star Coco Gauff.
Swiatek avoids stumble against error-prone Gauff
This result means Swiatek ties Venus Williams for the WTA's third-longest winning streak since 1990, while remaining perfect in Finals (9-0, 18-0 in sets won)
She's also the youngest multiple Major winner since Maria Sharapova clinched the US Open against Justine Henin in 2006, fifth #1 seed to win Roland Garros in 25 years
Gauff, who turned 18 in March, rises to a new career-high world no. 13 despite this loss and still has a doubles final with compatriot Jessica Pegula to come tomorrow
This wasn't the ending Coco Gauff would have wanted, not least with support staff, immediate family in the crowd and supporters audibly willing her on, but even before the first ball was hit there was a sense of inevitability about Iga Swiatek succeeding in Paris once again here.
After all, this is the world no. 1 – armed with an ever-growing winning streak – and you can't afford to make too many mistakes if you want to chip away at the Pole's armour.
From the off, Gauff's ability to excel at producing the basics proved easier said than done – much to the understandable frustration of a Philippe-Chatrier crowd keen to see Swiatek tested here.
Every error feels like it counts for two against someone of Swiatek's skill and record-breaking form. The 21-year-old didn't need help, but got it as she raced into a double break lead, up 4-0 in virtually no time at all. Gauff endured duress aplenty and saved four break points on serve.
That respite proved brief though, as her forehand continued flagging and soon enough Swiatek extended an advantage which never felt at risk of being minimised.
It took Coco 23 minutes to get a game on the scoreboard and even as the Eurosport commentators floated hope into the air, it didn't take long to see how this match – like many Swiatek has played of late – would conclude. Iga was in full control, only she could relinquish it.
For every impressive point Gauff played, there were three or four frustrating ones where she'd hit a rally ball narrowly wide or spurn an opportunity to make Swiatek move on the defensive.
Down 40-0 on Swiatek's serve, she fired back two ferocious forehands – one pushing the Pole back towards the baseline, another up-the-line which she didn't even attempt to return. Doing that though, at least on a semi-regular basis to keep her guessing, proved essentially impossible.
4-1 down at one stage but 30-15 up on Swiatek's serve, a clever serve and successive forehand winners in opposite corners saw things disappear as quickly as the opening seemed to arrive.
These two clips here, during successive points from the baseline, rather reiterate the confidence and free-flowing nature with which the Poland international is performing right now:
This happened to start set two, with Gauff breaking early. That break was swiftly recovered and normality restored, as Swiatek won five of the next six games to be asked the serve it out question. As expected, there was to be no hiccups with the finish line within touching distance.
---
Analysis, what's next for both?
It's easy to say in hindsight, but I touched upon Coco's constant progress as a player and the lessons she will take from this matchup earlier in the week once both won their semi-finals. She had a testing draw over a fortnight where many seeds fell early, including Garbine Muguruza.
Who Gauff could've otherwise been drawn to face…
R2: Ann Li, leading 6-3, 3-2 vs. Alison van Uytvanck before injury-enforced retirement
R3: Muguruza, stunned in three sets vs. Kaia Kanepi
R4: Anett Kontaveit, eventually losing a competitive clash vs. Ajla Tomljanovic in R1
QF: Victoria Azarenka, who was 6-4, 4-2 up before losing to Jil Teichmann in R3
SF: 2021 US Open runner-up Leylah Fernandez, beaten in three-set QF by Trevisan
This route to the final could've been much more difficult on paper, but you can't pick holes given how morale-boosting those victories over Stephens and Trevisan – who have beaten her previously – would've been for a player still experiencing growing pains against the world's best.
As for Swiatek, who was an overwhelming favourite to triumph over this fortnight, she dealt with the pressure brilliantly and ultimately won without playing her best tennis for sustained periods.
She has high expectations of her game and it's difficult to execute the way you'd like, especially when navigating through the rigours of a Major tournament.
She rode the wave well, didn't panic when things got tight in earlier rounds and swatted away all challengers as the hunted asset she's ascended to recently after Ashleigh Barty's retirement.
That much is evidenced by the world rankings, too. New world no. 2 Anett Kontaveit and Ons Jabeur (#4) are the big winners amongst the world's top 10 from this tournament, despite both being first-round departures, given how volatile the points disrepancy finds itself at present.
US Open semi-finalist Maria Sakkari (#5), agonisingly close to a maiden Major final this time last year, dropped two places and lost 710 ranking points. Barbora Krejcikova, who outlasted her in three sets, sits #15 after failing to defend any of the points she won twelve months prior.
Jessica Pegula (#9), US Open champion Emma Raducanu (#10), Gauff (#13), Fernandez (#16) and others besides will all have new career-high rankings next to their name in Monday's update but there's no time to savour it as qualifying for multiple grass tournaments is already underway.
As for which players are going to match, or consistently beat Swiatek and develop a rivalry, who can say with any confidence or conviction? Sakkari, who beat her in straight-sets in last year's quarter-finals, has lost twice and rather comfortably during her 35-match winning run.
As for someone with genuine power in Aryna Sabalenka? Three times. Naomi Osaka and other Grand Slam champions have tried, including Simona Halep, Victoria Azarenka and Bianca Andreescu. It's not about that, moreso the consistency with which any of them can boast.
We'll have to wait and see, but even once this streak does end – presumably on grass – will her metronomic winning just intensify unless a crop of challengers sustain and step their game up?
Picture source: Getty Images