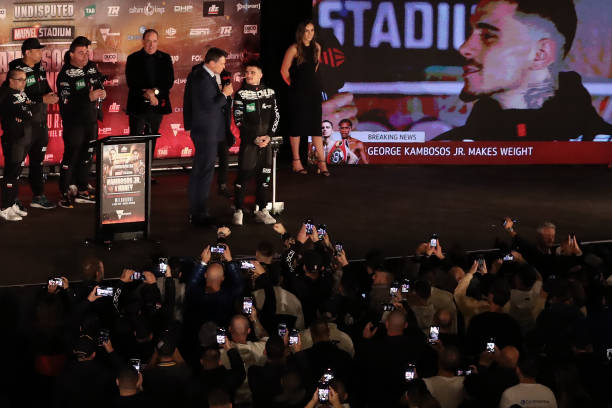 "Art of war baby, deception, let them believe this was done… everything is for a cause, a process, trust me." Three-belt lightweight champion George Kambosos Jr insisted, having returned to the scales again and this time making weight (134.47lbs) ahead of his long-awaited title unification bout with WBC titlist Devin Haney. All things considered, should we believe him?
Kambosos Jr vs. Haney: For all the marbles
WBA, WBC, IBF, WBO lightweight titles: Kambosos (c) vs. Haney (c), main event ringwalks slated for 4am Sunday BST
After multiple tries on the scale, Kambosos Jr came in .35lbs over the 135lb limit, had two hours to make the weight or be stripped of his titles — 134.47lbs on second attempt
Haney's father and head trainer Bill eventually granted last-minute visa to join son Devin in Australia, meanwhile his other trainer Ben Davison was denied, will not travel
"Maybe I did it on purpose," Kambosos Jr nonchalantly said when asked about his weight miss.
Why are alarm bells not ringing here? Is it because George, who inflicted Teofimo Lopez's first career loss last November, was greeted with a rapturous reception upon his arrival and is finally on home soil again? Are critics again overlooking the bullish Australian's chances?
Or is this all part of his masterplan, as he claims? We'll soon find out against a Devin Haney who, five years younger (23) and with seven more pro fights, is making incremental improvements.
His commendable UD win over former three-weight world champion Jorge Linares, a year ago last week, was met with more scepticism than shine because the Venezuelan rocked him late.
Then interim titlist Joseph Diaz stepped up to the breach on a month's notice after Ryan Garcia's injury-induced withdrawal from their scheduled matchup. It wasn't an easy assignment but Haney closed 2021 with another decision win. Post-fight on the topic of what's next, I wrote:
For someone who only landed 24 more total punches over 36 minutes, Haney effectively nullified Diaz while showing he's still vulnerable enough for other contenders – and new three-belt champion George Kambosos Jr – to get excited about in prospective bouts.

The pair shared a joint interview on DAZN post-fight, with a view to making an undisputed title fight in Australia perhaps sometime after March once both rest and recover from recent outings. Haney has been roundly criticised for his KO power – or lack thereof – while others feel he's simply not as good as the hype suggests.
Before said joint-interview, Kambosos praised the pair for doing their thing in the ring and said he'd already seen holes in the Haney armour to exploit, should they fight.
"I'm very fast, explosive, it'd be something he'd never experienced before," was the overriding feeling he came away with, having watched him ringside.
If anyone can attest to The Emperor's workrate and speed, in a perfect world it would be a former divisional champion in Lopez. Instead, Teofimo is (still) convinced the whole thing was a conspiracy, more than six months after the fight and facts spilled out for all to witness online.
Kambosos Jr has won his last three fights all by split decision results (Mickey Bey, Lee Selby, Lopez) and it'll be interesting to see how he starts against Haney this weekend – it goes without saying Devin will not adopt the same gung-ho approach Teofimo did, even in enemy territory.
I'll have full fight coverage this weekend… so stay tuned to moandsports.com for updates.
Related reading:
New York Times – Haney's a star for the digital age, some think his belt is paper
ESPN – Welcome to his Colosseum: The epic ambition of George Kambosos
news.co.au – Kambosos transformed himself… amateur grinder to world title contender
Picture source: Getty Images