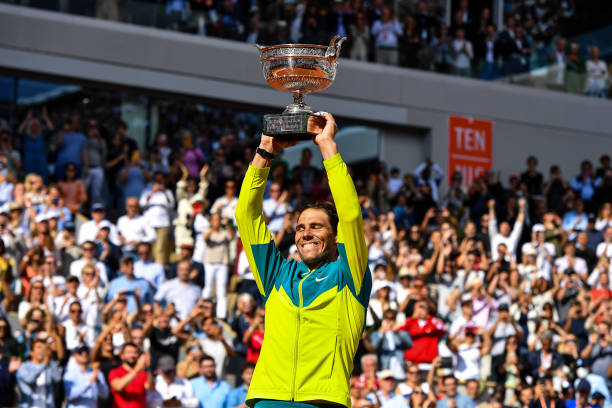 Rafael Nadal recovered from a potentially precarious 3-1 second set deficit, winning eleven consecutive games and losing just eight points across the course of a 30-minute set three as the 36-year-old closed out an impressive straight-sets victory (6-3, 6-3, 6-0) over first-time Major finalist Casper Ruud, making more history with a record-extending 14th Roland Garros title.

22 and counting: Nadal notches another Major in style
Nadal [5] bt. Ruud [8] 6-3, 6-3, 6-0
Nadal clinches 22nd Slam, is now two Major titles ahead of long-time rivals Roger Federer and Novak Djokovic – having beaten the latter in a four-set thriller on Tuesday
"Even though I'm young, have a big team around me and hope we can continue this journey for many years… and more Slam finals," Ruud reflects after a memorable run
"I don't know what can happen in future but I'll keep fighting to try to keep going," Nadal reveals during on-court ceremony amid retirement speculation
Ruud rises to a new world no. 5 despite falling short in his first Major final, leapfrogs beaten quarter-finalist and pre-tournament favourite Carlos Alcaraz
You couldn't help but sympathise with Casper Ruud as the scoreline increased and his competitive grip loosened on the biggest moment of his career. But there's no shame in losing to Rafael Nadal, especially not on the soil he has happily called home over almost two full decades.
The Norwegian said as much during his post-match speech, having been undone by a ruthless legend elevating his level again to seal another Major title. Who would've thought this would be the reality on New Year's Day, a fortnight after successive defeats in a Dubai exhibition?
"I got to experience playing you in a final, I'm not the first victim… we all know what a great champion you are. It's unbelievable, quite an experience to play in-front of over 10,000 fans in the final after a difficult two years [with COVID], you've all been very nice to me so thanks.

It gives me motivation to come back, hopefully I can learn some French, it's not easy but I will try. Amelie [Mauresmo] and your team, you've done a great job over almost three weeks. I can't wait to come back."
Much like beaten finalist Coco Gauff yesterday, Ruud was a deserving challenger but one who quickly found himself with a mountain to climb here. Even with sterner tests over the fortnight, having emerged from a weaker side of the draw, who knows if it would've made a difference.
Nadal, like Swiatek of late, seems an immovable object when the lights shine brightest. Ruud found out first-hand, as the Spaniard often anticipated well during rallies and replied with seemingly unreturnable winners into the corners – especially from his racquet like these:
Just from watching those two short clips, it's easy to see how Ruud's forehand – a dangerous weapon in itself – was effectively nullified by Nadal's court coverage and ability to keep the 23-year-old honest behind the baseline during their various rally exchanges.
That's not to say he didn't have success though. Like Felix Auger-Aliassime, Djokovic and Alexander Zverev during Friday's semi-final before the German's nasty injury, Ruud was more than capable of holding his own as it's essentially impossible to hit perfectly throughout rallies.
Maintaining that consistency for three or four hours, as opposed to 20-30 minute spurts, was what hurt Casper's ability to create doubt: both in the fans' mind that this would be another procession, as well as within Nadal, who has endured peaks and troughs over this fortnight.
That's why the aforementioned Zverev semi-final, for as long as it lasted, was compelling viewing. He, like Stefanos Tsitsipas in Australia last year, could have produced a comeback. Who knows what might've happened if he didn't get injured and won the set two breaker?
Instead the Olympic gold medallist was in agony, forced to retire prematurely, and fans robbed of closure after Rafa's relentless spirit helped him overcome two tricky tasks in previous rounds.
As for Ruud, he had to battle through adversity too. Lorenzo Sonego took him to five sets in R3, while navigating past Hubert Hurkacz and Tsitsipas' conqueror Holger Rune in four-set victories was easier said than done. He recovered from a set down against a motivated Marin Cilic too.
But while he surpassed expectations along the way, this challenge seemed like one he'd inevitably end second best in. The ending didn't flatter him, but that's the nature of the beast.
---
Post-match comments, what's next? 
After winning in his 30th Grand Slam final, Nadal congratulated Ruud on taking "a very important step forward," by achieving a career-best result. Reflecting personally and how he feels, he said:
"It's completely amazing what is happening [so far] this year, especially after all those injuries if I didn't have great support from my team and family, nothing would be possible because I would've retired a long time ago.

It's very difficult to describe the feelings I have, it's something I never believed to be here at 36, competitive again, playing in the most court of my career, means a lot, everything to me, energy to keep going."
Beneath the mild-mannered vibe and admiration for one of his idols, Ruud will be hurting – perhaps more than a tearful Gauff was – because while beaten by a superior player here, you can't help but wonder how many more opportunities he'll get like this in Majors to come.
It's not a slight on him but the Norwegian wasn't part of the Medvedev-Zverev-Tsitsipas trident that have been tasked with dethroning the Big Three over the past half-decade or so.
Alcaraz and Rune (both 19) are only going to keep progressing, both are a full four years younger than him. The same can be said for Jannik Sinner, set for another promising fortnight before injury saw him retire from his matchup with Andrey Rublev – who rode his luck at times.
Auger-Aliassime would've fancied his chances with a kinder draw, while a fully recovered Matteo Berrettini – beaten quarter-finalist twelve months ago – would back himself to go deep too.
As for what's next, questions over whether Nadal will feature at Wimbledon remain – but many are understandably growing frustrated with the level of reporting about his persistent foot injury.
The constant need for regular injury updates, the ever-present will he won't he play debate when he decides to skip a tournament is becoming tedious and detracting from a player who can't train fully and isn't pain-free when he's playing, but hasn't been at 100% for a while now.
Even still, why would he retire while he's still enjoying moments like these? It's a sensitive issue that everyone seems to have an opinion on either way but as long as his body can hold up well enough – with help from his medical team – they don't seem like stopping anytime soon, either.
Picture source: Getty Images — quotes via Eurosport broadcast