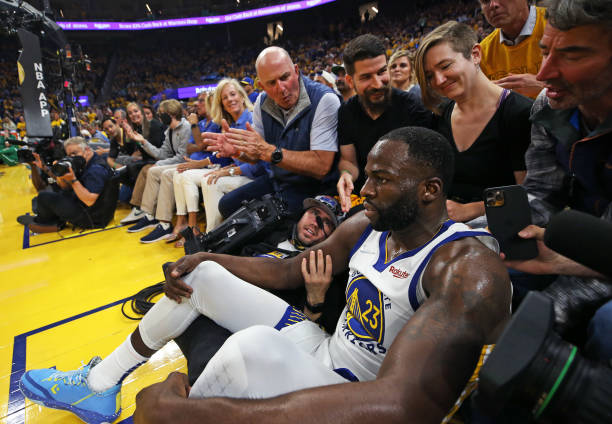 After the Golden State Warriors' fourth quarter collapse in Game 1 of this year's NBA Finals, Draymond Green wasted no time making his impact felt against the Boston Celtics on Sunday night. He played aggressively, was close to an ejection – as per – but was a key reason for their blowout 107-88 win in Game 2. With the series set for Boston on Wednesday night, what's next?
Green gees up his fellow Warriors when they need it most
If you watched Game 2 and were in the least bit surprised by Draymond Green's performance, perhaps you don't know him well enough as a player.
Golden State's surprising fourth quarter capitulation in Game 1 was followed up by precisely the sort of showing a championship-calibre team needs to produce with their backs to the wall: defensively rigid, pesky and hardened.
Who better to set the table than Green, an early Defensive Player of the Year candidate before injuries and sustained recovery time quickly rendered him a non-factor among award races.
Sure, you can argue he gets preferential treatment from officials with his play. But it comes with the territory, given how he is often overtly aggressive – and doesn't apologise for being that way.
---
ALSO READ: Why Draymond's $100m max contract was a long time coming – Aug. 2019
---
As Jeff van Gundy said on Zach Lowe's podcast this week, the big man's earned the right to get treated a little differently than most. Selective enforcement does drive rival head coaches crazy in games of fine margins, but it's not as though the 32-year-old is alone in that category.
Talking trash, unafraid to engage in confrontation, playing close to the edge… you get the gist.
On his approach the man himself had this to say, per ESPN:
"It was definitely an attitude adjustment, they are who we thought they were so we knew we had to keep our foot on the gas pedal, not let up, and we did that. Guys follow me on that [defensive] side of the ball.

If I'm not sending a message, who is? We put ourselves right back in position to take control of the series, we haven't taken control yet."
---
Making adjustments, game-by-game
Green, who had nine points, seven assists, five rebounds, a steal and block in 35 minutes on the floor, knows first-year head coach Ime Udoka and his Boston team will comprise their own way of trying to deal with that – especially at home – with the series tied at 1-1 heading to TD Garden.
As Boston's All-Star small forward Jayson Tatum addressed, the Celtics need to take better care of the basketball. They committed 15 turnovers in Game 1 but managed to narrowly avoid defeat, largely because of big three-point shooting nights from Derrick White and Al Horford.
They made 16 at the weekend and were duly punished, with their franchise cornerstone aware that needs to be rectified among home comforts on Wednesday:
"Turnovers are a big part of the game, especially when you see how many times we turned it over and how many points they scored off that. You just think, if you could limit those turnovers, you could limit a lot of those points."
That is easier said than done though, when you're playing against a team who can boast Green's defensive tenacity – as well as a helpful supporting cast featuring Kevon Looney, Gary Payton II and Otto Porter Jr among others to pick up the slack when others are enduring poor spells.
Nemanja Bjelica, carefully utilised during the playoffs, had six points, five rebounds and a steal in 10:36 on the floor. Especially at a stage where Klay Thompson is struggling with his shooting, these are the role players who can prove invaluable with their contributions when called upon.
Game 3: Boston vs. Golden State – tip-off time, 2am Thursday
I've been busy covering other sports and work but stay tuned to moandsports.com, as I'll be back with a Game 3 match report in addition to further analysis as the NBA Finals continues to unfold. 
Picture source: Getty Images