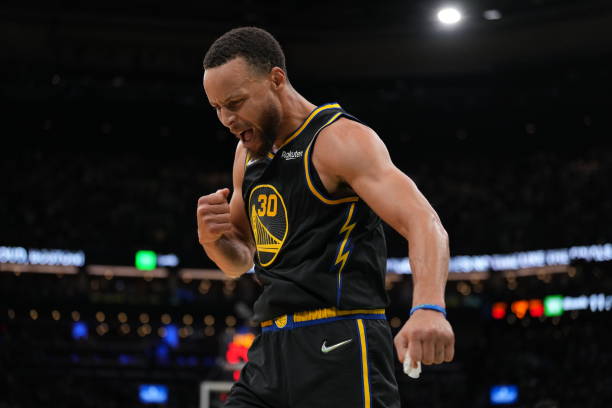 With the lights brightest and others struggling, the 33-year-old recorded the second-most NBA Finals points of his career, and put his teammates on his back, en route to an invaluable 107-97 win over the Boston Celtics to tie the series at 2-2 with Game 5 next in the Bay Area on Monday. Given he played through a Game 3 foot injury here, are you surprised this was his next act?
Curry carries the load as Dubs curb their fourth quarter woes
On paper, Boston have the better team and stronger depth to boot. They have the Defensive Player of the Year, two All-Stars and a resurgent big man whose renaissance from the cold has been a marvel to watch this season. In practice though, it hasn't always played out that way.
Coupled with their costly turnovers against a Warriors team capable of scoring plenty in bunches with transition threes and emphatic two-pointers, head coach Steve Kerr possesses experience aplenty to call upon – something his opposite number Ime Udoka would've wished for.
Curry recorded 43 points on 14-of-26 shooting overnight, including seven three-pointers, while posting 10 rebounds and four assists to boot. Any sign of complacency? No chance. Their star point guard was even-keeled in his assessment of an important road win with ESPN's Lisa Salter:
"Lot of pride in our group, [after] there was a lot of talk about how we can get back into this series. Finally figured out our fourth [quarter issues], executed on the other end, it's crazy because I think we can still play better."
On staying in the moment while battling through his injury and Green's continued struggles:
"I've been here six times, lot of experience staying composed, the endurance to fight through the foot, thankful for everybody and our team — the toughness and physicality. Thank God I avoided significant injury so I can play, that five-and-a-half hour flight got a little better.

It's about that championship grit, he [Green] knows he can play better. We do this together, it's not an individual thing or a stat sheet, we have to do it for two more wins."
Green's shooting woes continued, as he was just 1-of-7 from the field and Kerr pulled him from the lineup during multiple offensive-minded possessions in crunch time down the stretch.
Even still, Draymond posted nine rebounds, eight assists and four steals in 33 minutes. But it's clear that he, Klay Thompson and others besides must pick up the slack on Monday night.
Andrew Wiggins, whose long-term future in Oakland remains uncertain, shone in 43 minutes and had a new career-high rebound number to help his side off-the-ball when they needed it most.
The 27-year-old forward led the game with rebounds (16), regularly played some important one-on-one defence and made big buckets too (17 pts on 7-of-17 shooting), on an evening where Golden State's other forwards (Green, Otto Porter Jr, Nemanja Bjelica) struggled.
Thompson, who had 18 points here but still didn't look convincing for sustained periods himself, is aware the team collectively must pitch in so Curry doesn't overwork himself in Game 5:
"The things he does, we kind of take for granted from time to time. But to go out there and put us on his back, I mean, we got to help him out on Monday." 
Picture source: Getty Images