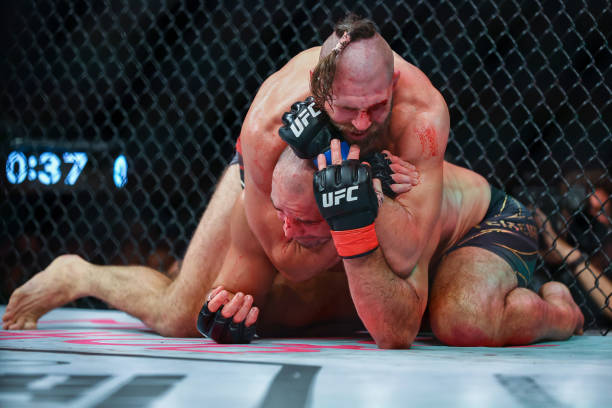 Down on the scorecards, Jiri Prochazka recovered from sustained periods of danger to reign supreme as the new light-heavyweight titlist in his third UFC appearance – submitting Glover Teixeira with 28 seconds left in R5. Valentina Shevchenko looked human against a determined Taila Santos display after former foe Joanna Jedrzejczyk announced her retirement following a thunderous R2 KO loss during a highly-anticipated rematch with former champ Zhang Weili.

new champion: Prochazka rallies to last-gasp RNC vs. Teixeira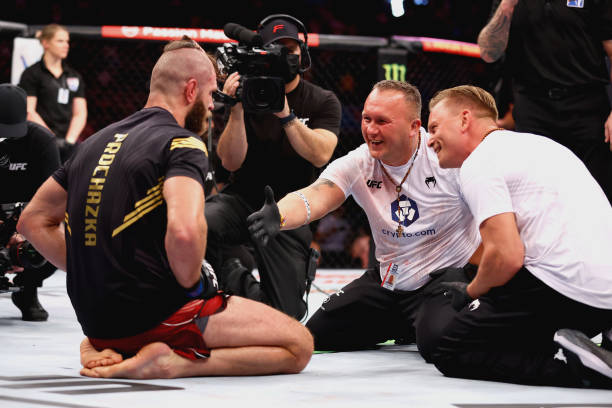 R5, 4:32 – Jiri Prochazka [2] bt. Glover Teixeira via submission (rear-naked choke), becomes new light-heavyweight champion
"I give my all every time, he was hurting my body with shots and I was gassed. Do I look 42 out there? No? Then I'm gonna keep going," Teixeira shuns retirement, will continue
"I was lazy to set up some situations, see the moments and counter. For the next fight, I will be another fighter… that wasn't a good performance from me," Prochazka warns
"He was so brave, so I shared the energy with him. We will see, I'll be ready," new champion reveals he spoke afterwards with #1 contender Blachowicz cageside
In an instant classic, Jiri Prochazka sealed a last-minute stunner in Singapore to overwhelm and submit Glover Teixeira as the 205lb strap changed hands for the third time in less than two years.
Jan Blachowicz, who Teixeira submitted last October to claim gold, was watching Octagonside and would've been on the edge of his seat like most watching this slugfest unfold in real-time.
Three fights into his UFC career, Prochazka is now a champion and the promotion's youngest (29) at the time of writing. Anyone who has watched him of late knows this was a possibility.
But even still, considering the way he fought through adversity, threw some heavy firepower himself and still had the clarity of thought afterwards to acknowledge this wasn't his best night, there's no reason why he can't be a long-reigning champion with some tweaks to his arsenal.
Once the dust settled somewhat, the first word from Jiri's presser felt apt considering the crazy circumstances: satisfaction. After lengthy preparation with wrestling and jiu-jitsu, readying himself for the Teixeira test, he could've easily had his big shot ended on multiple occasions.
He earned hand control to avoid getting his back taken as Glover secured a takedown up against the fence in R1 once both landed big strikes. After blitzing the champion with heavy punches and various striking combos, he was stung by a counter left hook in a wild second stanza.
The third saw him display better takedown defence, though Teixeira still secured control time and finished it with slicing elbows in top position.
Entering the championship rounds for the first time in his 10-year career as a pro, he withstood the pressure of a tight-squeezing arm-triangle choke and multiple big shots as two judges had it 3-1 to the Brazilian after 20 minutes.
For all of the Czech's good work, Teixeira's sustained takedown success at his expense – as well as his heavy-handedness – made a stoppage victory seem inevitable at the start of the fifth.
He connected on heavy punch combos, as Jiri was almost out on his feet and appeared helpless against the fence. Rather than unload more or beckon him forward to continue exchanging strikes, Glover raced to a guillotine choke and crucially allowed him a chance to recover.
That proved a costly mistake for an increasingly tired Teixeira, in an encounter where the durability of both came to the fore on multiple occasions with repeated momentum shifts.
As he got into mount, Prochazka reversed the position by sliding his feet across the fence and began landing hammer fists. Soon enough, he had a rear-naked choke attempt locked in, as an exhausted Glover tapped in a war he was less than 30 seconds away from retaining his title.
---
Santos exceeds expectations, falls just short vs. shevchenko
48-47, 47-48, 49-46: Valentina Shevchenko [c] bt. Taila Santos [4] via split decision
Despite losing via split decision, Santos becomes first flyweight in 10 to beat Shevchenko on a judge's scorecard and vows to be back stronger, fight for title again
The champion grits out tough test to make her seventh successive title defence, hints at Miesha Tate matchup if she beats former challenger Lauren Murphy at UFC 276 in July
Santos sustains broken orbital bone after R3 accidental clash of heads, Valentina reveals during post-fight press conference that she fought with a pre-existing foot injury
Ever since Jennifer Maia's superior strength won her a round over Valentina Shevchenko at UFC 255, the critics have been itching to get their teeth into the champion's weaknesses.
After dismissing Jessica Andrade and Lauren Murphy in TKO title defences last year, she maintained there are none that prospective challengers can look towards for encouragement.
Well, after last month's virtual presser, I got the feeling Taila Santos had something up her sleeve and certainly didn't look overawed by the occasion – she was winning. Many, including one judge, felt she did enough over 25 minutes to inflict Shevchenko's first defeat at flyweight.
---
Prophecy fulfilled? My press conference question to Santos. She adopted these tactics for sustained periods — showcased her strength — and was close to ending a dominant title reign…
MO: Taila, what's the key to win here?
TS: I think taking this fight to the ground. Valentina is strong in striking, but I think if we [meaning her and her team making the decision to] take this fight to the ground, I can overcome her… 
---
So what happened? How did Santos do it?
After a slow, tactical start by both, Santos was forcing the issue in the clinch to create some sustained offense from their grappling exchanges. Shevchenko's slip, trying to escape the position against the fence, gave the Brazilian an opening she quickly pounced on.
She quickly clutched onto her neck and pushed for a rear-naked choke, though Valentina landed ground strikes aplenty to defend the position and handfought her way out of trouble.
R2 saw more of the same grappling intensity and takedown opportunities by Santos, who absorbed some slick boxing combos early but didn't waver from the gameplan.
After securing another takedown, she had to escape a triangle choke attempt from bottom position as Shevchenko could sense her own openings to exploit.
Referee Jason Herzog stood them up with little over 80 seconds to go, as Santos wasn't active enough on the ground. They almost immediately returned to the canvas, as the champion completed a throw takedown. It was very much a sense of whatever you can do, I can too.
Santos showed good spatial awareness to reverse the position, with an interesting ten-minute spell down. R3 was where things really intensified and ultimately swung the champ's way.
Shevchenko's striking urgency increased, having lost the first two rounds, while Santos took too much damage in their stand-up exchanges not to revert back to what had been successful.
in a battle of fine margins, The turning point
After the champion's brief body lock, Santos eventually got another takedown of her own – flattening her and squeezing for a better choke than the R1 attempt.
It wasn't stressed at the time, but an accidental clash of heads — initiated by the challenger and with her worse off — saw severe swelling open up around her right eye.
It was closed heading into the championship rounds and in a matchup of such fine margins, that issue ensured Shevchenko was in the ascendancy as they exchanged strikes at range and the champion threw a handful of kicks too.
Body kicks and a nice four-strike punch combo rocked Santos back against the fence, as the momentum shifted. Her boxing helped her win R4 despite Santos' late takedown with 15 seconds left, though there was more work to be done.
Sensing the head clash-induced dropoff, Santos' corner were passionate with their fighter before the final round. "No-one has got this close, you've got five minutes to become a champion," they stressed. But she was visibly tiring and at a notable disadvantage with her right eye failing her.
In the hours since, it has emerged (h/t: MMAFighting.com) Santos fought on with a broken orbital bone under her right eye after that clash of heads and manager Tiago Okamura said she will undergo surgery when the swelling subsides a fortnight from now, back in her native Brazil.
Shevchenko, made to feel uncomfortable and uncertain for large periods, was now growing in confidence as she popped out of another takedown and executed one of her own.
Shoulder strikes, hammer fists and deft body work on the ground helped Valentina stifle Santos in the final stanza, which ultimately proved decisive on the scorecards.
They went the distance and not only was it more competitive than most expected, many felt it was 48-47 in Taila's favour, even with the head clash disrupting her rhythm. The scorecards took long and a split decision was called, though the 28-year-old Brazilian was gracious in defeat.
"I'm still young, can't complain about the decision but this isn't the last time you'll see me fight for a belt… I couldn't see out of my right eye afterwards [the clash of heads], saw two Valentinas and tried to hit in the middle."
Shevchenko meanwhile, reaffirmed a desire to remain active. She said in the post-fight presser she sustained a foot injury during camp which needs to be assessed before deciding what's next.
"Every time you can find something you can improve, never satisfied with your performance, true championship mind. I did everything, left my heart in the Octagon. I expected that, a heavier opponent and in MMA, every pound counts.

Everything she said, she will grapple a lot and she strikes too, that's what I expected. I wanna keep going, keep improving, fighting, no matter who — bantamweight, flyweight — I'm here, just bring it home."
---
Weili wacks Joanna into retirement with R2 spinning backfist
R2, 2:28 – Zhang Weili [2] bt. Joanna Jedrzejczyk via KO (spinning backfist)
After such an epic first encounter two years ago, it felt bittersweet this one wasn't another five-round championship clash given the seismic stakes on display.
Weili suffered contrasting defeats by now-former titlist Rose Namajunas in the interim, while JJ took a two-year layoff, citing the COVID-enforced no fan attendance as a reason. You could tell.
Joanna was keen to maintain separation and get her strikes off, but as she landed an early leg kick, she absorbed a fiery counter right for her troubles. This wasn't going to be easy.
Twice in quick succession, they exchanged in the pocket before the Singapore crowd roared as Jedrzejczyk dropped Weili with a heavy outside leg kick. Her response? Likely borne from the Fight Ready gameplan: early aggressive takedown attempts to swarm the Pole against the fence.
There was a clear physical strength advantage in Weili's favour as she logged control time aplenty and kept a fellow former strawweight champion on the canvas, landing nasty elbows from full mount position while maintaining a relentless pace.
To Joanna's credit, she remained composed despite being in danger and eventually returned to her feet, producing an assertive finish to a round she clearly lost.
You could sense their rematch would start like this, especially with ten minutes less to work with, but seeing it unfold as expected – 27 months on – was surprising and exciting in equal measure.
There was more where that came from.
Weili landed a series of good body kicks, with Jedrzejczyk now being reactive rather than proactive in terms of striking output. That much was clear as she left her head in too long when loading up on power punch attempts, a lot of which whizzed past the target.
Despite showing good spatial awareness to stuff Weili's grappling attempt, the 34-year-old's slack head movement proved costly in the worst way.
As she lunged forward and threw a one-two combo, Weili weaved out of reach before landing a spinning backfist she didn't see, instantly knocking her unconscious.
These sloppy mistakes only really show up in elite fighters when they are inactive and lack that competitive sharpness, as JJ – for all her training – has been, but she had no excuses afterwards and looked at peace with it: there was something more pressing that needed to be addressed.
"I trained for this for five months, really hard everyday, that's what people don't see. The bells are still ringing in my head [after that KO], I didn't expect she would be that tough and strong. Thank you to my ATT coaches and teammates, I love life so much but I'll join DC's league now, I'm retired.

I wanna thank Dana, Shelby, Hunter, the matchmakers, without all the UFC employees, we wouldn't be here. I'm 35 this year, I wanna be a mum, a businesswoman, I've been training two decades… more than half of my life."
---
On a personal note about Joanna… time really does fly. JJ was an unstoppable battering ram at 125lbs when I started watching this sport properly, she's alternated (big!) wins and losses in the five years since but also turns 35 in August. Others will follow suit sooner rather than later too.
Despite her elite ability, especially after such a long layoff, retirement felt inevitable if she didn't win tonight given this rematch's stakes. Shows how quickly things can change at the top.
---
Her contemporaries' immediate responses to the retirement on social media, most of them current champions or top-level contenders in their respective weight classes, says it all:
As for Weili, another title shot awaits against a newly-crowned champion. Through a translator, the 32-year-old spoke of her happiness to get another important victory.
"I'm very happy for this [the way the fight went], told myself I'll use my exploits to win and did it. Very calm, relaxed for this, knew that I had to focus on myself and not Joanna's game."
On being Carla Esparza's first title defence of her second reign, likely late this year, she said:
"I want to invite you to fight in Abu Dhabi, it's not my home or yours, let's fight in a balanced way [setting]."
Perhaps sensing retirement was imminent on the other side after seeing JJ take off her gloves and stay in the Octagon afterwards, she continued:
"Joanna is a fighter, a warrior, I think she passed it [the baton] to me … someday there will be someone better than me, I'll pass that legacy to them."
This matchup could've easily been a five-round PPV headliner and instead, there were two title fights immediately following it so there was no time to fully digest Joanna's retirement, even if it felt a significant possibility should she suffer another defeat here.
A surefire Hall of Famer, she flew the flag with distinction and just like now retired former bantamweight champion Ronda Rousey, was one of the exciting pioneers for women's MMA.
---
rest of main card: matthews and maddalena win big
Considering all of the hype surrounding the Portuguese and his eagerness for more short-notice assignments, Jake Matthews seized Andre Fialho's thunder with a second-round KO, showing poise and crucially control to take his time en route to an impressive victory at welterweight.
National pride? Tonight was a perfect night for the three Aussies on the card but when you're getting the featherweight champion's seal of approval too, you're clearly doing something right:
Contender Series graduate and Australian welterweight Jack Della Maddalena recovered from early adversity, stirring back to his feet and withstanding an early anaconda choke before securing a R1 TKO win over Ramazan Emeev – scoring his second first-round victory of 2022.
---
Prelims, early prelim results
In the featherweight division, Joshua Culibao scored multiple knockdowns en route to an impressive – yet surprising – split decision win over Seung Woo Choi (29-28, 28-29, 29-28). While watching the action unfold live, it was very difficult to give more than a round to the Korean.
At lightweight, Hayisaer Maheshate landed a punch-perfect KO to leave Steve Garcia helpless and needing immediate medical attention after this:
There were hard-fought decision wins (both 29-28 x 3) for middleweight prospect Brendan Allen and bantamweight Kang Kyung-ho against Jacob Malkoun and Danaa Batgerel respectively.
For those critics quick to rubbish divisions like women's strawweight for lacking excitement, Silvana Gomez Juarez's fast-and-furious showing vs. Liang Na will have earned the experienced Argentine new fans after a vicious R1 KO to blitz the Chinese inside 90 seconds:
In the evening's opener, Joselyne Edwards snapped her two-fight losing streak and earned a UD win (30-27, 29-28 x 2) on her featherweight debut against Hong Kong's Ramona Pascual.
Up next: UFC on ESPN 37 on June 18 — headlined by featherweight contenders Calvin Kattar (#4) and Josh Emmett (#7), an intriguing matchup unofficially seen as a 145lb title eliminator.

Picture source: Getty Images