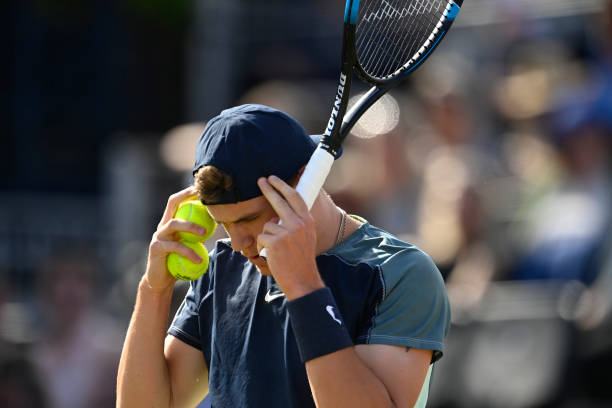 It's easy to declare post-match that you'll learn lessons from a loss, especially a humbling one during the notoriously short grass court season, but 20-year-old Jack Draper's case feels slightly different than most. Considering Wimbledon's just around the corner, here's why…
Draper's determined attitude will stand him in good stead
After a quietly impressive start to the 2022 season, Jack Draper was insistent he'd learn lessons from a 6-2, 7-6 second-round Queen's Club defeat by Finland's Emil Ruusuvuori.
Having broke into the world's top 100 for the first time this week, he toppled Indian Wells titlist Taylor Fritz 6-3, 6-2 in R1. Losing to the 23-year-old qualifier, especially the way this unfolded, would've been tough to take – but given Ruusuvuori's rising pedigree, there's no shame in that.
Ruusuvuori, world no. 48, hit 29 winners throughout and forced nine break points in 100 minutes of excellent tennis. Draper was in reflective mood afterwards, but knows he can't dwell too long.
"I could have done a few things better, they are not many times when I get outplayed and I felt like today was one of those days.

I felt he [Emil] played a great match. I am always pretty hard on myself… other players keep it in their head for a few days but I will definitely get over it quite quickly. I am playing Eastbourne next week, Wimbledon is around the corner.

I can definitely take some positives from this week, beating a top player in Taylor but can also learn some lessons from today, help me moving forward."
Draper reached the quarter-finals at Queen's last year, took a set off Novak Djokovic during R1 of Wimbledon and has already won four ATP Challenger events in the first four months this year.
There's no doubting his potential, as shown by acquitting himself well against compatriot Cam Norrie (Miami) and pushing Andrey Rublev to the brink in Madrid – both top-10 players.
Now though, he needs to hope for a kind SW19 draw this time around and an opportunity to continue earning invaluable experience against more seasoned opponents, allowing him a licence to problem-solve on the fly while dealing with the pressure he'll undoubtedly face soon.