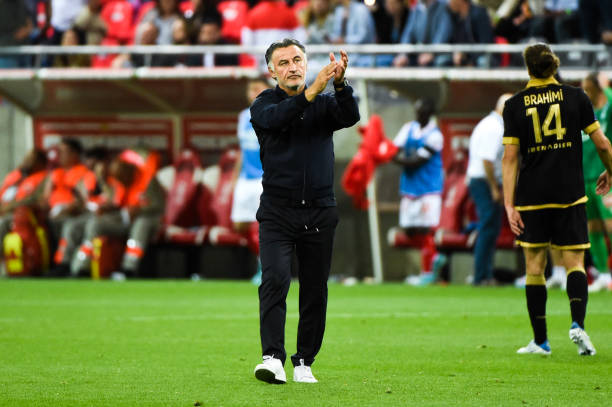 Although he's technically under contract for another year, reports claim Ligue 1 champions Paris Saint-Germain will replace Mauricio Pochettino with Nice's Christophe Galtier next week, as the 55-year-old has been deemed a priority choice as their new head coach by another fresh acquisition, new football advisor Luis Campos – who he worked with for three years at Lille.

PSG closing in on Galtier deal
Per Fabrice Hawkins' report tonight, PSG have eventually agreed upon paying a €10m (£8.5m) fee to their Ligue 1 counterparts Nice for manager Christophe Galtier, who will succeed Mauricio Pochettino once the former Tottenham boss' departure is finalised sometime this week.
Galtier, who won the 2020-21 league title with Lille, has averaged his highest PPM (points per match) tally during 43 games as Nice boss since joining last summer. He led them to a fifth place finish last term and they narrowly lost in the Coupe de France final against Nantes on May 7.
It'll be interesting to see how he implements his tactics, as Galtier is known for a preference to play the 4-4-2 – two holding midfielders, two in wide attacking positions and a striker pairing up-top. At present, PSG don't appear to have the suitability nor depth to adopt this efficiently.
When he tried changing the formation to better protect his players out of possession, they were thoroughly exposed during his time at Lille – one point and four goals from their six Champions League group stage matches in 2019-20, which included heavy defeats by Ajax and Valencia.
Speaking of Lille though, the 55-year-old could be set for a reunion with a familar face if ultimately hired… one that has been linked with multiple top European clubs of late:
Lucien Favre, most notably of Borussia Monchengladbach and recently Borussia Dortmund, is reportedly in talks for a return to Nice as Galtier's replacement having spent two years there himself between 2016-18. As usual, it only takes one domino to fall for multiple to follow.
Sources suggest the Swiss rebuffed Gladbach's overtures last month, while an ambitious Newcastle and fellow Premier League side Crystal Palace were linked last year too, before the latter appointed Patrick Vieira – who has enjoyed an encouraging first year in south London.
After Kylian Mbappe rejected long-time admirers Real to sign a three-year contract extension last month, Les Parisiens are keen to do more shrewd summer business across all levels within as they hope to finally claim the one trophy that has long eluded them: the Champions League.
Despite taking a one-goal cushion to the Bernabeu, they lost 3-2 on aggregate against eventual champions Real in the last-16, during a two-legged affair they really should've won.
More to follow soon…
Picture source: Getty Images — info via GFFN