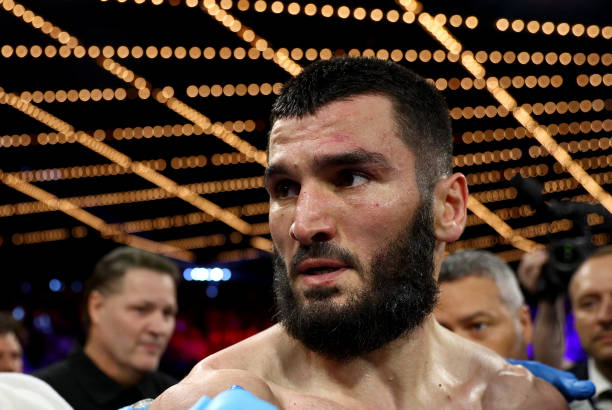 Although he's set to make a mandatory defence of his newly-won WBO light-heavyweight title before this year is up against Anthony Yarde, Artur Beterbiev hasn't been shy about the fact he has bigger fish to fry at 175lbs: a undisputed fight with fellow unbeaten champion Dmitry Bivol.

easier said than done: Beterbiev wants bivol next, not yarde
After his second-round demolition win over Joe Smith Jr at the weekend, the 37-year-old openly questioned whether Bivol truly wants a unification title fight against him. Whether believable or not, you can't help but feel that's pointed towards gaining the response he wants.
When speaking to a group of reporters post-fight, he said:
"I hope because they always talk about they [Bivol's team] want to fight. OK, let's do it. He always [says], 'I want the fight,' I don't know what's next… if he wants to fight, OK, let's do it. Joe Smith wanted to fight, we did it."
Beterbiev (18-0, 18 KOs) vs. Yarde (22-2, 21 KOs) isn't a done deal, but should negoations lead to a done deal, that WBO world title fight could materalise as soon as October 29.
Canelo Alvarez's conqueror Bivol (20-0, 11 KOs) is technically free to face whoever he wants next, as the undisputed super-middleweight champion has instead opted to rematch Gennadiy Golovkin once more in a trilogy this September. He told Sky Sports of a desire to face Beterbiev.
"Yes of course, it is my goal. I watched the [Beterbiev-Smith] fight. As I have said before, I am very excited about unifying all the belts in the division."
Marc Ramsey, Beterbiev's head trainer, praised Bivol's showing against the Mexican star last month but also made sure to reaffirm their desire to emulate Canelo by going undisputed at light-heavyweight – something only eight men – none at 175lbs – have done in the four-belt era.
"He was a good amateur fighter, he's a good professional. He's very disciplined, can apply tactics in a fight very well, also.

We have a lot of respect for him, but we want the belt. He did exactly what he had to do [against Canelo], the only way he can win that fight, he did."
Picture source: Getty Images — quotes via BoxingScene unless stated