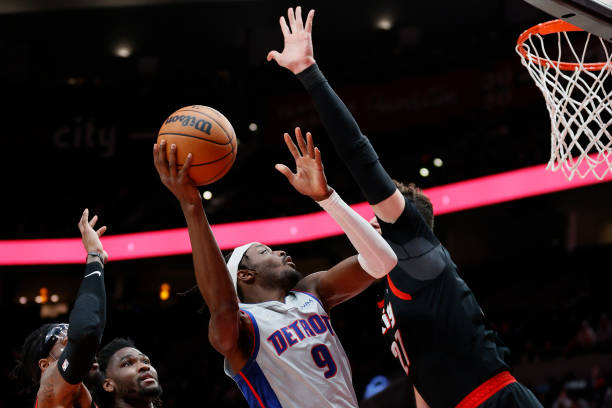 It appears on the surface as though Detroit have settled with less than they could've got for a 28-year-old power forward who has been performing at an All-Star level these last two seasons. However, this move also frees up cap space ahead of an offseason packed with speculation insistent that upgrades are inbound: Suns' wantaway big man Deandre Ayton among them.
Grant returns West, Detroit land 2025 first-round draft pick
Portland Trail Blazers get
Jerami Grant
Detroit's No. 46 pick tonight – draft pick swap
Detroit Pistons get
2025 first-round draft pick
Portland's No. 36 pick in tonight's NBA draft
2025 second-round pick
2026 R2 pick, most favourable between Portland and New Orleans Pelicans
Given all the speculation surrounding his future, it feels anti-climactic Jerami Grant's situation shifted without warning the same week this summer's NBA draft will unfold. But nonetheless, this under-the-radar trade could have significant implications leaguewide going forward.
Deandre Ayton's desire to be highly valued — with a maximum or near-max contract extension — means multiple suitors are circling around the big man's situation in Phoenix, who have stressed a willingness to do a deal for the right price this summer. Detroit could be a new destination.
Just looking through the trade details, the Pistons possess $43m in salary cap space to work with come free agency, while also having a better opportunity as far as summer draft selections are concerned (#5 and #36, up from #46). The future seems bright, but they must choose wisely.
2021 number one draft pick Cade Cunningham came third behind Cleveland's Evan Mobley and winner Scottie Barnes (Raptors) in the Rookie of the Year race, but the 20-year-old point guard's play shone after the All-Star break and has critics excited for what the future holds.
As I touched on a year ago today, Detroit's core appears promising in an Eastern Conference packed with surprise teams spearheaded by young players – and can still be strengthened.
Detroit fans should feel excited about their future, after taking French point guard Killian Hayes seventh in the 2020 draft, big man Isaiah Stewart (#16) and small forward Saddiq Bey (#19).
The latter two were in the league's two All-Rookie teams, while Hayes only managed to play 26 regular season games after a lengthy hip injury. Even still, there's a young core building there, alongside PF Jerami Grant – excellent among new surroundings with more scoring responsibility.
Despite improved eFG% and FG% splits this term, Hayes hasn't really kicked on as hoped in his second season. However, the Frenchman has played almost triple the regular season games he did in Year 1 – so continuity and gaining experience will stand him in good stead going forward.
As it stands, Detroit are projected to take Iowa State power forward Keegan Murray with the fifth pick in this draft class, but things can easily change over the course of an intriguing night ahead.
---
A few words on Portland
Grant can sign a four-year, $112m extension in December with the Blazers, widely regarded as not good nor deep enough to be convincingly described as true Western Conference contenders.
Their response? New GM Joe Cronin wasn't swayed by loyalty nor sentiment, as he made the difficult but necessary decision to trade secondary star CJ McCollum in early February.
Damian Lillard's future in Portland has long felt like an elongated saga in recent seasons, though he'll need more help than how the roster is currently constructed: Anfernee Simons, experienced big man Jusuf Nurkic and now Grant are their key pieces around the perennial All-Star guard.
Picture source: Getty Images