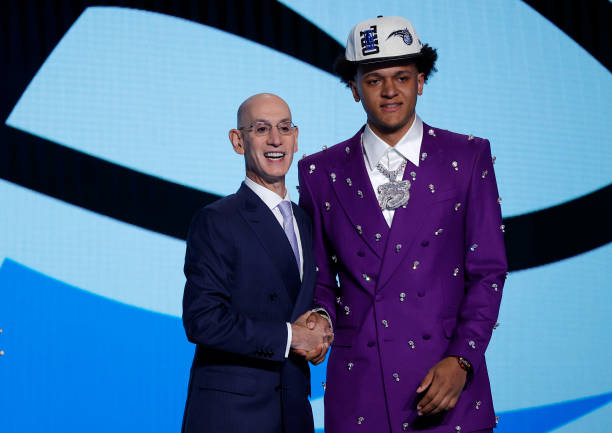 After countless reports suggested Auburn forward Jabari Smith Jr would be this summer's top draft pick, the Orlando Magic presented the first in a night of surprises and trade moves aplenty by selecting Duke's Paolo Banchero with the No. 1 pick – adding another talented youngster to an ever-growing core of players hopeful they'll be nowhere near the lottery in the near future.
draft night: The overview
There was endless debate about which of the top three players most deserved of No. 1 honours, though Banchero – perhaps the most NBA-ready prospect in his class – joins an overwhelming crop of talented youngsters in Orlando under second-year coach Jamahl Mosley.
Jalen Suggs (#5, 2021) has endured teething problems in his first season, though the same can't be said for German small forward Franz Wagner (#8, 2021) nor PG Cole Anthony (#15, 2020).
Jonathan Isaac hasn't played since Aug. 2020, though once he eventually returns, you can be safe in the knowledge the 24-year-old big man will be performing with added motivation. The same can be said for Wendell Carter Jr, a necessary piece in last year's Nikola Vucevic trade.
The expert coaches' view
Arkansas coach Eric Musselman, who spent nine years as an assistant (and head coach) across multiple NBA teams, saw all three elite prospects up close against his team this past season.
During a piece with The Athletic, the 57-year-old had this to say about Banchero:
"He was the one we just had no answer for, our scouting report couldn't take anything away from him. When they needed a basket, it went to him, he got the ball off where we couldn't double-team or soft-trap him, he makes 3s, kept improving as a three-point shooter over the year, knows how to draw fouls, excellent in the midrange, a good jab-step, pull-up jump shot, can run the floor.

Actually, you know what? I think he might be even more athletic than Jabari [Smith Jr], it's probably about even.

I didn't get a good feel for him as a defender but we didn't feel like we had an advantage to post him up at all and didn't have an advantage to try go at him, or get him in foul trouble… so we really just kind of stayed away.
After Banchero's public desires proved true, Oklahoma City were busy: snatching Gonzaga's unorthodox center Chet Holmgren second before acquiring France's Ousmane Dieng (#11th pick) in a trade with the New York Knicks – then taking Santa Clara's Jalen Williams at No. 12.
"I think it's a great situation, dynamic, playing with guys like Josh [Giddey] and Shai [Gilgeous-Alexander], as well as everybody down the roster.

It's a lot of great players there with unique skillsets. I feel like I can kind of pair up with them, help enhance theirs [and vice versa]."

Holmgren looking forward to working with his new teammates in Oklahoma City
Smith Jr went third overall to the Houston Rockets, who have taken long-term steps towards building around highly-rated shooting guard Jalen Green (#2, 2021) and Kevin Porter Jr.
After news surrounding Houston's Christian Wood trade – sending him to Dallas for a four-player package, including Marquese Chriss and Sterling Brown – surfaced last week, it appears that deal was made official overnight. It's unlikely most of them will be retained long-term though.
Banchero's college teammate and small forward Wendell Moore Jr was selected with the 26th pick and is Dallas-bound, as part of the aforementioned trade.
Wood led Houston in scoring (17.9), rebounds (10.1) and blocks (1.0) last season but turns 27 in late September and his personal timeline for winning or playing in a contending environment doesn't exactly align with the franchise, considering they're in the middle of a slow rebuild.
Dallas, who overachieved expectations by reaching the Western Conference Finals last month before losing in a five-game series to the Warriors, seem an encouraging fit for the big man.
After more than half-a-decade of contending with James Harden, Chris Paul and later Russell Westbrook, the Rockets were the league's worst team with a 20-62 record this past season.
However, it appears they've shown enough potential with their younger crop to continue playing without stringent performance-related targets under head coach Stephen Silas. For now.
Per ESPN, Rockets GM Rafael Stone spoke about their desire for progression saying:
"We're trying to build a core of individuals who can become the foundation of a really good team.

What we want is to see improvement [x 3], as long as we're seeing that, we're pretty happy with the rebuild, and I was definitely happy with last year.

You don't want to stunt their growth by trying to steal a win here or there. Philosophically, we're very cognizant of that.

If your goal is to put together a team that's really growing, it's different than a team going to try to maximise every win."
Last year, I wrote this piece on how the first-year boss was under-fire and seemingly headed for the exit door. The front office appear to have embraced him in the interim though, aware of the difficult circumstances he'd been working with — and such decisions cannot be made in haste.
---
2022 NBA draft lottery picks
1. Orlando: PF Paolo Banchero, Duke
2. Oklahoma City: PF Chet Holmgren, Gonzaga
3. Houston: PF Jabari Smith Jr, Auburn
4. Sacramento: PF Keegan Murray, Iowa State
5. Detroit: PG Jaden Ivey, Purdue
6. Indiana: SF Bennedict Mathurin, Arizona
7. Portland: SG Shaedon Sharpe, Kentucky
8. New Orleans (from LAL): PG Dyson Daniels, G League Ignite
9. San Antonio: PF Jeremy Sochan, Baylor
10. Washington: SG Johnny Davis, Wisconsin
11. New York: SF Ousmane Dieng, NZ Breakers — traded to OKC
12. OKC (from LAC): SG Jalen Williams, Santa Clara
13. Charlotte: C Jalen Duren, Memphis — traded to Detroit
14. Cleveland: SF Ochai Agbaji, Kansas
---
rebuilding teams plugging holes, while also creating doubt
Speaking of haste, there'll be no such questions of that for the Indiana Pacers after selecting Arizona guard Bennedict Mathurin (averaging 17.7 points, 5.6 rebounds) with the #6 pick.
Tyrese Haliburton was rightly heralded as their key cog for the future after a surprise midseason trade from Sacramento, and he'll be joined in the backcourt by the 20-year-old.
Also read: Haliburton's recent surge shows Kings have long-term puzzle to consider
Keegan Murray, who was projected to join Detroit, was selected #4 by the aforementioned Kings in a move they hope will bolster the DeAaron Fox – Domantas Sabonis duo they now possess, having done a bold piece of business with their cross-conference counterparts.
Murray averaged 23.5 points and 8.7 rebounds per game during a breakout campaign at Iowa, while shooting 55.4% from the field and 39.8% from distance.
Detroit eventually took Purdue point guard Jaden Ivey, in a move that will have French point guard Killian Hayes (#7, 2020 draft) sweating about his long-term future with the franchise unless he has a breakout third season with the Pistons after an injury-hit, inconsistent start to NBA life.
After completing their trade for Jerami Grant, Portland took Kentucky guard Shaedon Sharpe with the seventh pick, before New Orleans took Australian guard Dyson Daniels next at eight.
Baylor forward Jeremy Sochan appears to have found the perfect fit under Gregg Popovich after being selected ninth, before the Wizards took Wisconsin guard Johnny Davis at #10.
As promised, I've covered another intriguing draft and will be providing more offseason analysis on moandsports.com, so stay tuned for that and more as the summer months unfold!
Picture source: Getty Images — quotes via ESPN unless stated