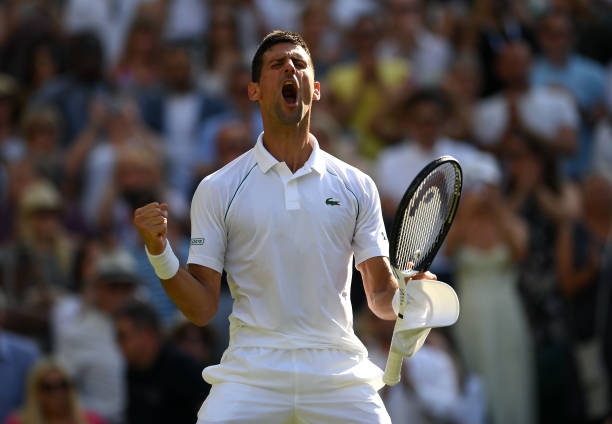 Novak Djokovic recovered from another sluggish start, this time a set down, to eventually outclass British no. 1 Cameron Norrie, en route to a four-set victory. He'll play maiden Finalist Nick Kyrgios in Sunday's final – and is yet to beat the unpredictable Australian in their three previous H2H meetings. On tap today, Ons Jabeur faces Elena Rybakina in the Ladies' Final.
Nervy Novak eventually overwhelms Norrie
Djokovic [1] bt. Norrie [9] 2-6, 6-3, 6-2, 6-4
Novak Djokovic doesn't like doing it the easy way, but the 20-time Major champion eventually found his footing to silence the Brits and Cameron Norrie in four sets – having started set one with 12 unforced errors, just like against Jannik Sinner in Tuesday's quarter-final.
After becoming the first man since Rod Laver in 1969 to win the year's first three Major titles last year, to say it's been a whirlwind twelve months for the Serbian would be an understatement.
Deported from Australia for his vaccination status and unable to defend his crown, miraculously won by now-injured rival Rafael Nadal, Wimbledon's controversial stance surrounding Russian and Belarusian athletes sees him drop to world no. 3 by virtue of having 2,000 ranking points being deleted.
The gap between the tour's hungry young guns and Djokovic-Nadal appears to be closing with each passing year, as they age. Roger Federer hasn't been a factor for three full years now, since having two championship points evaporate against yours truly.
As such, it's unsurprising to see Djokovic speak so candidly about dealing with pressure and not looking too far ahead given how quickly things can change.
As it stands, last year's US Open finalist won't be able to feature at Flushing Meadows either unless they relax their existing vaccination stance.
"I don't know how many grand slam opportunities to win the trophy I will still have, as I will have in a few days' time. I'm aware of what's on the line. I mean, every match, grand slam that I get to play at this stage of my career, there is a lot on the line. So of course, I'm approaching it with a positive attitude, self-belief and willingness to win. No doubt."
After undoubtedly causing a stir with his response to an aggressive fan by pointedly blowing a kiss after the semi-final victory was confirmed, it reaffirmed what we all know: Djokovic remains a divisive figure among critics and fans, something amplified by his stubborn vaccination beliefs.
Playing in-front of crowds who almost always root for his opponent, amped up when he's losing or not performing particularly well, his competitive edge is intensified when he feels threatened.
"Every player that goes out on the court needs to adjust, adapt and accept circumstances… find solutions to win. It's arguably on a different level for me because I have to deal with different things that are also off the court, the more you experience these situations, the more prepared you feel.
It's always really about handling your own nerves better than maybe your opponent is his own, this internal battle is always the greatest."
He discussed the differences between practice sessions and matchplay, how quickly momentum can shift by such small things – like feeling tense or getting distracted – and it'll be interesting to see how he handles that against Nick Kyrgios on Sunday.
The 27-year-old Australian beat him twice in the space of a fortnight five years ago (Acapulco, Indian Wells) but they haven't played since.
Playing in his first Major final this weekend, it's an opportunity the unpredictable talent could've long had experience of.
However, his half-hearted commitment to the tour in recent years, as well as inconsistency and troublesome injuries have hurt any progress he would've made.
This year, starting with a Grand Slam doubles title alongside close friend Thanasi Kokkinakis in Melbourne, has been different.
With extra time to recover, feel fresh and reflect, Kyrgios has something worth fighting for this weekend.
"I never thought I'd be here at all, to be brutally honest. Obviously when I was No. 1 junior in the world, playing here as a junior … I never thought I'd be playing. It's the pinnacle of tennis.
Once you are able to raise a grand slam trophy, that's like, I mean, kind of what else is there to achieve? So I never thought I'd be here – just super proud and ready to go. I'm going to give it my all, we'll see what happens.
I probably got an hour's sleep just with everything, like the excitement, had so much anxiety, was already feeling so nervous, and I don't feel it usually.
The one thing for sure, whether I win or lose on Sunday, I'm going to be happy – such a great achievement – I thought I'd never be part of.
Especially at 27, I thought it was the later stages of my career. But I just never thought it would be right here. I have a chance."
Quotes via Guardian
Jabeur vs. Rybakina: Who will prevail?
On a momentous day for all Muslims, will the minister of happiness have the last laugh and make more history?
Rybakina has shown she can win – and lose – this final all of her own doing. How will she fare, instinctively or not?
We're now down the final straight of this year's Wimbledon but don't worry, I'll continue producing round-ups with the latest results, game reports and news, so stay tuned to moandsports.com for the latest coverage.
Picture source: Getty Images