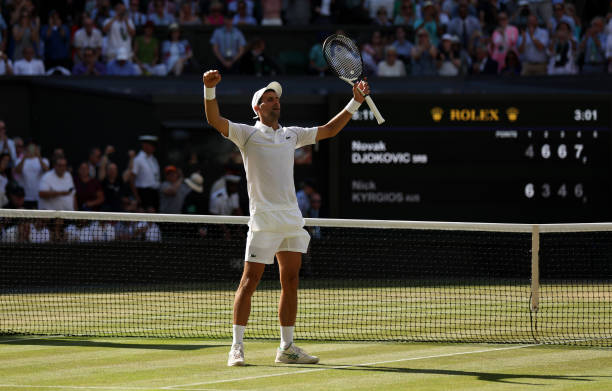 After all the controversy, drama, pressure and tension following him for countless months, Novak Djokovic can finally breathe again. The 35-year-old recovered from a set down for the third straight match, defending his Wimbledon title for a third consecutive year, outworking and outsmarting maiden finalist Nick Kyrgios in an entertaining four-set win on Centre Court.
seventh heaven: Djokovic does it again, four straight at sw19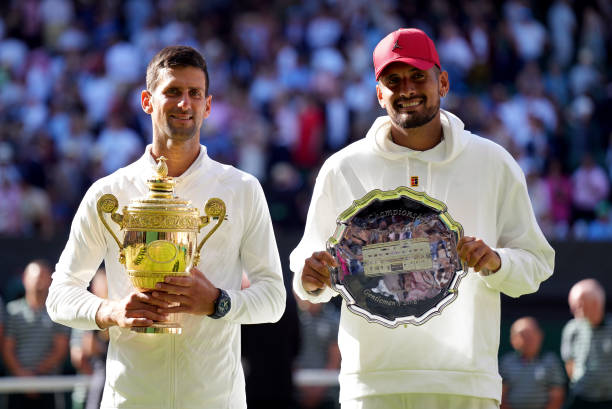 Djokovic [1] bt. Kyrgios 4-6, 6-3, 6-4, 7-6 (7-3)
Three-time defending champ is fifth man in Open Era (after Bjorn Borg, Pete Sampras, Roger Federer and Rafael Nadal) to record streak of four straight titles at one Major
Having surpassed tie with Federer by reaching his 32nd Slam final, the Serbian broke Kyrgios for the first time in his career (two previous meetings) at the 32nd time of asking
"He [Djokovic] is a bit of a god, I'm not going to lie – thought I played well. I'm really happy with this result, maybe one day I'll be here again but I don't know about that," Kyrgios says after finishing runner-up in Major for the first time in his nine-year career
"I've lost words for what this trophy means to me, it has and always will be the most special tournament. I am extremely happy and grateful to be here, realising a childhood dream again, really blessed," Djokovic says after his 28th consecutive win at Wimbledon
For the third consecutive match at this year's Wimbledon Championships, defending titlist Novak Djokovic dropped the opening set. Yet again though, he responded with aplomb.
This time, there could be no questioning his sluggish start, simply undone by a better – more powerful – Nick Kyrgios to start the finale. As has often proven the case though, he rallied back and ultimately reigned supreme against a first-time finalist who performed well despite defeat.
Kyrgios was excellent in the first set, serving brilliantly and hitting his spots. Djokovic struggled to get to grips with the Aussie's serving strokes but kept pace with him on serve.
You could sense pretty early on though that there was only going to be one winner in set one though, such was the high level at which Kyrgios had come out firing with.
Djokovic double-faulted, break point down, and Kyrgios jogged intently to his chair at the side of the court. There was no questions about engagement or focus here, he knew what he had to do.
Replicating that level in a best-of-five format, unlike his two previous wins over Djokovic at best-of-three is markedly different though, and naturally the pair experienced peaks and troughs in their performance level as the blistering 28°c sun baked down on the south London turf.
Djokovic's serving spluttered along in set two, uncomfortably enough that Kyrgios' confidence to break would remain but equally at a level the Serbian had confidence in his ability to hold serve, provided his ball-striking improved and he settled less on some shot selection during rallies.
That much proved decisive at 2-1 on the Australian's serve, having built up the momentum from winning two hard-fought rallies minutes prior to break Kyrgios for the first time – after two-and-a-half matches – and eventually consolidate it, up 4-1.
Nick showed fantastic hustle at the net to score a winner, found himself 0-30 up on Djokovic's serve and more failed first serves saw four break points arrive as multiple chances to prolong the set were presented – then saved – as Djokovic defended well under pressure.
Kyrgios' internal dialogue had evolved into angry chuntering aimed at his box, understandably so, as he knew there wouldn't be many more clear-cut openings like that to dent the defending champion's resolve. One set apiece and all square again, but not for long.
Kyrgios did well to save two break points in the opening game on serve, as the pair exchanged contrasting service holds to 4-4.
Constantly under pressure, having to win the point multiple times and needing to keep his serving as it was in set one proved easier said than done for Kyrgios, though he appeared to be managing well enough for some time. Predictably, he wouldn't win the war of attrition.
Todd Woodbridge's observation in the commentary box for BBC was spot on and felt like a sense of foreshadowing: impressing upon the fact Nick needed to concentrate and maintain his high level, not gifting the Serbian any cheap points. In his very next service game, he did just that.
Leading 40-0 at 4-4, the 27-year-old self-destructed and gave Djokovic the initiative he needed to snatch another break point from seemingly nowhere.
More angry outbursts were incoming, as he struggled to absorb losing his serve – such a dangerous weapon – from such a commanding position.
He flirted with a break back chance, but the fine margins were again emphasised as his line call challenge and error to finish the game were both marginally unsuccessful. See for yourself:
---
A finely poised fourth set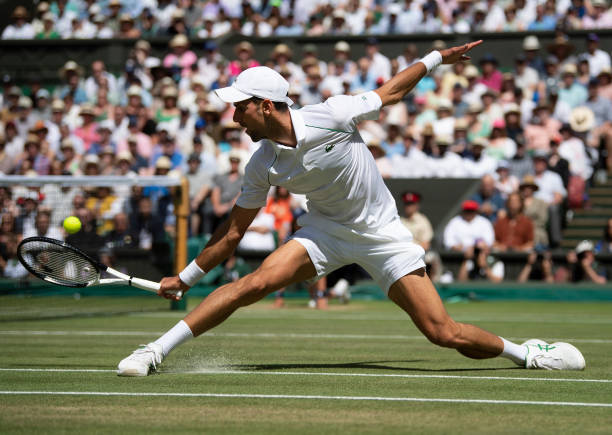 Djokovic went for a change of clothes before set four, allowing Kyrgios to stew in his own frustration, but that also allowed the Aussie a chance to settle again – refocusing for a mammoth set four to come. Nip and tuck they went, back-and-forth, with multiple high-pressure moments.
Neither man was broken so given the nature of their service holds, as well as the match this had developed into, it felt fitting a tiebreak would determine if they'd go into a decider or whether the match would be over as the three-hour mark neared.
Kyrgios lost the first point in the tiebreak on a double-fault and those fine margins mentioned earlier returned again, as Djokovic didn't need an invitation to take advantage of a mini break.
After holding firm on serve to save two in a whole host of championship points, a Kyrgios backhand error sealed what many expected: another historic Novak win on Centre Court.
---
Analysis: Djokovic banishes doubts, kyrgios should be motivated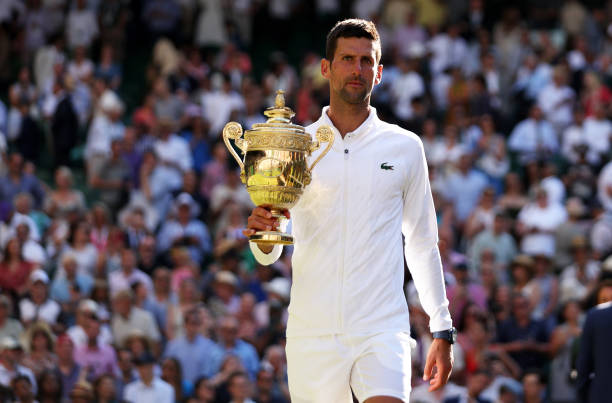 To understand the emotional scenes afterwards, the throwback to why this tournament means so much on a personal level, it's important to take a moment and reflect on what has been an unforgettable year – good and bad – thus far for Novak Djokovic. We're only seven months in.
He was deported and vilified during the build-up to the year's first Major in Australia, unable to defend his crown. After a three-month absence, questions were raised after a few surprise defeats on his return before being comfortably outgunned by his biggest rival in Paris.
As it stands, last year's US Open runner-up won't be permitted to play there later this year given his vaccination status. All things considered, it's naturally to feel mentally drained and doubt would've quickly crept into his mind after such a memorable 2021 season was dismissed.
After all the pressure, the sets dropped, inconsistent serving, questions over his ability to lap the field, Djokovic might not have got the revenge he wanted against a now-injured Rafael Nadal but has equalled his idol Pete Sampras' trophy haul at SW19 with seven, achieved back in 2000.
He's broken the second-place tie of 20 Major titles with Roger Federer, and closed the gap on the aforementioned Spaniard to just one Grand Slam triumph by securing #21 here. It was far from easy, as evidenced by his five-set battle against Jannik Sinner in the quarter-finals.
Everyone was so quick to criticise, make fun of, and deep dive into Djokovic's psyche.
It's that same steely stubbornness, the ability to absorb and counterpunch opponent's best weapons, that gives him more strength to eventually get into gear and outlast them. Kyrgios' post-match assessment was telling, as if we haven't heard similar from others previously:
"I played a hell of a first set, put myself in a position to take a strangehold of the match but he's just really composed.

It's weird, I felt like he didn't do anything amazing but in big moments, it just felt like he was never rattled. I feel like that's his greatest strength."
---
Food for thought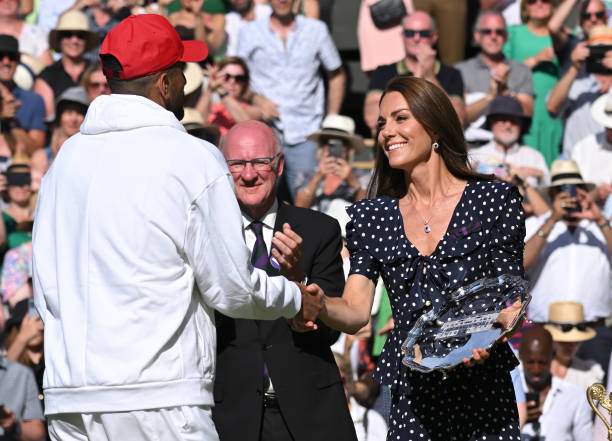 Nick Kyrgios became the first unseeded man to reach a Major final since Jo-Wilfried Tsonga did at the 2008 Australian Open. His fortnight – even without a rankings bump – will have critics questioning whether this defeat can prove a motivating tool of sorts for a maverick talent.
"I feel like my fire's been lit this whole year. I've obviously met a lot of amazing people this year who have just given me extra motivation. If I had won today, I would have struggled with motivation because I've been told my entire life winning Wimbledon is the ultimate achievement.

It's taken me 10 years – almost – in my career to finally get to the point of playing for a grand slam and coming up short, but my level is right there. You look at what Novak has done to some other opponents, and it's not a good feeling. But I'm right there, I'm not behind the eight ball at all."
Tsonga, who achieved that milestone at 22, didn't reach another Major final and after being plagued by nagging injuries for a few years, retired to a hero's ceremony at Roland Garros.
At 27, it's fair to say he hasn't fulfilled his full potential yet. He won't care what you think, that's just how he is, but the sport's light and shade had many neutrals entering this matchup with a moral dilemma to ponder: who do you really want to win?
The super-rich champion arrogant enough not to take the vaccine, despite all medical research showing its benefits, or the foul-mouthed bully (Stefanos Tsitsipas' words, not mine) who has a court date set for Aug. 2 relating to a domestic violence accusation against his ex-girlfriend?
In the end, Djokovic — who now drops to world no. 7 as a direct result of Wimbledon's controversial decision — was a worthy winner. But the fact neither player is guaranteed to feature when it matters most for the rest of this year means, again, savour them while you can.
Picture source: Getty Images — quotes via BBC, Guardian