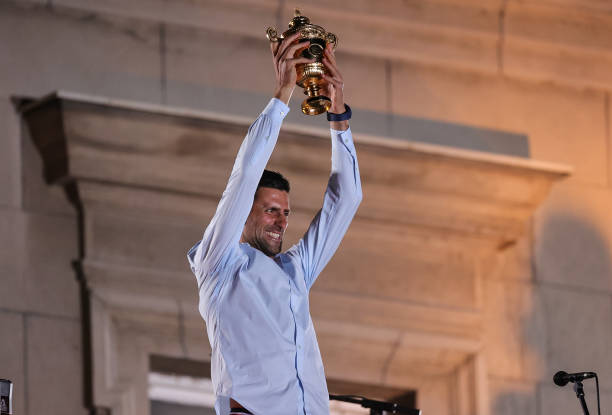 Wimbledon champion Novak Djokovic won't play another Major match until early 2023, after the US Open confirmed they would respect the country's government stance on allowing non-citizens to only be allowed entry if they are full vaccinated. Elsewhere, 23-time Slam winner Serena Williams will make her return on home soil for the first time in two years next month.
Serena's sights set on another US Open
Her long-awaited Wimbledon return was shorter than many hoped for, but Serena Williams produced an instant match of the tournament contender in the first 48 hours as Centre Court was quickly engrossed in a three-hour thriller on Day 2 of this year's Championships last month.
France's Harmony Tan, who spoke of her nerves at the prospect of facing the 23-time Grand Slam champion post-match, eventually reached the fourth round on her main draw debut.
Serena kept her options open as far as next steps but also spoke of a desire to play at Flushing Meadows, something she hasn't done since an abrupt leg injury accelerated her decline en route to a three-set defeat in the 2020 semi-finals against familiar foe and rival Victoria Azarenka.
"When you're at home, especially in New York, and the US Open – that being the first place I've won a Grand Slam – is something that's always super special. There's definitely lots of motivation to get better, to play at home."
The 40-year-old entered into the Western & Southern Open (Aug. 15-21) with a protected ranking and will be in the main draw, while also slated to play Toronto's National Bank Open (Aug. 8-15).
---
Djokovic dealt blow ahead of US swing
As mentioned in the introductory paragraph, a news update today Stateside has all but confirmed 21-time Major champion Novak Djokovic will not feature at this year's US Open.
He was hoping for good news after success in south London earlier this month, but with less than six weeks to go until the year's final Major takes place, there's clarity over their position.
The 35-year-old, runner-up at Flushing Meadows last year, will not be allowed entry into the US. The tournament said they will respect the government's rules on the COVID-19 vaccine.
In the months since his deportation from Australia at the start of the year, former world no. 1 Djokovic has made it repeatedly clear during interviews he will not take the coronavirus vaccine, and is prepared to forfeit competing in multiple Grand Slam tournaments if needs be.
The US Open doesn't have their own vaccination rules. In a statement, they said:
"Per the Grand Slam Rule Book, all eligible players are automatically entered into the men's and women's singles main draw fields based on ranking 42 days prior to the first Monday of the event.

The US Open does not have a vaccination mandate in place for players, but it will respect the US government's position regarding travel into the country for unvaccinated non-US citizens."
Picture source: Getty Images