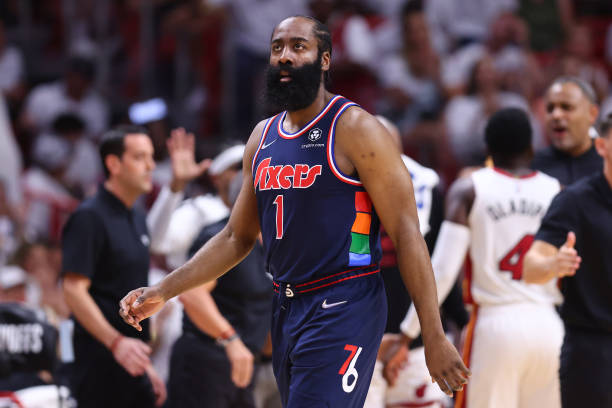 Details of James Harden's two-year contract extension with the Philadelphia 76ers emerged overnight, confirming what was first reported: the 10-time All-Star guard agreed a reduced deal to help the franchise sign more quality players in their attempt to go all-out for a NBA championship charge this coming season. Will his bullish comments prove prophetic or not?
Harden agrees $68.6m deal, player option in Year 2
Harden, 33 next month, spoke of a desire to have an "unbelievable season," and the 76ers hope he'll return to preseason training camp in better physical condition to boot
The 10-time All-Star, three-time scoring champion averaged 22 points (41% FG) and 10.3 assists across 65 games with the Brooklyn Nets and Philadelphia 76ers last season
Sixers signed free agents PJ Tucker and Danuel House, both of whom Harden played alongside in Houston, while reduced financial terms of Harden's extension also gave franchise the flexibility to complete draft day trade for Memphis' De'Anthony Melton
"I don't want to just go out there, be running around, not efficient, looking old out there. I still want to be really, really good. We got some really good pieces this summer, now it's time to go do the hard work," Harden said in interview published last weekend
In fairness, there were some good moments this term. Some rough, quickly forgettable ones too.
The heights: An efficient, encouraging 27-point, 12-assist debut display during a blowout win over the Minnesota Timberwolves. The first and penultimate time he'd score five threes (or more) in a game for the 76ers last term. Game 4 in R2 of the playoffs against Miami, proved a false dawn.
Among the lows: A sluggish, jarring to watch 3-of-17 shooting display just weeks after the blockbuster trade against now-former Brooklyn Nets teammates in his new home on primetime TV.
That comes with the territory of being a max player on a team with high expectations, something James Harden knows more intimately than most leaguewide. Entering Year 14, the polarising star point guard wants to rewrite history. We'll wait and see if his personal sacrifice was worth it.
Philadelphia haven't advanced past R2 of the playoffs since 2001. They had a golden chance to do that in 2018-19 around Joel Embiid too: Jimmy Butler, Ben Simmons, Tobias Harris and J.J. Redick just minutes away from the Conference Finals, while Harden toiled away with Houston.
Harden declined his $47.4m player option and now has a $35.6m player option for 2023-24, meaning he can negotiate another free agent deal next summer if he so chooses.
Simmons went the other way as Harden departed Brooklyn, with another familiar face in president of basketball operations Daryl Morey – his GM in Houston – undoubtedly playing his part in that decision, allowing financial flexibility to strengthen the roster as mentioned.
During an interview with the Associated Press, he had this to say:
"Taking less money this year to sign as many players as we needed to help us contend and be the last team standing was very, very important to me.

I wanted to show the organization, the Sixers fans and everybody else who supports what we're trying to accomplish, what I'm trying to accomplish individually… this is what I'm about."
As mentioned, Harden averaged 22 points total last season across two ball clubs.
Those scoring numbers were his lowest since becoming a starter in the 2012-13 season, exacerbated by an inability to consistently drive to the basket nor showcase the same quick step that proved a nightmare for opposing defenders once upon a time.
Heavily reliant on three-point shooting and free throws, two in-game factors which aren't always consistent to bank upon, he wilted as the Sixers lost against Miami.
Four turnovers, four made baskets and a scoreless second-half of their decisive Game 6 meant either way they sliced it, Philadelphia needed to retool if they were to improve.
"For any other players, that's a max contract [his numbers] but it's like, for me, I was not the same. Wasn't able to get in my spots, where I needed to get to without thinking about it [injury issues], so that slowed my confidence down.

It was craziness, but I'm finally back and will be a lot more aggressive scoring-wise just because my body allows me to. Coming back, being the aggressor, the scorer first and then the playmaker, is something that I need for myself."
The way this situation has been framed, is to applaud Harden's perceived selflessness at taking less money. But as local outlets have reinforced this week, they're right to be sceptical.
I've already written about what the immediate future in Philly could look like, given we're now in Embiid's prime years while Tyrese Maxey continues to grow. Harden's comments, while encouraging, are coming from someone on the obvious decline. We'll wait to see what's next.
Picture source: Getty Images — contract info via ESPN