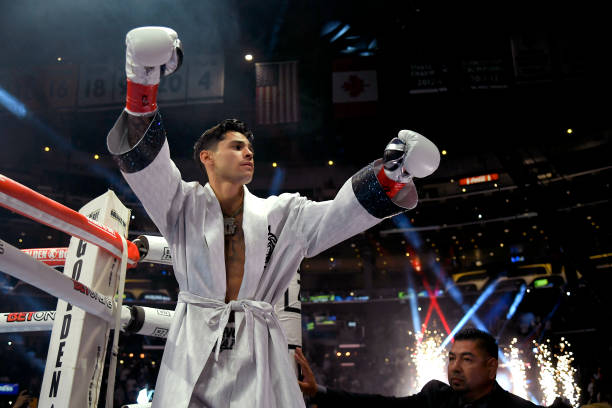 Ryan Garcia stressed after his R6 KO win over Javier Fortuna he'd pursue a Gervonta Davis megafight and the 23-year-old has already been relentless with his public pursuit. However, Tank's promoter Floyd Mayweather now responded by discussing terms and the b-side sacrifices KingRy will have to make if he truly wants this lucrative bout before year's end.
Floyd to Garcia: If you wanna fight Tank, must be at 135lbs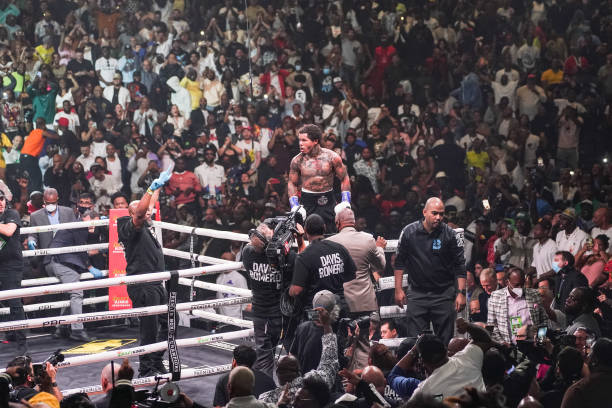 Former WBC interim lightweight champ Ryan Garcia demanded any prospective Gervonta Davis fight be contested at 140lbs, insisting post-fight he's now a junior welterweight and targeting big names to get his feet wet in a division ruled by undisputed champion Josh Taylor (19-0, 13 KOs).
Taylor recently vacated two belts to avoid mandatories, keen to right the wrong left by a highly controversial split decision win on his Scottish homecoming against Jack Catterall in February.
Now though, Team Davis feels that won't be the case if he wants the matchup after all. During a phone interview with FightHype.com (h/t: BoxingScene), the Hall of Fame boxer-turned-promoter stressed the belief his fighter is the a-side in negotiations and weight is of importance.
"The main man in the sport of boxing right now is the one attached to me, Gervonta 'Tank' Davis. That's the only thing this kid Ryan Garcia knows, is Tank, right? I wanna fight Tank, I don't care, it's the biggest fight.

OK, you know in boxing, we make sacrifices. So we know Tank fights at 135, if you wanna [stay at lightweight], we can make it happen before the end of the year."
Garcia (23-0, 19 KOs) hasn't fought at lightweight since rallying from an early knockdown to stop now-retired British Olympic champion Luke Campbell with a R7 body shot in January 2021.
His successive wins over Emmanuel Tagoe and Fortuna were both at 140lbs, though Mayweather said he'll have to make sacrifices and go back down to secure a lucrative encounter next.
Davis' R11 stoppage win over Mario Barrios last June remains his only bout at 140lbs, while consecutive wins over Isaac Cruz (UD12, Dec. 21) and Rolando Romero (R6 KO, May 22) were contested at the 135lb lightweight limit.
"He's young, I could see if he was a lot older, he's not in his 30s. When you get older, you know, guys get older and the weight settle in, and then you be like OK, I can't make the weight no more.

We have to make sacrifices, if it's certain things that you want in the sport of boxing, like Ryan Garcia really wants this Tank fight, sacrifice.

What, we gonna fight in 90 days? We can fight in 90 days if he want to, whatever he wanna do. They gonna get smoked."
Using the word they, rather than he, is a pointed remark as Oscar de la Hoya – Mayweather's former foe – Garcia's promoter. He spoke about the sacrifices he personally made, begrudgingly going up in weight for their eventual due, which he won via split decision in May 2007.
---
Garcia praises Tank, says he'll feel like a champion with win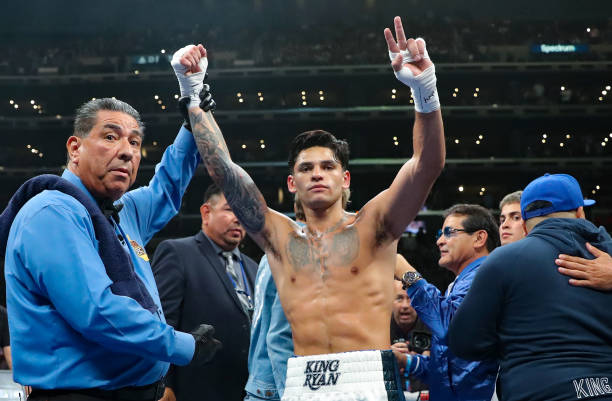 Unlike most of his contemporaries, Garcia doesn't appear bothered by the pursuit of world titles, at least for now. That's not what he told the media before the Campbell victory, but things have certainly changed – both personally and professional – in the year-and-a-half since then.
He gave an interesting water-into-alcohol diluting analogy when speaking to DAZN's broadcast team last weekend and rates Davis highly despite angling for a showdown rather sharpish.
"Me winning championships is gonna just give people more ammo to be like, Oh, Ryan's this. I don't care about that, I need to know in my heart, I beat the guy I feel is the champion."

If I beat Tank Davis, or when I beat him, I will feel like a champion, regardless if he has a real belt or not. His name carries weight. To me, he's a great fighter.

I would actually be a fan of his if I wasn't, you know, a fighter… I like how he fights, have respect for him, he's a great fighter but I think I'm better. That's it."
We'll have to wait and see if that much-anticipated bout happens next as hoped, but the sport is booming again across a number of divisions and this latest news update is encouraging at least. 
Picture source: Getty Images