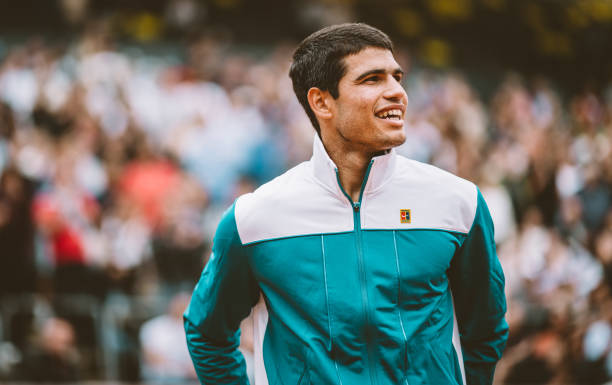 Carlos Alcaraz continues to cruise past ATP records in Hamburg with his inspired play, Dominic Thiem finally has some encouraging form under his belt after lengthy injury woes and Olympic champion Alexander Zverev – who the Austrian beat to the US Open title in 2020 – remains cautious as he recovers from ankle surgery. Read that and more, in this tennis news round-up.
Thiem tackles nerves, Berretini awaits in first ATP semi since last may
2020 US Open champion Dominic Thiem faces last year's Wimbledon runner-up Matteo Berrettini in this year's Gstaad semi-finals in a matter of hours, but whether he prevails or is ultimately eliminated, already this has been a whirlwind week far the experienced Austrian.
Thiem experienced the dreaded serving yips with match points virtually on his racquet but avoided a scare in his straight-sets victory (6-3, 6-4) over Peru's Juan Pablo Varillas.
The 28-year-old admitted nerves almost saw him capitulate as the moment dawned on him, making his first ATP semi-final since the Madrid Open last May.
Having struggled for consistency and rhythm after recovering from his troublesome wrist injury, the Major winner has now developed some much-needed form ahead of the US swing.
Naturally, he wants to make up for lost time by climbing up the rankings and provisionally sits at #191, up more than 70 places this week alone.
"I played a good match yesterday, was able to back it up today. Some things I didn't like that much, failed to serve out at [5-2], but it was also the nerves a little bit because it is my first semi-final in one-and-a-half years. I need the points to go back up the rankings, was happy I broke the nerves."
Having saved a match point during a deciding set tiebreak in R1 against France's unpredictable maverick Hugo Gaston, he has nothing to lose against a consistent player in Berrettini.
The 26-year-old Italian, who withdrew from SW19 on Day 2 with COVID-19 symptoms, expects it'll be a tough test against a familiar foe now starting to find his footing again.
Having survived a significant scare to overwhelm Spain's fifth seed Pedro Martinez 3-6, 7-6, 6-1, the world no. 14 knows the importance of gritting out results when it matters most without necessarily playing your best tennis.
"Sometimes it is just tennis, a crazy sport. At 1-5 I thought I was done, then played two good points and it was 3-5, I thought let's try.

I don't think I played my best match here but sometimes it is important to win when you're not playing well. I managed to find some energy inside me, really happy to be through.

Dominic has had an unbelievable career, a Slam champion and he got injured, but he is coming back. I saw some of him today and his level is coming back, so it is going to be a tough match. We always play great matches, so [Saturday] will be a good one."
They've played seven times in total, five of those competitive, with Thiem narrowly leading the H2H 4-3. Berrettini won 6-2, 6-4 in their most recent meeting at the ATP Cup early last year.
---
Still no comeback date for Zverev as injury rehab continues
Olympic gold medallist Alexander Zverev, who knows Thiem very well himself, has shared an update on the ardous road to recovery after undergoing successful surgery, having sustained torn ligaments in his ankle last month during a career-best French Open campaign.
The 25-year-old, who logged his first top-10 win at a Major against Carlos Alcaraz in the previous round, slipped and fell awkwardly as he tried to return a ball mid-rally during a compelling clash with eventual champion Rafael Nadal in the semi-finals.
There had been talk that Zverev could return ahead of the US Open, but his comeback date remains up in the air. During an interview with Eurosport, the world no. 2 was quoted as saying:
"The healing process is going very well, I'm making important progress everyday and looking forward to the next tasks that will bring me closer to the tennis court. An exact comeback date hasn't been set yet, but I'm working everyday to make sure it happens as soon as possible.
Now able to walk without crutches, the big-serving German's rehabilitation process is unsurprisingly long as he gets to grips with various strength-and-stability exercises.
While an eagerness to return quickly is understandable, prematurely pushing his body's limits will result in long-term damage.
"There are always dangers in professional sport, and even in everyday life you are exposed to dangers. Of course, you want to train as much as possible, but can't overdo it.

"I have to listen very carefully to my body and know when I have reached my limits. I'm used to getting the maximum out of myself almost every day, whether in training or matches. Exceeding it now could be counterproductive."
---
Alcaraz's awe-inspiring ascent continues
Just like at the French Open, Carlos Alcaraz overwhelmed Olympic silver medallist Karen Khachanov in a showing again reinforcing why the Spanish teenager continues causing a buzz across the tennis world. Hitting 21 winners, he only lost two games en route to the semi-finals.
At 26-years-old, Khachanov isn't just an experienced player with pedigree aplenty on tour, he's also a four-time ATP singles title winner who quickly found himself rather simply overpowered by an aggressive game that has seen Carlos' progression skyrocket over the past 18 months.
They hit together in practice last week, so perhaps the comfy scoreline shouldn't be so surprising as Carlitos knows his game more intimately. Nonetheless, he called the unbelievable display one of his best matches of 2022 and reaffirmed the mantra: hard work pays off.
On being surprised by his sharp rise, he told Puntodebreak.com:
"The truth is that a little yes, I have had surprising results this year, I did not expect to evolve as fast as I did, but I work for it. As I always say, hard work pays off, although in my case it was all a bit quick and surprising.

I know what my goals are, don't think too much about the pressure that comes from outside and push it away – try to keep learning, adding experiences and give my best version in each game. I play for myself, my team and family."
---
Osaka's coach split, Edmund returning and more
Four-time Major champion Naomi Osaka has ended her coaching partnership with highly-rated Belgian Wim Fisette after three years, the latter confirmed on social media earlier this week.
"It has been a privilege to coach Naomi since 2019 and see her grow into the champion she has become. She has inspired a whole new generation to fall in love with the game & to speak up for what they believe in.

It's been incredible to play a part in that journey. Thank you… I wish you all the best and looking forward to my next chapter."
The 24-year-old marks the fifth world no. 1 that Fissette has coached during a 13-year coaching career to date, having spent time alongside his compatriot Kim Clijsters, as well as fellow Major titlists Victoria Azarenka, Simona Halep and Angelique Kerber over the last decade.
Much like Darren Cahill's latest split from the aforementioned Halep last year, it'll be interesting to see what happens to both in the near future as far as their coaching arrangements are.
Fissette's services come highly-esteemed and he will certainly be in high demand over the next few months, while Osaka's resurgent form on tour after detailed struggles took a hit through an Achilles injury. She's poised to return at the Silicon Valley Classic, kicking off on August 1.
Kyle Edmund's chronic knee problem was eventually identified as a lifelong condition, and now the former top-20 star and British no. 1 will make his return to the ATP circuit properly for the first time in almost two years next month after a brief doubles appearance at Wimbledon this month.
"It's not an injury that heals by itself, no straightforward procedure to have. It's just something now part of my life, I've just accepted that. I will constantly be dealing with it, it's not like now that I've had three ops it's all fixed.

But I'm happy where I'm at, I can enjoy playing now, wake up and be a tennis player rather than a professional rehabber, which was what I felt for a long time. I'm confident I'll get back, still have years ahead of me and time to play."
He'll play the Washington Open, another event starting on Aug. 1, with a injury-enforced protected ranking. Before then, he's entered into the qualifying draw in Winnipeg and will play Lebanon's Hady Habib on Monday, having not featured in a Challenger event since 2019.
25-year-old American Maxime Cressy believes he can be a future world number one, reaffirming his career ambitions after recovering from a set down to eventually secure a maiden ATP title in Newport against a less-than-happy opponent in Kazakh's Alexander Bublik last weekend.
Having solidified his impressive rise over the past two years, the big-server sees his playstyle as one that will help him continue surging upwards.
During an interview with atptour.com, he said:
"Regardless of the ups and downs, my ranking has just skyrocketed really fast in the past two years. Considering all the failures I've had, it's been kind of crazy, because I definitely feel like I've fallen a lot but I rose back up quickly, never gave up and stayed resilient.

Being just outside the top 30 that quickly is a huge indication [to me], I have what it takes to be world no.1. I don't think that belief is ever going to change.

My dream is to really make serve and volley great again, inspire many people to start playing that game style. I've seen other players do it a lot more, like Rafa [Nadal]. If I can impact the tennis world, it's going to be big."
Picture source: Getty Images — quotes via tennis365.com