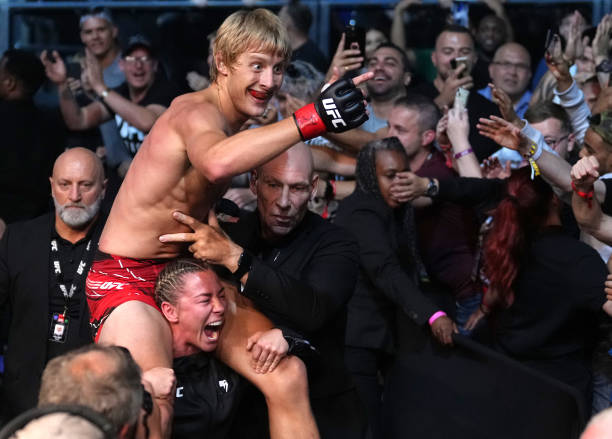 For the second consecutive weekend, the UFC's unofficial title eliminator in another division was cruelly cut short by injury. The decision to return to London so soon after an electric card four months prior didn't age well, but that was more to do with some drab matchups than anything else. Nonetheless, the Molly and Paddy show continued, among other things…
#1 Blaydes to bide time, aspinall (knee) out indefinitely
R1, 0:15 – Curtis Blaydes [4] bt. Tom Aspinall [6] via TKO (injury)
Tom Aspinall came out all guns blazing, Curtis Blaydes looked to land a few powerful swings in response with his back against the fence and without warning, London's O2 Arena was stunned into silence as their main event man – the one who closed the show beautifully four months prior – was clutching his knee in a heap on the mat as he stepped back after throwing a leg kick.
Medical attention, a leg splint was quickly on hand and as if you needed any telling this was serious, the social media doctors were diagnosing him with everything from a fractured kneecap, to an ACL and MCL tear. We'll know more about it in the coming days.
The sheepish look on Blaydes' face said it all, as he looked back at his corner and they stressed an importance for him to speak up in the post-fight interview.
What exactly was he supposed to say now? A fellow competitor and contender who he has a lot of mutual respect for, is writhing in agony and needing lengthy medical treatment for a sudden injury which cut short another unofficial title eliminator, the second in consecutive weeks.
That's the fight game, some will say. Blaydes travelled to Europe for only the second time in his eight-year pro career. Last time, he suffered a maiden career loss (R2, doctor stoppage) by now reigning heavyweight champion Francis Ngannou. Now, a different curveball is headed his way.
Now, he'll wait for the Ciryl Gane vs. Tai Tuivasa winner (Paris, Sept. 3) for what many expect will be another interim title matchup, assuming former titlist Stipe Miocic and light-heavyweight king Jon Jones don't step on any toes with their prospective clash before the year's end as expected.
"Just a shame, didn't even fight, I wanted to come here and prove a statement, a win over Aspinall – who is legit – would've shown I'm ready for a title shot. I wish the injury didn't happen, I'm sorry man."

Blaydes on Aspinall during a naturally subdued post-fight interview
---
#2 Hermansson back in the win column with forgettable decision
This was a peculiar matchup made on short-notice, but Chris Curtis' choice of walkout music – Neil Diamond's Sweet Caroline – ultimately felt like the most significant thing he did during a slow-burning 15-minute fight of the frustrating variety against Jack Hermansson.
The Swedish-born Norwegian, ranked #8 in the middleweight division, desperately needed to get back in the win column and this was handed on a silver platter: a tough but smaller, less imposing version of the home favourite he's twice been slated to face and cancelled: Darren Till.
Despite the withdrawal, the 34-year-old was able to showcase his striking variance, picking the overmatched Curtis off at range on the outside without taking much damage in return, while consistently chewing up the American's legs with kicks seemingly too quick to be checked.
Tensions flared in the latter stages, with Curtis unhappy at Hermansson's perceived tentative approach as he urged the Scandinavian to engage with him, but why risk getting caught in that instant when you're so clearly — and comfortably — ahead on the judges' scorecards?
He apologised to Curtis and the fans afterwards, after one of the broadcast mics caught him swearing (and reacting poorly) at the 35-year-old, who was visibly upset and had to be calmed down by a mixture of security and his team in the corner up until the decision was read out.
After three straight UFC victories, and an eight-fight winning streak in total, Curtis' courage to fight a ranked opponent on short-notice backfired quite significantly here. He physically resembled a welterweight too, so it'll be interesting to see what his next move is going forward.
By contrast, nothing is set in stone yet though Hermansson said post-fight he'd love to get on the Sweden card. He's referring to speculation of late which has suggested the promotion will again return to Europe after Paris before 2022's over, with a November date reportedly in the works.
---
#3 Paddy does it again, but this one was different
In a tussle of 27-year-old lightweight prospects, Paddy Pimblett scored a second-round rear-naked choke submission win over Dana White's Contender Series graduate Jordan Leavitt.
Now 3-0 in the UFC, this wasn't easy work, but the lovable Scouser sent the crowd into raptures after a devilishly disguised knee in the clinch helped him quickly secure the back, trapping Leavitt's lower arm and eventually submitting a foe he heavily criticised during fight week.
Leavitt got Pimblett down early in R1 as the latter wanted to quickly establish his stand-up advantage but those defensive deficiencies were on display again instead.
A big slam takedown for the American highlighted how deceptively strong he is, despite having a smaller frame, though Pimblett took advantage of the position by pushing for a guillotine choke and readjusting himself against the fence.
Despite a tight squeeze, Leavitt broke the grip and the pair had grappling exchanges as expected, with Leavitt taking Pimblett's back and landing a big knee to the face as he again asserted himself. Pimblett finished the round stronger, so it was a very competitive first stanza.
Leavitt's teep kick was an effective distance controller early in R2, but without warning Pimblett's adaptability under pressure came to the fore: securing a head-and-arm choke up against the cage and squeezed hard again. Afterwards, he could sense a vulnerability and the end was near.
Now on a five-fight win streak and with the London crowd hanging on his every word, Paddy had something profound to share in his Octagon post-fight interview.
"Once again, disappointed in me [my] performance, that's not me, I was shit, I'm better than that. Woke up at 4am on Friday to a message – five hours before the weigh-in – that one of my friends killed himself. Ricky, that [win] is for you.

There's a stigma in this world that men can't talk. Listen, if you're a man, got weight on your shoulders and think the only way you can solve it is by killing yourself, please speak to someone, anyone.

I'd rather me mate cry on me shoulder than go to his funeral next week. Men, start talking. Youse will see me again before the end of the year."
---
#4 three in a row: Molly quietly streaking, grabbing attention
Lightning doesn't strike twice, she insisted. But it almost did for women's flyweight Molly McCann, as her spinning elbow set up another furious finish with unanswered punches up against the fence as she earned a fast finish against Hannah Goldy via R1 TKO (3:52).
"I'm committed to the game, didn't go on a three-month bender, ready whenever the bosses want me," she confidently said in the post-fight interview. Since then, the 32-year-old confirmed plans are in place for the Molly and Paddy show to continue Stateside before 2022 is over.
Unsurprisingly, after securing a second three-fight win streak with the promotion, she has some interested company – a fellow unranked fighter – undoubtedly keen to snatch her shine later this year. For what it's worth, I don't think Miranda Maverick is a wise idea for Molly to entertain.
---
#5 New coaching team, tactics help patient Oezdemir stifle Craig
Former light-heavyweight title challenger Volkan Oezdemir [9] successfully defended 15 takedown attempts en route to a gritty, hard-fought UD victory (30-27 x 3) against a very tricky customer in Scotland's Paul Craig [8] – though not one many will rewatch fondly in future.
#11 ranked Nikita Krylov said as much post-fight, after crunching future Hall of Famer Alexander Gustafsson in just 67 seconds later on during a topsy-turvy main card. The 30-year-old Russian said it was a bad fight to see unfold and he wants Oezdemir next at UFC Abu Dhabi on Oct. 22.
"I didn't watch any of his [previous] fights – my coaches did – this was the first time I've done that and it felt great, did what I had to do, it worked out fine."

Oezdemir reflects on an important, if unspectacular decision win
Craig's relentless forward pressure early on suggested he didn't respect the Swiss' punch power, an approach that would later backfire for Bearjew whenever they were in a brief stand-up battle.
He frantically tried for an ankle lock or heel hook sub after repeatedly trying to bait Oezdemir into a jiu-jitsu battle on the mat, one the 32-year-old was aware of and rightly didn't want to engage in – something the aforementioned Krylov found out the hard way himself in March.
Craig finished R1 with a head kick and left hook combo which got the crowd briefly excited, but it'd be disingenuous to ignore Oezdemir's good work: landing two significant, round-shifting strikes which dropped the Scotsman uncomfortably easily.
Although he wasn't credited with a knockdown on either occasion in the official stats, the damage was done and would only worsen from there whenever they went to exchange.
Craig's sharp surges where he landed a few strikes, while encouraging, was also too fleeting to steal much leverage over an opponent who continued defending his best weapon. By this time, Oezdemir had begun chaining his punches and found his range in R2, so that's 2-0 in his favour.
Craig's sharp surges where he landed a few strikes, while encouraging, was also too fleeting to steal much leverage over an opponent who continued defending his best weapon. By this time, Oezdemir had begun chaining his punches and found his range in R2, so that's 2-0 in his favour.
Oezdemir's power came to the fore early in R3, as he stunned the Scotsman rather badly and flirted with securing a stoppage – he hasn't had one since a R2 KO against Ilir Latifi in Aug. 2019.
Craig by comparison was visibly exhausted at this stage, evidenced by his rather sloppy get-ups from sustained time spent on the ground (5:09 worth of control time for Volkan), while Oezdemir smartly remained patient and didn't rush in, keen not to get tricked into a last-gasp submission.
Noticeably slower head movement and Craig's limited striking success (13 of 63, 19% significant strike accuracy) meant this unfortunately ended with a whimper. LHW remains an intriguing division but Craig – unbeaten in six heading into this – didn't acquit himself well enough here.
---
Other results, looking ahead
On an eight-fight prelim card, there were seven UD victories across six divisions and a second-round TKO finish for Contender Series alum and featherweight Jonathan Pearce against Makwan Amirkhani, meaning the 30-year-old is now riding a four-fight winning streak.
Denmark's Nicolas Dalby returned to winning ways with a workmanlike showing (45 total significant strikes, 4:17 control time) vs. Claudio Silva, kicking off the card with the first (of many!) matchups settled by the judges' scorecards.
After consecutive second-round TKO defeats in 2021, Contender Series graduate Victoria Leonardo earned her first win with the promotion against Mandy Bohm at women's flyweight.
Jai Herbert was blasted by Ilia Topuria in a back-and-forth clash on the previous London card, but returned to winning ways (29-28 x 3) against Kyle Nelson.
Highly-rated young flyweight Muhammad Mokaev was persistent and dominant against Charles Johnson, but his record-breaking 12 takedowns didn't help snatch a submission win.
On his featherweight debut, England's Nathaniel Wood was toying with a valiant Charles Rosa for sustained periods, but cruised to a commanding UD win (30-26 x 2, 30-27) as Rosa's legs were repeatedly picked apart.
Fresh from a new contract extension, Marc Diakiese solidified an impressive UD win over Viacheslav Borschev in March, completing eight takedowns as he too cruised to victory against Damir Hadzovic (30-26 x 2, 30-27).
Slovakian lightweight Ludovit Klein had a change of opponent and scheduling shift, but that didn't faze him – outworking Wales' Mason Jones (30-27 x 3) and scoring a second-round knockdown as he was in full command against a durable short-notice challenger.
And what card is next, you ask? 
Up next: UFC 277 on July 30, headlined by an intriguing women's bantamweight title rematch between defending champion Julianna Pena and former two-divsion titlist Amanda Nunes
Picture source: Getty Images