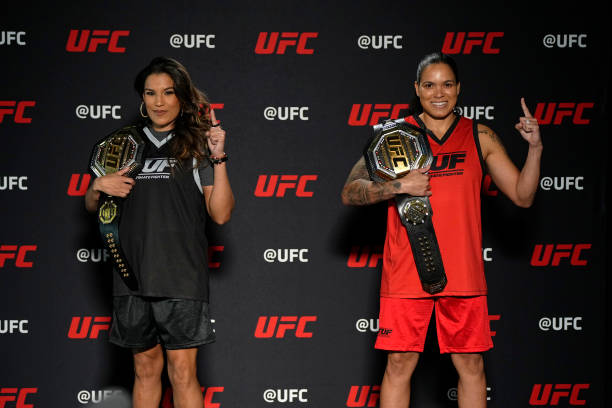 Amanda Nunes looks to right last year's wrong against Julianna Pena in the latter's first title defence at women's bantamweight, while there's an interim strap up for grabs at flyweight between two familiar foes: former champion Brandon Moreno and a streaking Kai Kara-France, almost three years after their first meeting. They all had plenty to say ahead of Saturday's PPV.
Nunes excited, fired up with immediate chance to regain titles
Arguably the greatest female fighter in MMA history, former two-division champion Amanda Nunes makes her return to the Octagon this weekend in the UFC 277 headliner.
However for the first time in six years, she enters as the title challenger and not a defending champion across the two weight divisions she once ruled – looking to right the wrong from last December's stunning second-round submission defeat by Julianna Pena at UFC 269.
"It's very exciting for me, I've been here before so it's not a surprise or anything like that. You make mistakes, you pay, and I did.

I lost my belt, but after that, went back home and fixed what I had to. If I had to make some adjustments in movement, I did whatever I need to do. 

I'm going to get that thing back. Losing the belt was never something that put me down or sad, just kept me motivated and fired me up – I always needed that, that kind of push.

What Julianna brought was the challenge I needed, was without a challenge for so long. Now, finally, I get in the position that I like to feel, to feel trapped. These are the moments I love the most." 
Nunes also divulged some details relating to a poor training camp, where she felt compelled to not postpone the fight a second time after COVID ruled her out of the original August date.
Pena was understandably unhappy about the fight being cancelled just weeks out from fight night, calling out her perceived privilege and relative inactivity in a division where no interim title matchup was deemed necessary despite the champion floating between 135 and 145lbs.
"A lot of things went wrong and I still moved forward with the camp. I didn't want to let the fight fall through, Nina [Nunes] was always trying to tell me, we can pull out to get 100%, but I didn't want to listen.

So that pressure to not fight again, [fearing that] the UFC [would] put an interim belt gave me a hard time to let that go. I had a rough time training, sometimes we make mistakes and I paid for that."
The 34-year-old Brazilian didn't go into specific injury detail but described both knees as feeling "pretty bad," said she regularly went for doctor visits hoping to improvise her training camp without suffering much duress elsewhere, and said she only did upper body work as a result.
---
Pena passionate to prove UFC 269 was no fluke
Pena doesn't need to be told about the reasons – or excuses – for Nunes' shock loss. Instead, she's relishing the opportunity to close a chapter of her career that has seen her finally reach the mountaintop of the women's bantamweight division, in a UFC run packed with ups and downs.
She convincingly lost R1 of their matchup but the submission win came from a back-and-forth striking exchange which stung Nunes, an approach she welcomes a second time.
"At the end of the day, Amanda and I are the two best fighters in the world. I can't tell you that I'm going to pull a rabbit out of the hat, I'm going to stand there toe-to-toe with the best in the world, give my best, we're going to see whose ovaries are bigger. I'm willing to bet that's me.

The torch was passed, I snuffed it out, ready to close this chapter and move forward. With that being said, I have a bigger, faster, stronger, new gym, better mental-state Amanda that's going to be facing me and I don't take that lightly."
---
Moreno respects Kara-France, but eyes emphatic victory
Six months after falling short in his trilogy bout with reigning champion Deiveson Figueiredo, Brandon Moreno has one target in mind for his return: snapping Kai Kara-France's impressive streak with an even more impressive victory than the UD he scored over him in Dec. 2019.
The former flyweight king returns this Saturday in UFC 277's co-main event, with the interim 125-pound title up for grabs as reigning titlist Figueiredo recovers from a hand injury.
He doesn't want to rely on the judges, as he's done on three occasions during his six-year UFC run to date. In a Spanish interview with MMA Junkie, he was quoted as saying:
"I have tons of respect for Kai, but that doesn't mean I don't want to rip his head off – I can do it and will, that's already established. That's very clear in my head, that's happening. I have a lot of respect for him, but there's nothing in my mind and this world that tells me I'm not going to win.
Looking to regain the flyweight strap after relinquishing it back to Figueiredo during their January trilogy, Moreno feels this matchup will show how far he's come in the two-and-a-half years since they previously fought.
Figueiredo sought to face a new challenger in Kara-France after the Kiwi's highlight reel KO win over former bantamweight champion Cody Garbrandt, but that possibility quickly went cold.
"This is a good measurement to see how much I've improved and evolved in my game. The last fight was a decision, but I have the objective to get a finish in this second one. I just need to be very smart, patient, very careful with his right hand, utilise my game and have all the confidence in the world.

I think this fight lends itself for me to let my hands go, if I stop him this time around, that's proof that Brandon Moreno has made the most of these years."
Should all things go as planned, Moreno wants to fight again before 2023 – citing December as a realistic target, and the winner of Alexandre Pantoja vs. Alex Perez as a matchup he'd be interested in pursuing – if Deiveson isn't ready to return by that timeline. Not too fast though…
---
However, Kara-France is a new and improved man now
Despite this matchup not being for undisputed status at 125lbs, Kara-France rightly still considers this moment to be a monumental one in his career to date.
"Yeah, I saw Figueiredo saying it's a cardboard belt, a plastic belt, but it's still a world title, and I have to respect that.

This is everything I've worked towards to, he's not here, I'm squaring off against Brandon, we get to run it back, so I'm excited."
Since the aforementioned UD defeat, the 29-year-old is 4-1 and riding a three-fight winning streak. He attributes his impressive success of late to adopting a new mentality.
"I stopped chasing becoming the champion and started to believe it. I feel like that's definitely what you're seeing, a product of the hard work that we're putting in at City Kick Boxing. I train with world champions day in, day out, know what it takes, the mindset they have, it's about having high standards.

Ticking off all the boxes, and I've done that in my last few fights – no shortcuts – I'm ready to go wherever this fight goes.

It's a fight I wanted to run back, all about timing. The Kai that Brandon fought in 2019 isn't the same he's fighting this Saturday – just completely different.

Different headspace being a father and a husband, going through more experiences and just leveling up everywhere. I think the self-belief is the difference. Before, I didn't really believe it. I'm going to be a world champion."
It's always good to surround yourself with those that motivate you. That sentiment was echoed by his teammates, middleweight champion Israel Adesanya and perennial lightweight contender Dan Hooker during a PPV breakdown on the former's YouTube channel earlier this week.
---
Elsewhere, Smith can't afford to overlook Ankalaev
Elsewhere on the card, perennial light-heavyweight contender and former title challenger Anthony Smith [5] finds himself in an unenviable position this weekend.
A must-win, potentially career-defining fight vs. #4 ranked LHW Magomed Ankalaev, who the 34-year-old isn't as convinced about as the media heralding the Russian as a future world champ.
"He is very, very good. I want to be very clear about that. I don't for a second discredit his skills in the cage, just don't see anything super special. His approach is very simple, makes no mistakes, never out of position but doesn't always necessarily do a lot to make a lot of mistakes.

A guy like that, you've got to get him outside of his box. The mistakes are made when he's panicking, I think that's what I do best – create chaos – I get people out of their comfort zone, take them places they don't like to be. To be fair, I don't necessarily like being there but that's where I'm the most successful."
He cited the last-second triangle submission defeat by Paul Craig back in 2018 as an example of why Ankalaev's reputation has been unfairly elevated too early in his career.
He also describing the Russian's decision win over Thiago Santos in March as a lacklustre five-round fight, predominantly because he "managed to make a guy like Santos worry."
"I just think he's shutting people down, and I think that's really nerve-racking for a lot of the guys in the division.

I just couldn't care less, gonna go there, do my thing. I can fairly confidently say we're going to see Ankalaev in a way we've never seen him before."
---
UFC 277 card is as follows
Main card
Women's bantamweight title: Julianna Pena (c) vs. Amanda Nunes [1]
Flyweight interim title: Brandon Moreno [1] vs. Kai-Kara France [2]
Heavyweight: Derrick Lewis [5] vs. Sergei Pavlovich [11]
Flyweight: Alexandre Pantoja [4] vs. Alex Perez [6]
Light-heavyweight: Anthony Smith [5] vs. Magomed Ankalaev [4]
Prelims
Welterweight: Alex Morono vs. Matthew Semelsberger
Lightweight: Drew Dober vs. Rafael Alves
Heavyweight: Don'Tale Mayes vs. Hamdy Abdelwahab
Lightweight: Drakkar Klose vs. Rafa Garcia
Early prelims
Welterweight: Michael Morales vs. Adam Fugitt
Women's bantamweight: Joselyne Edwards vs. Ji Yeon Kim
Light-heavyweight: Nicolae Negumereanu vs. Ihor Potieria
Welterweight: Orion Cosce vs. Mike Mathetha
Picture source: Getty Images — pre-fight press quotes via MMAJunkie