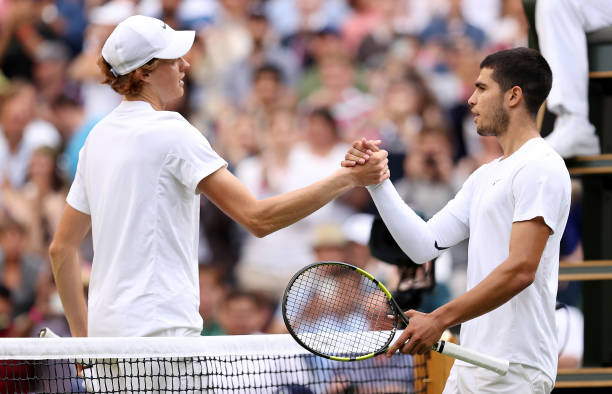 The talented pair, 20 months apart in age, will face off for the second time in four weekends tomorrow night with the Umag title on the line after their thrilling four-set clash at Wimbledon set tongues wagging about how the sport's in good hands over the next decade and more.
Alcaraz looks to retain Umag crown
Alcaraz [1] bt. Zeppieri 7-5, 4-6, 6-3
After falling short against Lorenzo Musetti in last week's Hamburg finale, the world no. 5 will be hoping to avoid successive final defeats while exacting revenge against a familiar foe – Musetti's compatriot Jannik Sinner, four weeks after suffering defeat on grass against the talented Italian.
Alcaraz's run this week, to a tournament he clinched 12 months ago, means he's sixth youngest player in history to enter the world's top four – leapfrogging Mallorca champion Stefanos Tsitsipas, who hasn't played since losing to eventual runner-up Nick Kyrgios at Wimbledon.
He won't be thinking about that though, considering his rankings surge is already well-documented and having had to field questions about an impressive rise in what has already proven a memorable 2022. Defending his maiden title against an agemate is more important.
Things got dicey against Zeppieri, who rightly played with nothing to lose after a fantastic week and nearly snatched it from him completely after the Spaniard rolled his ankle early in set two.
Adrenaline, youthful exuberance and the occasion awaiting him should help Alcaraz block out any lingering pain tomorrow as far as his ankle is concerned. Whether he'll be able to match, and eventually overwhelm Sinner remains to be seen – despite clay being his strongest surface.
---
however, Sinner has something to say
Sinner [2] bt. Agamenone 6-1, 6-3
After working hard in wins over Alcaraz's compatriots Jaume Munar and Roberto Carballes Baena, Sinner picked the right time to dismantle his qualifier opponent in just under 90 minutes.
Sinner was flying and not even in top gear, clinching set one in just 35 minutes. He only dropped one game while 5-0 up – an alarming thought for Agamenone unless a quick response was near: saving two break points to start set two spoke volumes, as he kept things more competitive.
Sinner won 81% of total points played behind his first serve (21/26) and his level didn't waver against his compatriot, breaking straight back to finish the match on the 29-year-old's serve.
Recent win over him aside, he'll fancy his chances against Alcaraz, considering how Slovakia's Alex Molcan and later Musetti last week showed how to constantly keep him uncomfortable and scramble his decision-making when matches (and subsequently, rallies) are tightly-contested.
He addressed the five-set defeat by Djokovic, saying it wasn't a collapse from two sets up, that rather the Serbian entered another dimension and raised his level considerably to recover.
Considering the 21-time Major champion is increasingly unlikely to feature in New York based on his vaccination stance, consistently winning big matches like the rematch awaiting him tomorrow will go a long way as far as building confidence is concerned for best-of-five set tennis.
Alcaraz [1] vs. Sinner [2], live from 7pm BST
Who will prevail? We'll have to wait and see.
Picture source: Getty Images