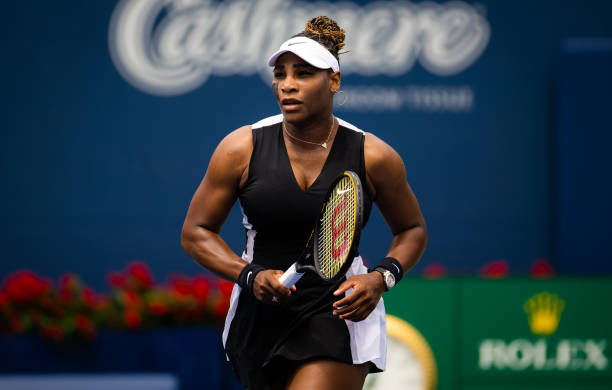 In an interview with Vogue magazine, 23-time Major winner Serena Williams revealed she's winding down her career, with the US Open likely to be her final farewell this month. She cited a desire to grow her family – five-year-old daughter Olympia wanting siblings – as a big factor in her decision. Although this news has felt a long time coming, it's still a seismic one nonetheless.
Williams: I'm evolving away from tennis
"I had my chances after coming back from giving birth, but didn't get there. If I have to choose between building my tennis resume and my family, I choose the latter," she says on weight of potentially surpassing Margaret Court's 24 Grand Slam title record
"In the last year, Alexis and I have been trying to have another child, and recently got some information from my doctor that put my mind at ease, made me feel whenever we're ready, we can add to our family. I definitely don't want to be pregnant again as an athlete. I need to be two feet into tennis or two feet out," she reveals in compelling read
Serena, who turns 41 on September 26, admits she's unsure whether she'll be ready to win her home Major in New York – the Slam title she has been closest to clinching post-pregnancy with two Final defeats (2018, 2019) and a semi-final exit (2020). 
Ashleigh Barty was championed for her shock announcement earlier this year, others like Britain's Johanna Konta and Agniezska Radwanska were at peace when they stepped away permanently while Serena's close friend and former world no.1 Caroline Wozniacki was too.
She referenced that during her piece, to be printed in next month's Vogue edition, and although she has historically said she's reticent for a big farewell, it'll be interesting to see where the 40-year-old's performance levels are as the warm-up to this year's US Open continues.
As evidenced by her thrilling defeat by France's surprise package Harmony Tan at Wimbledon in late June, no-one wants to depart on a whimper – no matter who they are.
"Unfortunately I wasn't ready to win Wimbledon this year, don't know if I will be ready to win New York but I'm going to try… the lead-up tournaments will be fun.

I know there's a fan fantasy that I might have tied Margaret [Court's 24-Slam] that day in London, then maybe beat her record in New York, and then at the trophy ceremony say, 'See ya!' I get that, it's a good fantasy.

But I'm not looking for some ceremonial, final on-court moment. I'm terrible at goodbyes, the world's worst.

But please know that I am more grateful for you than I can ever express in words, you have carried me to so many wins and trophies. I'm going to miss that version of me – that girl who played tennis – and I'm going to miss you." 

Serena saying goodbye to a sport she's always known
After earning her first competitive singles win since last year's French Open with a 6-3, 6-4 scoreline against a tricky effort from Spanish qualifier Nuria Parrizas-Diaz yesterday evening, the 40-year-old has prolonged her stay at this season's National Bank Open tournament in Toronto.
She'll play Olympic gold medallist Belinda Bencic next, after the 25-year-old Swiss international and 12th seed beat Czech qualifier Tereza Martincova 6-4, 6-2 earlier tonight.
Williams leads the H2H 2-1, with their first meeting dating all the way back to 2014 — and their most recent one three years later. Bencic was still just a baby in tennis terms then, and five years on, the world no. 11 will be expected to prevail in a potentially surreal experience on Wednesday.
All good things must come to an end eventually, but when Serena's supreme reign as queen of tennis has lasted longer than I personally have, the announcement – as beautiful as it was – was always going to reverberate much differently than most retirements have in recent years.
---
READ — Serena: A resilient, elegant champion — back in July 2015 after 6th Wimbledon triumph
---
She's been ground down by troublesome injuries in recent seasons and a lack of continuity has hurt her attempts to achieve an elusive achievement, a lot of which I've covered on this site. But whether it's two more matches or more… enjoy her while this swansong, however long, lasts.
Picture source: Getty Images — quotes via Vogue article