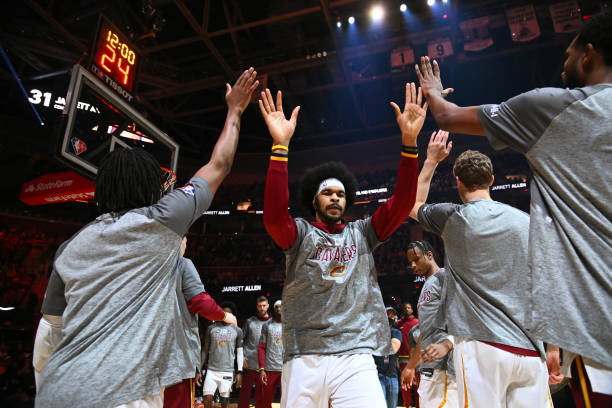 The 24-year-old big man, a first-time All-Star selection last year, recently spoke to the media about his eagerness to get back to work with his teammates in Cleveland after an injury-plagued season saw an impressive campaign dwindle as the Cavs narrowly missed the playoffs, losing in the play-in vs. the previous year's surprise package in the Atlanta Hawks.
Allen eager for Cavs' training camp to begin
Jarrett Allen believes an injury-free Cleveland Cavaliers are ready for 2022-23. While participating in the Basketball Without Borders' Asia program this offseason, the highly-regarded center spoke to the media about multiple topics for a piece written by Spencer Davies earlier this week.
Among those questions, was about how the offseason had gone for him personally and whether his finger was completely healed after breaking it against Toronto in early March.
News of that injury – one which kept him sidelined for the remainder of their season – was the latest in a number of untimely injury problems derailing the Cavaliers' promising campaign.
They were without their leading scorer, Collin Sexton, as the guard sustained a season-ending torn meniscus injury last November and his long-term future remains unclear. Elsewhere, Caris LeVert (foot), Rajon Rondo (hamstring, toe) and Ricky Rubio (knee) were all sidelined too.
---
What if?
Cavaliers had a 35-23 record, tied for 3rd in East on Feb. 17, final matchday pre All-Star break
44-38 on Apr. 10, finale before play-in tournament — lost 15 of last 24 regular season games
"You know, with that, you never can say for sure. I don't like saying [yes], but the possibility is definitely there, just how far could we have made it.

When we were rolling and then [after the injury], things started to not go where we wanted toward the end of the season. So this year, coming out, I think we're all full-steam ahead."

on whether the Cavaliers would've made a better run had everyone been healthy, and the timing of his specific injury after the All-Star break
---
Giddy about Garland and rightly so
Garland: 21.7 points per game, 8.6 assists, 3.3 rebounds, 1.3 steals, 46.2 FG% and 38.3 3P%
One youngster who has been tied down to a multi-year deal is 22-year-old point guard Darius Garland, who signed a five-year, $193m extension – the largest in franchise history – last month.
Alongside him, Allen, Evan Mobley coming off an impressive rookie season and Lauri Markkanen, the Cavs have begun building a core group of youngsters with something to prove.
Allen: 16.1 points on 67.7 FG%, 10.8 rebounds, 1.6 assists, 1.3 blocks per game
Mobley: 15 pts on 50.8 FG%, 8.3 rebs, 2.5 ast, 1.7 BLK
Markkanen: 14.8 pts on 44.5 FG%, 5.7 REB and 1.3 AST
All four players mentioned, as well as an important veteran presence in 31-year-old PG Rubio, are tied down to multi-year deals. While Kevin Love, Caris LeVert and the aforementioned Sexton situation remain uncertainties, it's refreshing to see them get younger and importantly better.
Jarrett is raring to go for the new campaign, with training camp expected to begin in the middle of next month – a date that will fluctuate depending on respective franchises leaguewide.
"Aw yeah. I mean, it feels like the season's been done for eight months. Around this time of the year, I get itching to play, ready to get back on the court. But the good thing [is] it's about two months away. Things really clicked for us as soon as I got to Cleveland.

Obviously, we all know he's an amazing point guard but the thing people don't realise is just how willing he is to learn the game, work with myself to figure out the best position for me to catch the ball and just finish a lob. I see it [their understanding] expanding even further. I think we still have a long way to go."

Allen on the league returning, and his partnership with Darius Garland
Picture source: Getty Images — quotes via basketballnews.com as hyperlinked