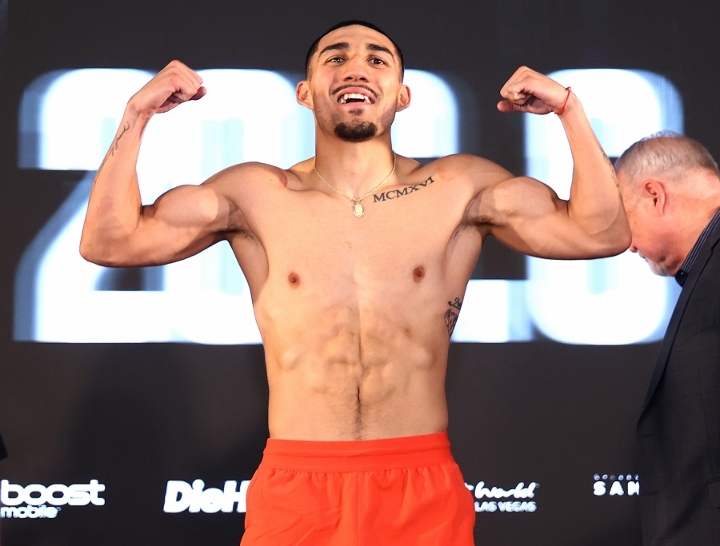 Ahead of his light-welterweight debut vs. Pedro Campa tomorrow night, former lightweight champion Teofimo Lopez reaffirmed his desire to become a two-division titleholder in the near future. First, he must beat a relatively unknown 30-year-old Mexican, nine months after George Kambosos Jr stunned him and snatched his 135lb titles inflicting a first career defeat.
Lopez: My priority? be main champion in two weight divisions
Teofimo Lopez makes his in-ring return Saturday night, nine months after George Kambosos Jr's career-best night saw Teofimo's three lightweight titles seized on a historic night in New York.
His stubborn attitude and graceless post-fight comments saw him as the source of jokes aplenty, criticism and genuine concern since that defeat – especially seeing how he staunchly protested the result was pre-determined on the scorecards, failing to accept a wide decision loss in truth.
However, ahead of his 140lb debut against Mexico's Pedro Campa (34-1-1, 23 KOs), the 24-year-old has reaffirmed a desire to become a two-division world champion before long and spoke about being the first of the young lightweights to move up in an interview with BoxingScene.
---
The state atop the 140lb division
WBA: Alberto Puello vs. Batyr Akhmedov for Josh Taylor's vacant title
WBC: Jose Zepeda vs. Regis Prograis for Taylor's other vacant belt
Taylor still holds IBF, WBO straps but IBF have this week ordered defence vs. Jeremias Ponce
"My priority is to go out there and win those belts. It doesn't matter if it's Josh Taylor, Jose Zepeda and I don't know why anyone's scared of that guy but it doesn't matter who it is, I know who I am.

If anything, they're more scared of me – I can already see that – it's all about pushing forward. Whoever they put in front of me, I'm gonna beat them.
---
After losing, Lopez (16-1, 12 KOs) was hospitalised and later diagnosed with pneumomediastinum, a condition where air leaks from the lungs or airway into the mediastinum. He shouldn't have been anywhere near the ring, but multiple delays didn't help.
A lengthy ESPN article in early December detailed everything: Lopez entering the fight with a small esophageal tear, failed remedies pre-fight as his condition worsened, personal issues at home involving a split from his wife, financial constraints impacting camp and more besides.
"No way I'm ever going back to 135 unless I want to commit suicide, not in my interest. It seems like these other fighters are realising, 135 ain't as interesting now Teofimo ain't there anymore. These guys are already talking about moving to 140."
Although he's typically brash with those comments, his body had clearly outgrown the weight and there was no desire to recapture those belts after losing to an IBF mandatory challenger.
That is a notion which former WBC interim lightweight champion Ryan Garcia is reportedly experiencing too, while newly-undisputed 135lb titlist Devin Haney has expressed a desire to move up too after his contracted rematch against Kambosos Jr later this year.
After his R6 KO over Javier Fortuna, Garcia wants a Gervonta Davis megafight to finish 2022, though as I reported last month, Tank's promoter Floyd Mayweather said sacrifices would have to be made – including the bout being at 135lbs – if KingRy really was serious about that next.
On what he did while Haney made history in Australia early June, Lopez said he put on his headphones, rented a city bike and rode around the city as there was no point – hinting at the fight being pre-determined, just like his unanimous decision defeat by Kambosos last November.
"In the sport of boxing you have to understand the business. It was already decided that Haney was going to win, so what's the point in watching? It's definitely going to happen again when they have that rematch."
While his agemates were making history, Teofimo was still licking his wounds and quietly training in preparation for his return. This weekend though, he has a golden opportunity to make an immediate impact at a new weight class with a standout showing. Will he shine once again?
Picture source: Boxing Photos