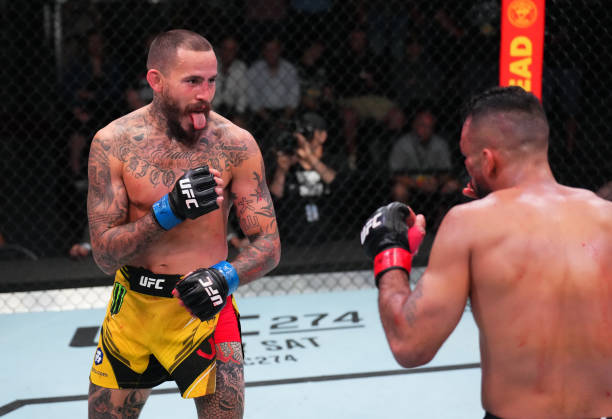 Marlon Vera faces former bantamweight king and future Hall of Famer in fellow championship contender Dominick Cruz this weekend in an unofficial 135lb title eliminator, but before their Fight Night main event matchup from San Diego, here's a look back at the Ecuadorian's decision win over Rob Font four months prior – sowing the seeds for his latest headliner.
eat or be eaten: Vera vows to finish Cruz
This weekend's UFC Fight Night card, like a lot in recent months, doesn't exactly scream excellence on paper. However, there's a headliner with big stakes involved at bantamweight, so I felt it necessary to rewind back a few months to Marlon Vera's main event showcase in April.
Admittedly, April was a busy month for combat sports and that matchup essentially got lost in the hubbub of action happening elsewhere that night – big championship wins for a defiant Katie Taylor and later Shakur Stevenson – in what remains boxing's best period of 2022 so far.
One thing that immediately stood out post-fight, besides this touching sequence with Michael Bisping, was Petr Yan's acknowledgement of Vera's performance on social media afterwards.
Here was the former champion, whose reign ended controversially a year prior, acknowledging one of his contemporaries and extending the olive branch for a prospective future matchup.
Besides reigning champion Aljamain Sterling, who defends his title against TJ Dillashaw at UFC 280 on Oct. 22, there's only two other names besides #1 ranked contender Yan ahead of the 29-year-old in the 135lb rankings – another former titlist in Jose Aldo as well as Cory Sandhagen.
Aldo beat him (29-28 x 3) the week before Christmas two years ago, while Sandhagen is slated to face Song Yadong [10] in a Fight Night headliner at the Apex next month.
Although that aforementioned UD defeat is almost two years old now, old habits often reappear when under duress – as Brandon Moreno showed in the Kai Kara-France rematch last month – so it'd make sense for Cruz to adopt a similar tactic to the one frustrating Chito against Aldo here.
In 19 Octagon appearances spanning eight years, the most significant strikes Vera had absorbed was against the aforementioned Yadong in a Fight of the Night UD defeat (29-28 across the board) in the promotion's first week returning post-lockdown. Font changed that considerably.
Now three places apart in the rankings, Yadong and Font both take pride in their stand-up game and would bullishly test it against the division's best. Maybe not the latter so much anymore…
After all, the 35-year-old had championship rounds to change the tide and his superior striking output (271 significant strikes, 52% success) was insufficient as Vera scored three knockdowns – one in R2, R3 and R4 – en route to an emphatic win, evidenced by the damage he had inflicted.
Just like against Aldo, Font's forward pressure and insistence on boxing failed to bare fruit and instead proved his downfall. Cruz had a front row seat in the commentary booth that night, analysing the pair's in-fight adjustments, watching Vera's weaknesses and tendencies up close:
Cruz's crafty lateral movement (71% significant strike defence) and takedown proficiency could prove key here, especially if the fight is long, as Vera absorbs almost double his significant strike average per minute (2.56 vs. 4.99) and even though DC isn't a power puncher, that's alarming.
Guess we'll just have to wait and see…
---
UFC San Diego fight card, is as follows
Main card, Sunday at midnight BST
Bantamweight: Marlon Vera [5] vs. Dominick Cruz [8]
Featherweight: Nate Landwehr vs. David Onama
Women's Strawweight: Yazmin Jauregui vs. Iasmin Lucindo
Light-heavyweight: Devin Clark vs. Azamat Murzakanov
Women's bantamweight: Ariane Lipski vs. Priscila Cachoeira
Middleweight: Gerald Meerschaert vs. Bruno Silva
Prelims, Saturday at 9pm BST
Catchweight (120lbs): Angela Hill [13] vs. Lupita Godinez
Heavyweight: Martin Buday vs. Lukasz Brzeski
Women's Flyweight: Cynthia Calvillo [12] vs. Nina Nunes [9, strawweight]
Lightweight: Gabriel Benitez vs. Charlie Ontiveros
Flyweight: Ode' Osbourne vs. Tyson Nam
Catchweight (180lbs): Jason Witt vs. Josh Quinlan
Bantamweight: Youssef Zalal vs. Da'Mon Blackshear
Picture source: Getty Images