The Takeover was rebranded as the Takeback, and former lightweight champion Teofimo Lopez did plenty to turn heads on his junior-welterweight debut against a gamely Pedro Campa overnight. The 25-year-old's fast hands and vicious combos helped him secure a R7 stoppage before calling out all the champions and top contenders at 140lbs – eyeing a return on Dec. 10 at Madison Square Garden – rounding off the year with two fights in four months.
the resurrection: Lopez back to winning ways in style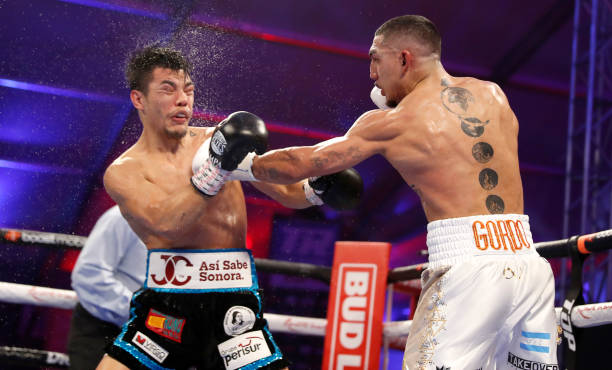 R7, 2:14 – Teofimo Lopez bt. Pedro Campa via TKO, wins WBO International and WBC-NABF junior-welterweight titles
Lopez landed 86 power punches (52% of 164), three more total punches than Campa managed across the course of their bout (83/448, 19% success) on his return after losing three 135lb titles in a shock against IBF mandatory George Kambosos Jr last November
"Thanks to everyone for giving their time to watch me, I'm so grateful. We've been at 135lbs for nine years, it was killing my body, just turned 25… we want Josh Taylor, [Regis] Prograis, [Jose] Zepeda, all the belts. MSG on Dec. 10, PPV, I'm ready to eat."
"I saw a lot of flaws that I would expose, we're hoping to fight him next," Arnold Barboza Jr (27-0, 10 KOs) says afterwards, having watched ringside with Ryan Garcia's promoter Oscar de la Hoya among interested audience – big fights at 140lbs inbound
Andre Ward described him as dangerous at 140lbs, while Tim Bradley – who promised a knockout pre-fight – called him undoubtedly special. Those words of praise are justified.
Everyone knows Teofimo Lopez is super talented, but whether he'll be calculated enough to show that consistency against world-class opposition up a weight division remains to be seen.
This was a refreshing debut display, one with highlights aplenty to immediately savour but various tougher tests await at the championship level. He doesn't need to be told that.
Underneath the showmanship, bullish bravado, nasty finishing sequence and subsequent celebration, there was a touch of vindication to the way both he and his father Sr conveyed emotion across the ESPN cameras afterwards. How dare you doubt us? Question us? Watch this.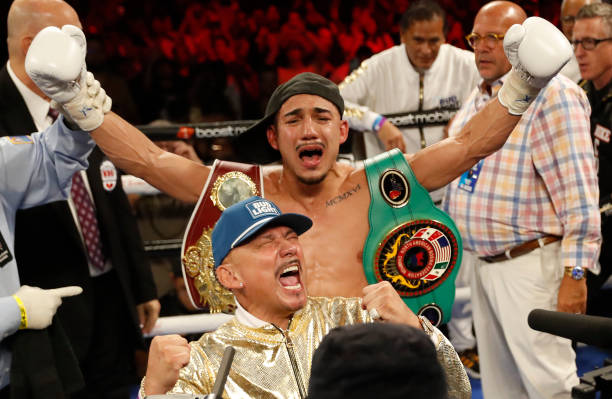 Although Campa's high punch output and clinching proved a problem early, Lopez got into a groove in the middle rounds after rocking the Mexican in R3.
Lopez had a tendency to have his back against the ropes too often for comfort, something probably borne from disrespecting Campa's punching power and believing he could avoid precarious situations with the right amount of head movement and feinting.
Despite not targeting the body as much as Bradley would've liked, the sheer speed difference was evident rather quickly and came to the fore as R4 finished with beautiful combos landing.
Much was said about his decison to spar just two weeks in preparation for this bout, and conditioning questions arose as he appeared to take R5 off.
---
Lopez's punches landed/thrown
R1: 16/50
R2: 20/44
R3: 20/49
R4: 21/47
R5: 15/43
R6: 18/45
R7: 26/43
---
Campa, under the watchful eye of highly-regarded head trainer Manny Robles, had cleaned up the fundamentals after looking less impressive on the regional scene in his native Mexico.
Improvements aside, he was clearly behind on the scorecards and while competitive, Lopez repeatedly beat him to the punch – no pun intended – as the end was in sight.
As the 30-year-old's lead eye was swelling quickly, the cameras continued focusing on an unimpressed Arnold Barboza Jr (27-0, 10 KOs) watching on alongside Ryan Garcia's promoter Oscar de la Hoya in the crowd.
He, like Jose Pedraza and more besides, could be a future Lopez opponent before long.
Regardless, the seventh round was beautiful as it was brutal.
After Campa suffered an early knockdown from a straight left, referee Tony Weeks compassionately ended the overwhelming onslaught of punishment, as Lopez let loose on a eight punch combo which had nothing in the way of resistance coming back his way any longer.
---
so, What's next for teofimo?
As briefly mentioned earlier, Arnold Barboza Jr is making all of the right noises to warrant consideration for a December date with Teofimo Lopez.
Having earned a ten-round decision win over a fellow undefeated contender in Danielito Zorrilla last month, Barboza is fresh with no injuries and eager to prove his ever-growing standing as a genuine problem for the prospective champions and top contenders at 140lbs.
Ranked #5 by TBRB, #6 by The Ring, #7 by BoxRec and #8 in the WBO rankings, the 30-year-old featured on the Lopez-Lomachenko undercard two years ago and criticised Teofimo's skillset in the past. It's understandable he wants to face him, now they're in the same division.
"I should've been on this weight two years ago. I'm able to eat more, higher protein intake, it's all about staying conditioned and not building up too much muscle mass, I'm fast-twitch. Physically [at 140lbs], I'm not as dry, less injuries – a major factor – lot of wear-and-tear on my body before.

It's great to fail because you're able to see how bad you want it, look forward to becoming the greatest [fighter] in my era. There were a lot of two-faced people who, behind his back, told me to leave him for them.

I'm not saying I know everything but my father knows me best, we refused an assistant coach because that would've brought more eyes."

Lopez on the physical benefits of moving up to 140lbs, as well as discussing those who urged him to dismiss his dad on the Chris Mannix podcast
The matchup was explored for this past spring, per ESPN, but never materalised. On Teofimo's first outing at 140lbs, he wasn't impressed (h/t: BoxingScene):
"I always said he's a great athlete, great talent and fighter, but I just feel like at 140 it still hasn't transitioned. He looked a little slow, I pictured myself in the ring, Pedro Campa isn't me.

I just think if it was, it would have been a whole different fight. I'm happy I came here to experience it right in [front row], we're hoping to fight him next."
He previously instructed manager Rick Mirigian to either get a firm agreement to fight or move to the next best challenger. He's prepared to wait until his name is called this winter now too.
"I will wait it out, if I know it's gonna happen. I waited out last year for I don't know how long, if he legit really wants to fight, I'll do it.

His manager [previously] mentioned my name, so who knows, we'll wait. I'll sign the contract right away."
---
The state atop the 140lb division
WBA: Alberto Puello vs. Batyr Akhmedov for Josh Taylor's vacant title
WBC: Jose Zepeda vs. Regis Prograis for Taylor's other vacant belt
Taylor still holds IBF, WBO straps but IBF have this week ordered defence vs. Jeremias Ponce
---
We'll have to wait and see, but for a division that many have branded an afterthought after Josh Taylor achieved undisputed status last May, things are starting to get interesting again. 
Picture source: Getty Images