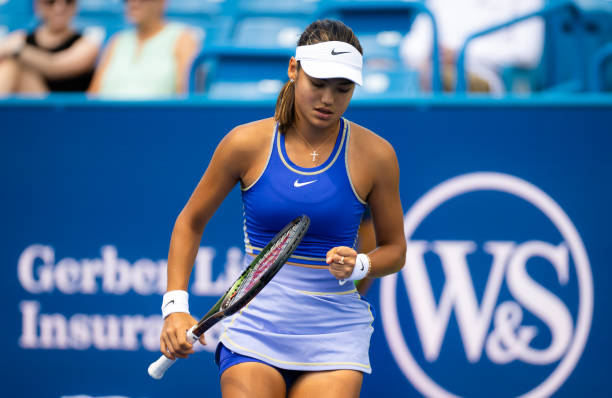 Less than 24 hours after putting a comfortable victory over departing legend Serena Williams on her ever-growing CV, US Open champion Emma Raducanu added another legend to her resume with a 6-0, 6-2 Cincinnati win over two-time Grand Slam champion Victoria Azarenka.
Raducanu backs up Serena scalp in style
Raducanu [10] bt. Azarenka 6-0, 6-2
"Things are more amplified [because of US Open title], zone in internally, didn't show any emotion, let myself get high or low and that helped," Raducanu says when questioned about her mindset afterwards, not letting criticism affect her play
"She had a great week last week, this is another tough match, playing at home – the crowd will get behind her – it's all good, look forward to it and just about preparing as best as I can," US Open champ on facing Marta Kostyuk's conqueror Jessica Pegula in R3 
Victoria Azarenka spoke about needing to do her homework ahead of a pretty interesting second round matchup against Britain's no. 1 in a motivated Emma Raducanu. It quickly became a challenging fightback for the Belarusian, staring down a 0-3, 30-0 scoreline after 15 minutes.
Despite getting back on level terms in the game with a pair of formidable forehands, errors continued to spray from her racquet as she became increasingly frustrated while Raducanu didn't need a second invitation to run away with a commanding advantage.
Some timely first serves helped her avoid being broken back in that game, as Azarenka's deep returns either forced the teenager defending shots behind the baseline or flew long.
27 minutes, another bagel set. It would get even better for the 19-year-old. Azarenka looked sloppy and flat-footed, mistakes not slowing down after she took a comfort break between sets.
Raducanu reeled off a few return aces as Vika's volatility continued, squandering a game point opportunity to open the second set. 790 competitive matches on tour, Azarenka had never been double bagelled. While it looked dangerously likely, she eventually got on the board at 1-4.
After winning a rally to make it 5-2, the ball-striking in that point alone made you wonder where this level was from her little less than an hour prior to start the match.
She very briefly followed that up, earning two break points and having an opportunity to keep the scoreline respectable. As the match clock ticked over the hour mark, Raducanu saved both before firing long – to the surprise of many watching – with her first match point chance.
Her confidence and calm demeanour again shone through as she earned the second with a well-executed smash, before another Azarenka error long ended things in 63 minutes.
Largely due to scheduling constraints, she and Wimbledon titlist Elena Rybakina, who comfortably swept her aside in January, withdrew from their first-round doubles encounter.
So next up, she faces another first-time matchup in the early hours on Friday (midnight BST) against world no. 7 Jessica Pegula, who reached the Toronto singles semi-finals before losing to Simona Halep last week before winning another doubles title with new world no. 1 Coco Gauff.
Picture source: Getty Images, screenshots via Amazon Prime Video