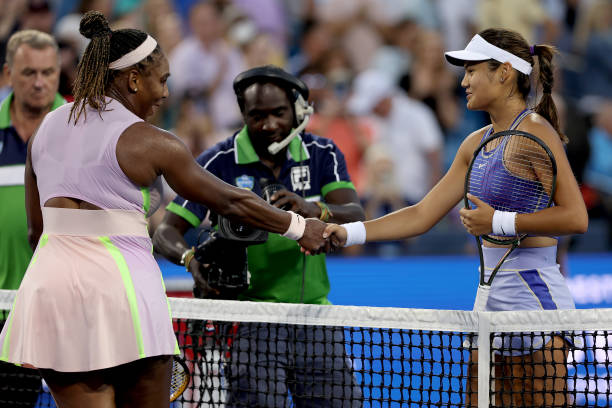 US Open champion Emma Raducanu started fast and drew errors aplenty (19-1) from a sluggish Serena Williams display on her Cincinnati debut tonight, as the 19-year-old kept composed, as the 19-year-old kept composed in their first and only competitive meeting. Next she'll play another legend she grew up watching: two-time Major champion Victoria Azarenka.
Serena stifled on final cincinnati appearance
Raducanu [10] bt. Williams [PR] 6-4, 6-0
Serena served four double-faults, recorded 19 unforced errors – struggling with net clearance – and Brit won almost double her total points in 65-minute spectacle (58-32)
"We all need to honour Serena and her amazing career, so grateful for the experience to play her – for our careers to have crossed – everything she achieved was so inspirational and it was an honour to share the court with her," teenager says in on-court interview
"Gonna be a tricky match, she's difficult all-round: returns great, also another player I watched growing up, during the pandemic at the US Open while I was doing my exams thinking I'll be there one day…" on facing Kaia Kanepi's conqueror Azarenka in R2
Reports hinted Serena carried a knee injury into this match – hence why it was rescheduled from Monday to Tuesday – and judging by the first few points alone, she didn't appear sharp enough to frequently chase down balls nor match a player more than half her age in Raducanu.
So it proved. Yesterday's evening showcase eventually featured 2021 Wimbledon finalist Matteo Berrettini and lovable home hopeful Frances Tiafoe in an almost three-hour thriller, but this much-anticipated showdown was over quickly and not without pain as the dust settled.
As she did after beating Louisa Chirico on August 3, Raducanu spoke afterwards about being pleased with her ability to maintain focus and composure with a boisterous atmosphere in tow as everyone – including Grigor Dimitrov and Naomi Osaka – willing Serena on opposite her.
That's a rare experience in itself and one she'll have to get used to in future, venturing from venue to venue with many fans wanting their preferred player – or compatriot – to prevail.
Azarenka, who lives in Florida and regards the US as her second home outside Belarus, will present a different challenge than Williams. America's Jessica Pegula [7], who faces Ukranian qualifier Marta Kostyuk in R2, also features in a tough section of this year's Cincinnati draw.
It'd be disingenuous to suggest Williams was anywhere near the levels she expects of herself, even now at 40 and with limited match sharpness under her belt. Nevertheless, Raducanu soaked up pressure well, made good decisions with shot selection and kept Serena moving.
Importantly, she didn't give the retiring legend much of an opportunity to get going. Harmony Tan experienced that first-hand during their Wimbledon epic, something Olympic champion Belinda Bencic (6-2, 6-4 in Toronto) keenly looked to avoid. Momentum can shift in an instant.
After trailing 4-1 and 40-15, it seemed to do just that. A drop shot into the net – Raducanu's first and only unforced error of the evening – and a pair of fiery forehands later, a break point opportunity appeared from seemingly nowhere. Another powerful groundstroke later, it was 4-2.
Some superb serving – albeit fleeting – helped her recover from 0-30 down on serve in the very next game. Suddenly, it was 4-3. Raducanu stayed patient as parity never returned, twisting her one way then the next with measured shots, and eventually breathing space opened up again.
Serena saved a set point on serve, asking Raducanu the serve it out question, which she did: holding to love. 35 points and three breaks of serve later, the match was over and the crowd gave their two-time champion (2014, 2015) a warm reception as she quickly departed the scene.
With the US Open less than a fortnight away, this wasn't a spirited defeat giving you confidence that Serena will depart the sport any better than a tearful Jo-Wilfried Tsonga did at Roland Garros – but it's become clear for a while, her chances of a deep Major run are that of fairytale.
Raducanu, in awe of the all-time great she had just toppled, needs more moments like these: not just achieving such morale-boosting victories, but the repetitions that come with playing tennis as precisely as she managed. Naturally, there isn't much time to savour this scalp either.
There's bigger fish to fry, like continuing to build momentum as she prepares to defend her Major crown later this month. The last to do so on the WTA circuit? Serena at Wimbledon in 2016, reinforcing just how difficult – and the depth atop the women's game – really is.
Raducanu's trial period with Dmitry Tursunov continues and while the Prime Video pundits suggested you can see incremental improvements from their partnership, it's too early to tell.
After a short-lived experiment with Clara Tauson in Washington, she'll play alongside Wimbledon champion Elena Rybakina in R1 of doubles against Lucie Hradecka and Sania Mirza later this evening (from 8.30pm BST), after a first H2H meeting with Azarenka in singles.
Picture source: Getty Images