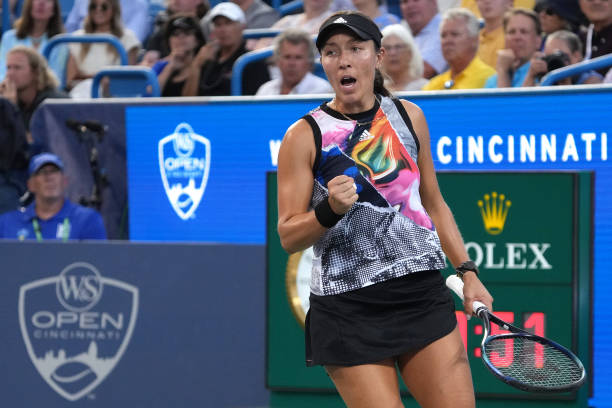 Emma Raducanu's memorable week at this year's Cincinnati Open was ended in the early hours, as American no. 1 Jessica Pegula showcased her aggressive ball-striking, variety and defensive abilities to leave the US Open champion tactically unstuck – winning 7-5, 6-4. She'll play an in-form Caroline Garcia on Friday, looking to make successive WTA 1000 semi-finals.
Pegula powers past Raducanu in two tight sets on first meeting
Pegula [7] bt. Raducanu [10] 7-5, 6-4
US Open champion Emma Raducanu's maiden run in Cincinnati ended by tournament's seventh seed in straight-sets, defends her 2021 title at tournament starting Aug. 29
"Happy how I competed and stayed in it, didn't feel amazing tonight… no drama, do what you gotta do, compete and win – that's all I try every week, it's tough but I'm super happy, showed I belong at the top," Pegula says after notching 31st singles win of 2022
"She's got a big game, huge serve, steps in and hits the ball really hard, I just have to try serve-and-return well, play well in the big moments again," on facing in-form Caroline Garcia next in Friday's quarter-finals (from 8pm BST), after beating Elise Mertens 6-4, 7-5
Within 15 minutes, you could tell this was going to be a longer, bigger battle of wills.
Raducanu had to save multiple break points and would've thanked her ability to hang in longer rallies as Pegula pondered missing two easy balls that would've consolidated her early lead.
Instead, they went nip-and-tuck throughout a tight first set, one which the British teen trailed in each game. That is never a helpful predicament to find yourself in, whether you recover to win the game or not, and that pressure wore on her physically and mentally as time advanced.
Despite saving a break point at 4-4 with some timely serving out wide, Pegula's aggressive ball-striking at the baseline helped present her with two chances to lead 6-5.
She had been the better player and duly pounced by swatting away the threat of a tiebreak, firing a forehand down-the-line winner to clinch the set and lead 7-5 after 55 minutes.
After a bathroom break, Raducanu returned to do something she hadn't for the first hour: win the opening point of a game. She held serve early and importantly matched Pegula during their rally exchanges following the interval, though that didn't last long.
Just as she was broken at 2-1 in the first set, the same happened to start set two. A wild overhead smash and error gave Pegula two more break points.
Raducanu saved one after outlasting her in a rally, before an untimely double fault – on an evening where she had three – allowed the world's top-ranked American another advantage.
She quickly consolidated it, and from there on it felt like time was rapidly running out for Raducanu to prolong what had been a memorable Cincy debut this week.
Overpowering the 28-year-old in their baseline exchanges wasn't going to happen, though her attempts to mix up shots largely suited the more experienced Pegula.
Billed as a "literal wall" on commentary, she lived up to the billing as Raducanu's problem-solving abilities during the American's services games had frequently come unstuck.
She would play a good point, then slice her way out of the next rally or pick an ill-advised shot inviting Pegula to pepper balls back behind the baseline at multiple angles and speeds. Even still, Raducanu had a half-chance to get back level at 2-3* after fighting her way back to deuce.
It quickly fizzled out before you could blink though: undone by a blistering forehand winner kissing the line, as well as a overzealous but well-intentioned shot flying wide in the next point.
It helped that, for the first of only two instances, she had the cushion of love holds and wasn't having to grit her way through games on serve.
Besides an early show of frustration after being broken straight back in set one, Pegula remained even-keeled throughout and raised her level during the big points late as Raducanu had nothing to lose as the contest slipped away from her.
The best example of this was at 0-15 in the match's final game. Having netted a forehand from a big Raducanu return in the opening point, Pegula showcased her defence and court coverage in spades: producing a perfectly-placed lob to force the Brit back, and immediately got her reward.
A 109mph ace and forehand error followed to open up two match points – a 108mph serve the catalyst as Raducanu couldn't return it into the court.
She'll play Caroline Garcia next and having earned passage into an eighth WTA 1000 quarter-final since the beginning of 2021, she's not got the consistency tag attached to her name by accident.
Her assessment of Raducanu in the post-match interview with Amazon Prime said it all:
"She played really well, just a couple points here-and-there, I'm kinda supposed to win and playing someone I don't know that well…

It was difficult but I pulled through. I felt her level raising and I needed some free points [talking about timely aces]." 
Cincinnati Open quarter-finals, are as follows
Madison Keys vs. Elena Rybakina
Ajla Tomljanovic vs. Petra Kvitova
Jessica Pegula [7] vs. Caroline Garcia
Aryna Sabalenka [6] or Shelby Rogers [WC] vs. Zhang Shuai
---
A word on disingenuous Raducanu analysis… and commentary
"She's been doing so well this week, even if she loses she'll be in good nick for the US Open."
"One of the favourites for the tournament, she's been solid and competitive."
Raducanu's rise to the top in women's tennis probably would've been a more gradual one, ala the experience 20-year-old compatriot Jack Draper's going through now, had she not made history at Flushing Meadows last year as a qualifier to win the entire Major three weeks later.
I rarely highlight analysts, former players and the like for the comments they make, because it's their opinion and they're entitled to that.
However, with someone like Daniela Hantuchova – a former world no. 5 who amassed 500 career singles wins – declaring statements like those two with such assurance, it's worrying.
Not for neutrals who don't watch the WTA Tour on a weekly or semi-regular basis, not for headline-hungry critics with their knives out whenever Raducanu loses, not for anyone.
It's why the 19-year-old probably came across a bit combative to viewers during her Prime Video interview after beating Azarenka this week. She was heavily criticised for adopting a similar approach following an early Wimbledon exit and it's understandable: this narrative is draining.
Since her defeat by Garcia at SW19 on June 29, she's played seven matches and lost three. The Frenchwoman by contrast, will play her 20th match post-Wimbledon this evening against Pegula – number eight already this month. It's no wonder she has worked herself into red-hot form.
To put that number into context, Raducanu played eleven matches post-Wimbledon last year after retiring against Ajla Tomljanovic and reached the Chicago challenger final before falling short against Clara Tauson just three days before US Open qualifying began. Reps are needed.
When someone has barely played, in a sport of such fine margins, how can one possibly expect near perfect results against opposition more seasoned and active by comparison?
It feels like Daniela, and other voices in the media besides, are overcompensating for the loud criticism of others (themselves included), and that leads to a dangerous precedent as everyone assumes she'll live up to her live ranking – when she hasn't been active to justify such a position.
Picture source: Getty Images