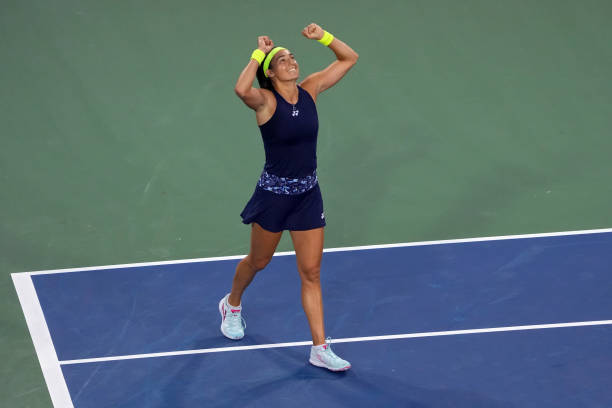 Caroline Garcia's formidable form continues, after outplaying Emma Raducanu's conqueror Jessica Pegula early and holding firm as the American's level later improved in a 6-1, 7-5 win over the world no. 8 – her third against a top-10 player in 2022. The Frenchwoman plays Aryna Sabalenka in the semi-finals for a chance to contest her third WTA 1000 finale this weekend.
Garcia's winning run extended, ousts pegula in contrasting sets
Aggressive, authoritative showing stifles misfiring Pegula – who committed more unforced errors in the match's first five games than 22 overall during Emma Raducanu win 24 hours earlier and got increasingly agitated by lack of luck with fine margins
"It's a lot of matches, always tough, very intense and fast rallies [today], tennis is a special sport, you can play world no. 150 and then no. 3 but still have to be at your best… looking forward to tomorrow," Garcia says, having reached semis as a qualifier
This result also means 28-year-old Frenchwoman, former world no. 4, earns her third top-10 win of the year and will be seeded at upcoming US Open later this month
Caroline Garcia will contest the fourth WTA 1000 semi-final of her career on Saturday night against Cincinnati Open's sixth seed Aryna Sabalenka, after a 28-minute first set proved the catalyst as she dismissed American no. 1 Jessica Pegula 6-1, 7-5 in their quarter-final tonight.
Garcia began this season with a 9-11 singles record heading into Germany's Bad Homburg in mid-June, but has found her footing and renewed confidence after deep runs and two European titles in successive months. That sense of belief has only intensified heading into the US swing.
The last Frenchwoman to reach the quarter-finals at this tournament was Marion Bartoli in 2010, who lost 6-1, 6-4 against Maria Sharapova that year.
Garcia, who had to recover from a set down to topple compatriot Diane Parry in the first of two qualifying matches before the festivities properly began, made sure history didn't repeat itself.
Predicated on an aggressive, early ball-striking tendency, the same that memorably left Emma Raducanu flummoxed at Wimbledon, Garcia's timing and relentlessness zapped away Pegula's chances to establish any real rhythm in the early exchanges as misfiring forehands flew past her.
It didn't help the American's case that, when she needed narrow line calls to go her way, they were always an inch or few milimetres long. This particular one, with a rare break point midway through the first set, speaks volumes for what quickly compounded her disappointing start:
Pegula continued to leak more errors in set two, but it was virtually impossible for her overall performance level to get any worse, whether she was agitated or not.
So it proved, after a straightforward hold of serve to start the set, she held more comfortably and the match followed a more nip-and-tuck pattern with longer rallies allowing her space to settle.
The crowd got behind the home player, Garcia serving to stay in the set at 4-5, and Pegula rather let her off the hook.
Successive unforced errors gave the Frenchwoman confidence to charge at the net, volleying an unreturnable shot into the open court. A kick serve to finish, and they were level at 5-5. Just when you thought a tiebreak was needed, more Pegula errors flew from the racquet.
Two backhand errors and an untimely second serve were punished by Garcia's wicked crosscourt forehand, opening up two break points.
A 13-shot rally – most of which she won assuredly yesterday – was ended with a backhand into the net tape as Garcia let out a come on, knowing the finish line was only four points away.
Keeping in theme with a closely-fought set two, it hung in the balance at 30-all, but not for long.
An 82mph second serve wasn't attacked the way she'd done all evening, Pegula's backhand again failing her during their rally exchange, before Garcia finished with a volley on match point.
Cincinnati Open semi-finals, are as follows
Madison Keys vs. Petra Kvitova
Caroline Garcia [Q] vs. Aryna Sabalenka [6]
Live WTA rankings, what these results means for the quartet
Keys, who beat Ostapenko, Swiatek and now Rybakina, is up five places to #19
Kvitova toppled Jabeur and Tomljanovic, will move back to world's top 20 if she beats American
Garcia up to #28 with Pegula scalp, leapfrogs Amanda Anisimova into #22 with semi-final win
Sabalenka surges past Halep into #6, title this weekend sees her surpass Jabeur, Badosa to #4
Picture source: Getty Images