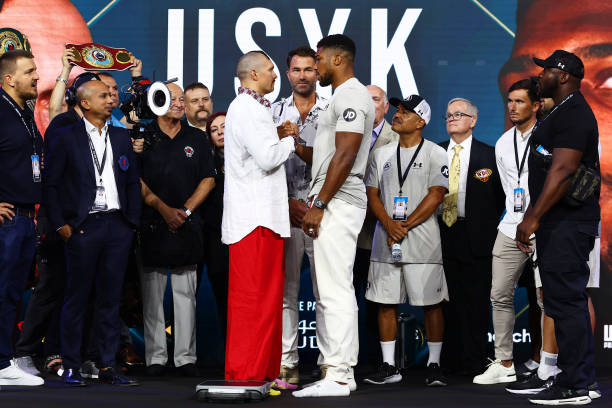 329 days since Oleksandr Usyk seized Anthony Joshua's three world heavyweight titles and boxed brilliantly to suck the air out of a capacity crowd in north London, the pair will finally do battle in their rematch tonight – albeit 3,825 miles away in Saudi Arabia. Joshua has fond memories from the last time he was here, but his upcoming Ukrainian foe isn't Andy Ruiz Jr.
underdog becomes the overwhelming favourite, and vice versa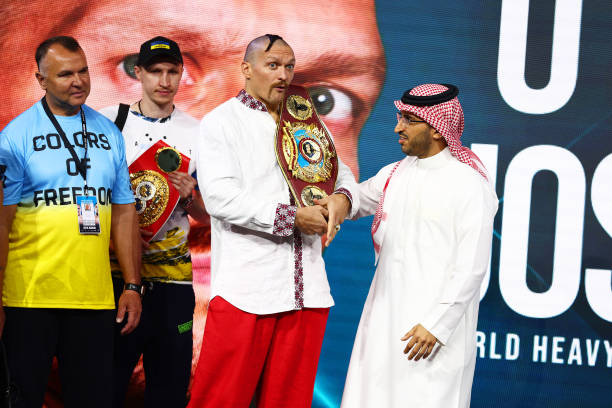 Usyk: 221.5lbs — 0.5lbs heavier than first fight
Joshua: 244.5lbs — 4.5lbs heavier
Main event ringwalks from Jeddah's Superdome expected around 10pm BST
Joshua didn't lose his belts as much as Usyk snatched them away, capitalising on a baffling gameplan that had many – experts and fans alike – quick to criticise the Olympic gold medallist's inability to cut ties with the sycophants he employs within his team. A lot has happened since.
He departed long-time head coach Rob McCracken, flirted with trainers aplenty during a well-publicised Stateside visit before finally settling on Robert Garcia. Will that age well? We'll see.
Hearing less contrasting voices and more clarity in the corner will help, but it'll be interesting to see what in-ring adjustments are made and how he goes about his work this time around.
"I don't think it's going to be a new bout, the last will be continued, round 13, 14, 15, however long it lasts.

We learned about each other in the first fight, we've had enough time to study each other and on Saturday night, it will be a great fight."

Usyk on whether their rematch will follow the same pattern
Usyk's manager Egis Klimas said the 35-year-old has undergone a gruelling training camp in preparation for his first heavyweight title defence: cycling 100km in 45C heat, swimming 10km in a pool over five hours and holding his breath underwater to the point of falling unconscious.
"I can't say now. I don't know how good it is, I'll find out Saturday. How I've improved is basically, scientifically, pushing my lactate threshold up – be comfortable being uncomfortable, and that's what training's about."

Joshua admitting he's unsure if his conditioning will hold up over 12 rounds
Will WBC champion Tyson Fury – whether you believe he's retired or not – fight the winner for undisputed status in 2023? Is AJ going to retire with another defeat here? How about Usyk's adjustments against a power puncher? What's at stake for both? The time for talking is over.
Something this generation of heavyweights haven't done often enough, is compete against one another in compelling bouts. I've purposely refrained from adding much build-up for this rematch because, besides the fact it's taken us 11 months to get here, it doesn't need a lengthy story.
Hopefully tonight sets the wheels in motion for more activity atop a division which really needs more from its champions – like Usyk once did at cruiserweight – regardless of the final outcome.
---
Usyk-AJ II fight card, is as follows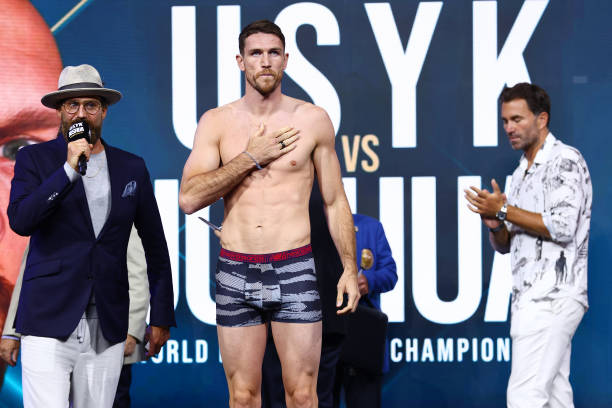 IBF, IBO, WBA, WBO world heavyweight titles: Oleksandr Usyk (c) vs. Anthony Joshua
Light-heavyweight: Callum Smith vs. Mathieu Bauderlique
Heavyweight: Filip Hrgovic vs. Zhilei Zhang
Cruiserweight: Badou Jack vs. Richard Rivera
Women's super bantamweight: Ramla Ali vs. Crystal Garcia Nova
Light-heavyweight: Ben Whittaker vs. Petar Nosic
LHW: Daniel Lapin vs. Jozef Jurko
Lightweight: Bader Samreen vs. Fuad Tarverdi
Super-lightweight: Ziyad Almaayouf vs. Jose Alatorre
Welterweight: Rashed Belhasa vs. Traycho Georgiev
Picture source: Getty Images, quotes via BoxingScene