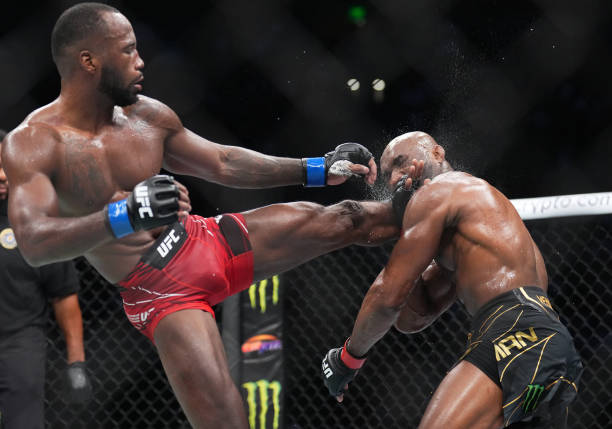 Midway through the fifth, they thought he was demoralised and it was over. Instead, Leon Edwards scored a stunning head kick KO to dethrone Kamaru Usman, as the UK's second-ever UFC champion since Michael Bisping after big main card wins for former middleweight title challenger Paulo Costa and an in-form Merab Dvalishvili at 135lbs – both against MMA legends.

losing, Edwards eliminates Usman's title reign in final minute
R5, 4:04: Leon Edwards bt. Kamaru Usman via KO (head kick), new welterweight champion
"I can't put this [achievement] into words, four years, they all said I couldn't do it, pound-for-pound, head shot dead that's it! Doesn't matter, I'm from the trenches and built like this, I've been doubted my whole life, look at me now.

I do it for Birmingham, for the kids, it's possible, I told you I could do it, pound-for-pound what? There is no pound-for-pound, the belt belongs to nobody. Two years out, there is no ring rust, look at me now. Champion of the world!"
18,321 watched from a humid Vivint Arena in Utah as Edwards extended his unbeaten streak to 11, eliminating the need for judges' scorecards – 3-1 down on them – with a left head kick KO against #1 pound-for-pound fighter and now former champion Usman in their rematch.
Despite becoming the first man to officially take Usman down with a trip takedown midway through R1 and threatening a choke after sinking a body triangle, Edwards was outmanoevured and thoroughly outworked up until the fateful sequence which sent social media into overload.
Just as Usman iced Jorge Masvidal with a perfect R2 KO last April, Edwards – not known for his finishing power – created a sensational highlight that will never be forgotten, regardless of what happens going forward after notching a career-best achievement under increasing duress here.
Naturally, the contenders (and former title challengers) are already eagerly queuing up to face a bullish Brit who, for all the disrespect and criticism thrown his way in recent years, did something no-one else across the promotion has managed. Dethrone the division's champ.
He acknowledged, both candidly backstage and in the post-fight press conference, that this evening wasn't his finest work.
Usman produced a big R2 after finding himself in trouble early, then increasingly wore on the challenger with his wrestling and takedown proficiency (five takedowns, 10:36 control time).
The pressure cranked up in a matchup littered with unintentional foul-related delays and instances of rulebreaking — fence grabs, glove holding and more — by both.
Despite the early flashes of vigour from the challenger and the champ's fleeting boxing combos against the fence, this wasn't particularly memorable. Until it was.
"Don't let him bully you," was the cry from an impassioned Edwards corner between rounds.
Usman mixed pressure with risk, watching as the Brit continued moving backwards, happily securing takedowns with much more easy the longer this fight went.
Whenever Leon would land a sneaky scoring shot, like a disguised knee or sharp straight left, Usman would frequently fire back with more attacks of his own. He too threatened a choke late in R3, as their rematch was destined for the championship rounds.
"You've got to get fucking lively, you're letting him control you too much. Get your hands going, look for the clinch," barked Edwards' corner between rounds. They could see their guy was losing and, if he wasn't careful, this elusive title shot would've passed him by.
By contrast, Trevor Wittman in the Usman corner was happy with his jab work and stressed discipline: no more mistakes.
The one which helped Edwards take him down in R1, you can allow. He didn't panic and handfought his way to safety. The wheels for his fatal mistake were set in motion during R4.
While the commentators were criticising Edwards' passivity, Usman had his back taken after swinging wildly and missing. Soon afterwards, he logged another takedown – the seventh time he's landed five or more in a UFC fight – having looked uncomfortable with his back to the fence.
Edrwards was punished for a fence grab, as referee Herb Dean put them back in a favourable position for Usman to control him even further.
The look on his face felt like dejection, being second best with Kamaru confidently mixing the martial arts well enough to go home victorious once more.
So, what happened which led to the finish?
"Stop feeling sorry for yourself, put it on him," came next from the challenger's corner and it felt fitting. Wittman was happy with the finish to R4 and told his charge not to be afraid of more striking in those exchanges, but a lull period late was all it took.
Usman swarmed him early in R5 with multiple body shots against the fence, while the commentary team lamented Edwards' demeanour. He wasn't taking any risks and Usman could coast to a points win. They weren't wrong, though hindsight suggests they spoke too hastily.
Edwards replicated Marlon Vera's head kick KO against Dominick Cruz last weekend almost perfectly, faking a left-hand punch so Usman would evasively move to the left.
Once he did, his head would meet a perfectly-placed left high kick and just like that, 56 seconds before the final horn, Usman's championship reign was crushed with ruthless aplomb.
He underwent right-hand surgery in February, was originally set to headline International Fight Week last month and has continually spoken of a desire to move up to light-heavyweight, with a chance to seize double champion status a recurring proposition that has interested him lately.
Now, he'll have to try and regain the 170lb strap in enemy territory for a trilogy bout – perhaps London's Wembley Stadium next year – after licking his wounds, enduring endless social media vitriol headed his way and importantly learning lessons from this experience with the team.
Had he been more defensively responsible to finish R5, more records and history would've been made in his favour. Instead, the MMA world got sent into shockwaves and a champion humbled.
---
Costa holds firm in crazy clash, Rockhold retires post-fight
After successive defeats by the champion and former title challenger 13 months apart, Paulo Costa returned to the win column with a hard-fought UD win (30-27, 30-27, 30-27) over former middleweight titlist Luke Rockhold, who tearfully retired in the cage afterwards.
Rockhold began well, though Costa's explosiveness and heavy-handed approach was immediately evident as he landed big clinch strikes.
Liver kicks, acrobatic strikes and roundhouse shots were doing damage for the American, though he looked physically exhausted after R1.
Costa thought he secured a second-round finish, but stung him with a low blow instead. There was more carnage to come before a frantic finish, though Borrachina was clearly more active throughout and his power reduced Rockhold to infrequent, sloppy bursts.
"I've been through so much these last few years, gave it my all, I'm just fucking old," Rockhold said during a brief, emotional post-fight interview Octagonside.
---
Dvalishvili dents Aldo and sours Salt Lake crowd
Merab Dvalishvili's cardio, control time and relentlessness proved decisive en route to a tactical UD win (29-28, 29-28, 30-27) over two-time champion Jose Aldo.
R1 was hard to score with not much action by either, while Aldo needed to do more than just boast superior takedown defence in R2 to edge a round where he again didn't throw much.
Merab scored with shoulder strikes, knees, clinch work and continued to frustrate the Brazilian legend in R3 before the final horn. The dissenting crowd, who gave Aldo a hero's reception during his walkout weren't happy, but he didn't care.
"This is a dream, I don't believe this. It was another fight, it's our job – we do what we have to – but I have so much respect for Aldo.

He was very technical against the cage, usually I take everyone down but his footwork, takedown defence was amazing, I was surprised."
The Georgian now is tied for the division's longest active win streak at 135lbs with close friend and reigning champion Aljamain Sterling.
On the prospect of potentially fighting down the line, seeing as he's just beaten #3 in the weight class, the 31-year-old was unequivocal with his answer.
"Hee is the reason I'm stepping here, remember almost 10 years ago, without English, I waste my time [in the] first year to look for a gym – Serra-Longo.

I started training with him, he made me humble, how amateur I was… since this, we trained together, he made me who I am today.

Seven fight win streak? It's because of Aljo, I'm living my dream right now and he's beating me everyday [in training], that's why I am where I am. We're not fighting each other, we're brothers… please don't ask me again!"
Elsewhere on the main card…
Two-and-a-half years after being released by the UFC, women's bantamweight Ludie Pudilova looked much different on her return and scored a second-round TKO (elbows) win over Wu Yanan – who is now on a four-fight losing streak.
Tyson Pedro wasted no time kicking off the main card, needing just 65 seconds to blitz past Harry Hunsucker on the latter's light-heavyweight debut.
A snapping left jab stung him, before a punch combo and body kick swiftly ended things.
"You train so hard for this, it was a very hard camp, I haven't fought in-front of fans for four years, thank you Utah," the 30-year-old said after making history – the fourth LHW in UFC history to earn a finish stemming from a body kick.
His return after a lengthy injury was back at the crowdless Apex, so he was understandably emotional after a razor-quick finish here.
Prelim, early prelim results
Heavyweight: Marcin Tybura bt. Alexander Romanov via majority decision (29-28, 29-28, 28-28)
Lightweight: Jared Gordon bt. Leonardo Santos via UD (30-27, 30-27, 30-27)
Featherweight: Sean Woodson vs. Luis Saldana was ruled a split draw (29-27, 27-29, 28-28)
Welterweight: Ange Loosa bt. A.J. Fletcher via UD (29-27, 29-28, 29-28)
Flyweight: Amir Albazi bt. Francisco Figueiredo via R1 submission (rear-naked choke)
Bantamweight: Aori Qileng bt. Jay Perrin ia UD (29-28, 29-28, 29-28)
Flyweight: Victor Altamirano bt. Daniel Lacerda via R1 TKO (punches, elbows)
Picture source: Getty Images