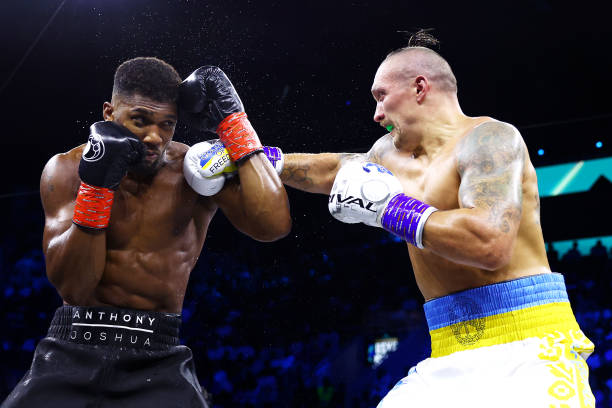 Anthony Joshua produced a better overall showing and had the champion in duress on a few occasions, but Oleksandr Usyk's dizzying movement and skilled defiance under pressure helped him to what should've been a unanimous decision win: eventually edging it 113-115, 115-113, 116-112 on the three judges scorecards. Afterwards, he reaffirmed a desire to face Tyson Fury.

Usyk again too good for Joshua, seals decision in rematch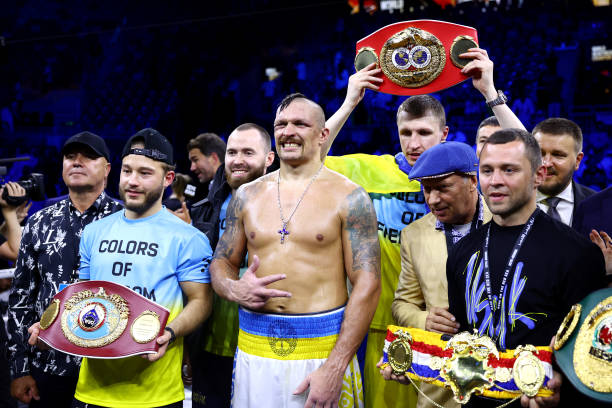 113-115, 115-113, 116-112: Oleksandr Usyk bt. Anthony Joshua via split decision, retains IBF, IBO, WBA, WBO world heavyweight titles and wins vacant Ring Magazine belt
"Thank God for the help he gave me today, thanks Saudi, I devote this [win] to my country, family, the military defending Ukraine.

I'm sure Tyson [Fury] isn't retired yet, I'm convinced he wants to fight me. I want to fight him, if not him then I'm not fighting at all."

Usyk during his post-fight interview, thanking many and on the prospect of competing for undisputed status at heavyweight in 2023
Joshua started well, held his own, landing digging body attacks and had Usyk hurt on more than one instance. But just like last September in north London, it was the Ukrainian taking over in the later rounds – this time after furious flurries stung him in a frantic sequence to end the ninth.
The first result was a jarring surprise to most, the rematch much less so. Joshua, for all of his punch power, thought outboxing a decorated amateur was an option in their first bout.
He needed to mix aggression with defensive smarts the second time round and while a more competitive contest here, this outing frustratingly followed the same pattern.
Through two rounds, Joshua's propensity to overthink was on full display. Usyk's jabs and left hooks landed early and often, while the former champion found himself in promising positions to let his hands go with combinations but waited too long and frequently paid the price.
Whether he meant to or not, this hesitancy at a distance gave Usyk ample time and space to dictate how he wanted their exchanges to be.
His cornermen, Robert Garcia and Angel Fernandez, urged him to land jabs and continue better rhythm, but an inability to cut the ring off and stop moving backwards encouraged Usyk forward.
"You're winning every round," was the cry from Joshua's corner, but disingenuous comments would only mask the bleeding for so long. He needed to be more active with his punch output and importantly, avoid wildly swinging uppercuts with his chin up and his hands lowered.
Usyk planted his feet and landed some hard shots in the fourth, before Puerto Rican referee Luis Pabon called a timeout after Joshua landed a clubbing low body shot that hurt the 35-year-old.
Hard shots bounced off Joshua's head after the brief break, with some lazy jabs and sloppy shots being countered all the same.
---
Battle of wills, the key difference in their punch stats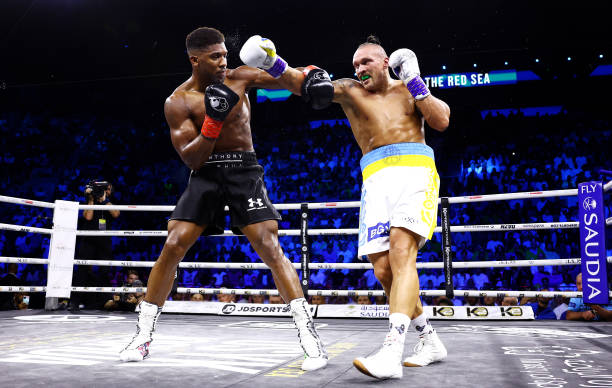 Usyk (thrown — landed):
Jabs: 397 — 39 (10%)
Power: 315 — 131 (42%)
Total: 712 — 170 (24%)
Joshua
Jabs: 312 — 23 (11%)
Power: 280 — 101 (36%)
Total: 492 — 124 (25%)
---
Usyk started round six by showcasing his fast hand speed, landing body shots, whipping punches across the face and trying to split Joshua's high guard, almost angrily as if he felt the previous round could've gone against him for that pained reaction and the crowd's response.
The pace began to slow though and whenever Joshua landed punches with Usyk backing up against the ropes, he failed to follow up with more of the same nor keep him pinned there.
Usyk's bob-and-weave tricks to dance out of danger helped him score punches as they went into the seventh. Joshua's pressure and pace, while encouraging, was fleeting.
All that talk about just how good his conditioning was, would finally start to show in the second-half of an exhausting fight as the pair lost their footing on a slippery canvas – one that caused Filip Hrgovic problems earlier in the night during a hard-fought win over Zhilei Zhang.
Usyk's speed was again on full display, clipping him with chopping lefts and rights while laterally loosening Joshua's grip on their tussle. For all that encouraging early work, it wasn't enough.
After a minute's delay for another canvas slippage, evidenced by this weird sequence, Joshua's body shots were starting to take a toll but Usyk always had a response.
Whether it was to clinch, return fire or score with a counter which snapped the two-time heavyweight champion's head back, a back-and-forth round went the Ukrainian's way.
Joshua's best moments, and usyk's demoralising response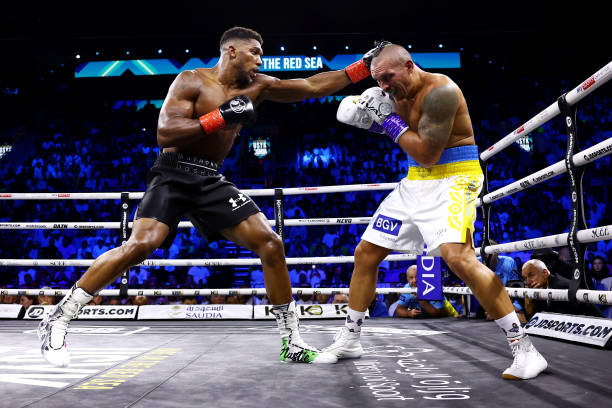 Round nine was where Joshua had his chance to finish the show.
More body work and better punch combinations hurt Usyk as he was pressed into the ropes, while Joshua threw furious punch flurries to continuously sting him in a frantic sequence.
Crucially though, he didn't find that devastating final shot, and that only fired the champion up further to finish with a flourish.
He began the tenth brilliantly, with clubbing blows and stringing together sweeping combos – uppercuts, hooks and straight sharp shots – to the body and head, wobbling Joshua.
Despite stinging him back with a counter right, it was an exception to the rule during a round he was overwhelmed in, now static on his feet and a sitting duck for punishment.
Feinting, switching looks, jostling from side-to-side, Usyk's elusiveness had demoralised Joshua by R11. Body shots might've hurt the champion but he was unmoved, shaking them off again and peppering him with more punches as R12 came.
Joshua needed a knockout to steal it, or so they thought. Wicked lefts, slippery counters and more beautiful combos put a bow on a bout Usyk deservedly won. It'll unfortunately be overshadowed by the post-fight aftermath, but there's nothing the Ukrainian can do about that.
---
Analysis, what's next and addressing *that* speech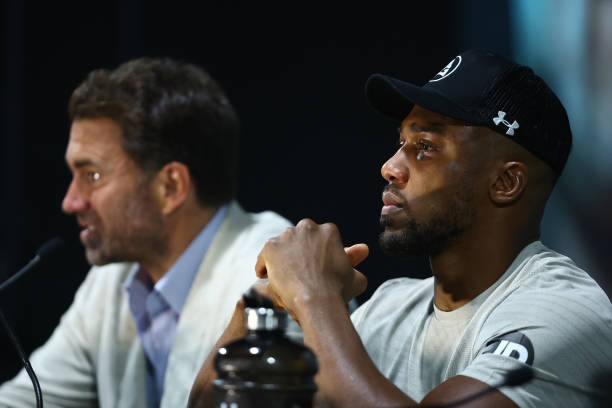 I said it in yesterday's piece and I'll reaffirm it now the outcome has been settled.
Hopefully tonight sets the wheels in motion for more activity atop a division which really needs more from its champions – like Usyk once did at cruiserweight – so Fury-Usyk should be next.
Besides a repackaged version of former champion Deontay Wilder – who returns Oct. 15 against Robert Helenius – how much he has left no-one truly knows, there's no other options for Usyk.
The Joyce-Parker winner will be Usyk's WBO mandatory and theoretically makes sense but he's already beaten the former during their days as amateurs and the latter? You'd have a hard time arguing he'd fare any better than Dereck Chisora or Joshua has managed over 24 rounds.
Elsewhere… it's one thing that remains an unsolved mystery, how the British – fans and media alike – appear united in their burning desire to build the country's athletes up and quickly bring them down once they've reached a certain height or success in that specific discipline.
It's a phenomenon that doesn't discriminate – you see it all the time – whether Marcus Rashford or Emma Raducanu, Ben Stokes or Lewis Hamilton, Joshua certainly isn't immune either.
The criticism, memes and conspiracy theories were chaotic after Andy Ruiz stunned the world three years ago. How dare he celebrate so boldly after winning the rematch six months later?
When he lost to Usyk on home soil last year, similar treatment was afforded to the Olympic champion. Why would he – an athletic power puncher – be so naive to think he could outbox the former unified cruiserweight king, someone who had so much more pedigree by comparison?
He had to win this rematch here, otherwise he might as well retire right? What about all those muscles fit for a bodybuilder, surely just lose some weight and that'll help his conditioning…
It was a well-intentioned yet poorly-timed post-fight outburst and one that had his critics licking their lips. Just showing passion? Signs of a mental breakdown, or something more sinister?
There's a reason why combat sports and fight networks don't tend to give the losing fighter much air time immediately after a fight – see Teofimo Lopez last year – among others.
Joshua, as a two-time world champion with a dedicated PR team, nice-guy image and sponsors aplenty, has earned the right to say a few gracious post-fight words. But there's a time for everything. That wasn't it. Not a four-minute monologue with tens of bemused eyes in the ring.
Picture source: Getty Images